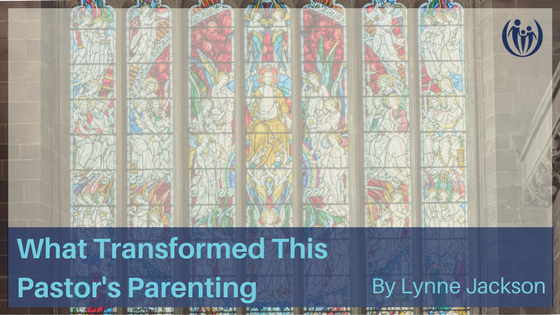 How do we begin to be set free from life-long patterns of rigidity and control that affect lots of areas in our parenting lives?  I remember when the kids would make endless messes or bicker repeatedly – it would drive me nuts! I just wanted it to stop. So I would engage with angst and negativity, and wonder why it wasn't helping. Jim would ask me the question, "What are you going to do to be okay if they don't change?" I hated the question. It made me even madder. But it was a good question. As I learned to look first at myself and my let go of my need for control, I could let God's peace begin to infuse our challenges. I was able to engage with much more wisdom, insight, and even creativity, and became more effective in my parenting. I had to change my perspective about what was happening to me spiritually as a parent.  It changed the way I disciplined. I began working toward long-term life change in my kids by starting with change in my own heart.
David Mathis, executive editor at DesiringGod.org, an online Christian website, and pastor at Cities Church in Minneapolis, shared how he made a small change in the way he viewed his role as a parent after taking the online Discipline That Connects course, and he shares below about how a shift in his thinking led to some big changes in the way he thought of himself as a parent…as well as how he thought of his children.  
Read his encouraging and insightful story:
I remember exactly where I was sitting when I first read this sentence from Jim and Lynne Jackson: "The parenting journey provides one of life's greatest opportunities for spiritual growth." It was paradigm-shifting. In my first five years as a father, I mainly had focused on my children's physical and spiritual growth, not mine. And in it was the subtle assumption that somehow I had arrived and could now turn and impart my great progress to my children.
The Jacksons helped me to realize that parenting is not first and foremost about my children's sins. It is first about mine. Yes, our children are in need of our gentleness and careful attention to help remove the childhood specks from their eyes. And we parents first, and continually, need to remove the adult logs from our own, so we can genuinely help our children, and not harm them.
So when my wife and I heard the Jacksons were offering a Discipline That Connects online course, we eagerly jumped at the opportunity. It provided a chance for us to watch and discuss together. Instead of one long presentation, each of the six lessons is broken into short segments, giving us plenty of opportunities to interact with each other. The content is accessible, practical, and enjoyable, and the Jacksons are easy to relate to as parents. And most importantly, their teaching is driven by a desire to honor God and his word–what he himself has revealed about parenting, children, and how his world works.
The Jacksons have taught my wife and me that even more important than the work God is doing through us as parents is the work he is doing in us while parenting. And the work he is doing in us in this season of life is vital to our being vessels of his work for our children.
–David Mathis, Executive Editor, DesiringGod.org; pastor, Cities Church, Minneapolis; author, Habits of Grace: Enjoying Jesus through the Spiritual Disciplines
Want to learn more about these concepts? Download our one hour recording of a Discipline That Connects workshop.
Comments
comments