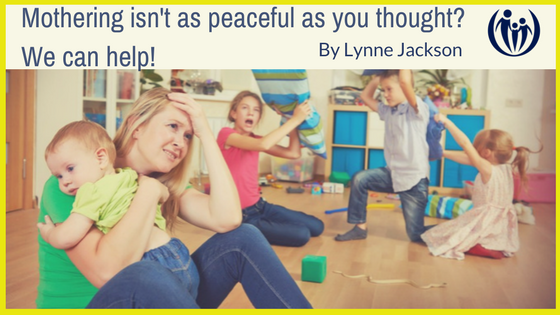 Moms,
When you became a mother, you likely pictured images of you and your children frolicking, playing, creating and bonding. You probably didn't have visions of yourself with your face beet red, eyes bulging and words that you thought you'd never say spilling from your lips.
But here you are, ready to pull your hair out! You're not sure how you even got to this point or how to find your way out of the rut. So you make promises to yourself to keep your cool, to be more patient, to practice deep breathing techniques. Only to pick up the pieces after you've blown it… one more time. You know you are capable of so much more than just "holding it together," but you just can't seem to get there.
I feel your pain. When the reality of three intense kids hit, I was desperate and crying out to God, "Why did you make me like this? I feel like I'm angry all the time!" I had turned into a woman that I didn't recognize and certainly didn't want to be. Trying to control my reactions to my kids' crazy behavior was futile – until I learned how to speak the truth in love to myself about myself and my kids. That began to change everything!
Based on this experience – and my work with hundreds of families over the years as a parent coach and a pediatric occupational therapist – I've developed and presented a Peaceful Mothering workshop to groups of moms with amazing responses, like the video story here.
I've seen this workshop be the "aha" moment that brings hope to struggling moms. …Which is why we are so excited to bring you this workshop – for the first time – on DVD!
This 45 minutes of engaging, thought-provoking content is perfect for moms groups, with start/stop points for three embedded discussion questions for a total of slightly over an hour.  You can bless an existing group with this rich content, watch it yourself, or rally a few friends for a "Girls-Night-In."
Your group will learn:
How to identify typical "toxic beliefs" about yourself as a mom and about your kids, the beliefs that cause those difficult emotions and hurtful responses.
How to replace those hurtful beliefs with specific corresponding truths that will set you free and bring peace to your parenting.
How to hang on to the truth about your kids and yourself when the heat is on!
At $15 (including shipping), the cost of this DVD with discussion questions is significantly less than flying me to your moms group and paying the speaker fees! (Although I'm always open to that as well!)
Blessings as you grow a Connected Family,
Lynne
Comments