All of the events listed below are open to the public unless otherwise noted.

Some require registration, others do not.
Some have a small fee involved, others are free.
Some include childcare, others do not.
Most are in the upper midwest, but we do occasionally travel nationally and internationally.
If you have trouble finding the event that is right for you, please contact us.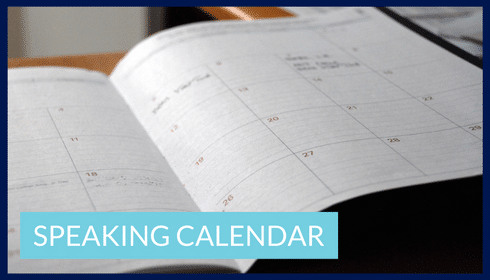 ---
SEPTEMBER
9/27 Thursday, 10 am – Noon
The Entitlement Fix
Blaine MOPS, Blaine, MN
[closed event]
9/28 & 9/29, Friday & Saturday
God-Centered Mom Live Event
Learn more and register here
Northwest Bible Church, Dallas, TX
9/30 Sunday, 5:30 – 8:30 pm, Registration Required
Peaceful Parenting
First Baptist Church, Minneapolis, MN
---
OCTOBER
10/1 Monday, 8:45 – 10:45 am
The Entitlement Fix
Waconia Trinity MOPS, Waconia, MN
[closed event]
10/2 Tuesday, 9:30 – 11:15 am
Why Kids Misbehave
Friendship Church MOPS, Prior Lake, MN
[closed event]
10/17 Wednesday, 2:00 – 3:30 pm
The Entitlement Fix
Eagles Wings Co-op, Maplewood Salvation Army, MN
[closed event]
---
NOVEMBER

11/3 Saturday, 9:00 am – 12:00 pm
How to Grow a Connected Family
Hope Covenant Church, St. Cloud, MN
11/6 Tuesday, 9:30 – 11:30 am
The Entitlement Fix
Berean Baptist MOPS, Burnsville, MN
[closed event]
11/9 Friday, 6:00 – 8:00 pm
Discipline that Connects with Your Child's Heart
GracePoint Church, New Brighton, MN
11/10 Saturday, 10 am – noon
Siblings: From Bickering to Bonding
Grace Fellowship Church, Brooklyn Park, MN
11/17 Saturday, 9 am – noon
Communicating God's Grace & Truth When Kids Act Up
Eagle Brook Church, White Bear Lake, MN
---
JANUARY 2019
1/7 Monday, 9 – 11:15 am
The Entitlement Fix
Woodbury Lutheran MOPS/MOMSnext,
Valley Creek Campus, Woodbury, MN
[closed event]
1/12 Saturday, Details coming soon!
Emmanual Covenant, Shoreview, MN
1/14-1/21, Details coming soon!
Discipline that Connects with Your Child's Heart
Chiang Mai, Thailand
1/24 Thursday, 10 am to 12:30 pm
The Entitlement Fix
First Baptist Church MOPS, Anoka, MN
[closed event]
---
FEBRUARY 2019
2/10-2/15, AERC Conference
Discipline that Connects with Your Child's Heart
Chiang Mai, Thailand
2/27 Wednesday, 9 – 11 am
Peaceful Mothering
Becker Baptist Church MOPS, Becker, MN
[closed event]
---
APRIL 2019
4/3 Wednesday, 9:30 – 11:30 am
The Entitlement Fix
Calvary Church MOPS, White Bear Lake, MN
[closed event]
---