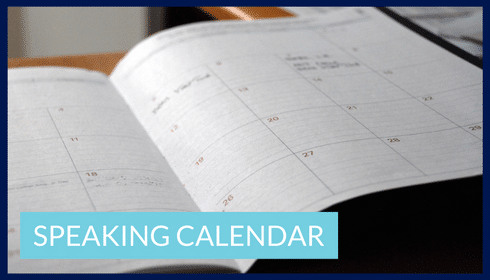 All of the events listed below are open to the public unless otherwise noted.

Some require registration, others do not.
Some have a small fee involved, others are free.
Some include childcare, others do not.
Most are in the upper midwest, but we do occasionally travel nationally and internationally.
If you have trouble finding the event that is right for you, please contact us.
If you have specific questions about a listed speaking event, please reach out to April at april@connectedfamilies.org.
Receive our weekly emails to learn when we will be speaking in YOUR area!

---
Our 2019 speaking season has come to a close
We are grateful for all of the partnerships we were blessed with during 2019. Stay tuned for more 2020 dates coming soon!
---
JANUARY 2019
1/11 Saturday
Discipline that Connects with your Child's Heart – The Younger Years
Westwood Community Church, Chanhassen, MN
Register for Westwood Parenting Conference
1/11 Saturday
Discipline that Connects with your Child's Heart – The Teenage Years
Westwood Community Church, Chanhassen, MN
Register for Westwood Parenting Conference
1/14 Tuesday, 10:00 am – 11:00 am
The Entitlement Fix
Maple Grove MOPS – The Grove Church, Maple Grove, MN
[closed event]
1/24 Friday, 10:00 am – 11:20 am
The Entitlement Fix
Rockford MOPS – Our Father's Lutheran Church, Rockford, MN
[closed event]
1/24 Friday, 9:15 am – 10:45 am
Topic TBD
La Jolla Presbyterian #MOMLife Group – La Jolla Presbyterian Church, La Jolla, CA
[closed event]
1/24 Saturday, 8:30 am – 3:00 pm
Connected Families Parenting Conference
La Jolla Presbyterian Church, La Jolla, CA
– Register Here –
1/27 Monday, 9:45 am – 11:00 am
Grace and Truth for Moms
Calvary Lutheran MOPS – Calvary Lutheran Church, Golden Valley, MN
[closed event]
1/31 Friday, 6:30 pm – 8:30 pm
Discipline that Connects with your Child's Heart
Andover Christian Church – Andover, MN
– Register Here –
---
FEBRUARY 2019

2/1 Saturday, 9:30 am – 11:00 am (9am check-in)
Gaining Cooperation in the Home
Hope Community Church – Minneapolis, MN
Registration coming soon – Please email with questions
2/7 – 2/8, Friday/ Saturday
Details coming
Coastline Schools – San Francisco, CA
2/25 Tuesday
How to Grow a Connected Family
Christian Homeschoolers of Stillwater, Lake Elmo, MN
[closed event]
2/29 Saturday
Discipline that Connects with your Child's Heart
Alexandria Covenant Church, Alexandria, MN
---
APRIL 2019
04/09 Thursday, 9:45 am – 10:45 am
Peaceful Mothering
Ridgewood Church MOPS, Minnetonka, MN
[closed event]
---