All of the events listed below are open to the public unless otherwise noted.

Some require registration, others do not.
Some have a small fee involved, others are free.
Some include childcare, others do not.
Most are in the upper midwest, but we do occasionally travel nationally and internationally.
If you have trouble finding the event that is right for you, please contact us.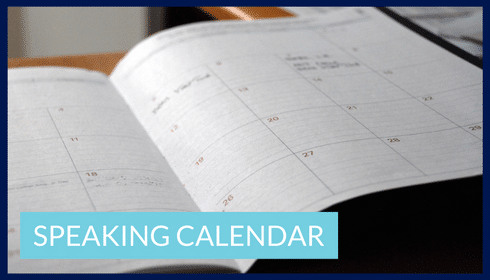 ---
JANUARY 2019
1/7 Monday, 9 – 11:15 am
The Entitlement Fix
Woodbury Lutheran MOPS/MOMSnext,
Valley Creek Campus, Woodbury, MN
[closed event]
1/12 Saturday, Details coming soon!
Emmanual Covenant, Shoreview, MN
1/14-1/21, Details coming soon!
Discipline that Connects with Your Child's Heart
Chiang Mai, Thailand
1/24 Thursday, 10 am to 12:30 pm
The Entitlement Fix
First Baptist Church MOPS, Anoka, MN
[closed event]
1/27 Sunday, 6:30 to 8:00 pm
The Entitlement Fix
Oakwood Community Church, Waconia, MN
---
FEBRUARY 2019
2/10-2/15, AERC Conference
Discipline that Connects with Your Child's Heart
Chiang Mai, Thailand
2/14-2/19, Rift Valley Academy
Discipline that Connects with Your Child's Heart
Kijabe, Kenya
2/27 Wednesday, 9 – 11 am
Peaceful Mothering
Becker Baptist Church MOPS, Becker, MN
[closed event]
---
MARCH 2019
3/24 Sunday, 5:30 – 7:30 pm
Discipline that Connects with Your Child's Heart
New Life Church, Princeton, MN
---
APRIL 2019
4/3 Wednesday, 9:30 – 11:30 am
The Entitlement Fix
Calvary Church MOPS, White Bear Lake, MN
[closed event]
4/10 Wednesday, 6:30 – 8:00 pm
Peaceful Mothering
Wooddale Moms Connect, Eden Prairie, MN
---