Frequently Asked Questions
for the Discipline that Connects Online Course
There are eight sessions of 30 minutes each that are pre-recorded and available to you on your schedule! This means that you can take it day or night and go through the course at the speed that works for you.
View our Proposed Schedule Of Completion document. 
The eight sessions are streaming videos with reflection questions interspersed throughout. We highly encourage course participants to leave comments when taking the course but don't require comments to move to the next session.
Each session takes 30 to watch the videos and 15 or 20 for reflection questions. Plan for an extra hour each week while the course is in session. 
Yes! We have a small group version just for you. To learn more about format and pricing, check out our small group page.
Please don't take a group through the course using your individual credentials. If you have more questions about this, contact us. 
We've found that those with the highest completion rate put each session on their calendar and treat it like any other appointment they can't miss. Our suggestion is to schedule one session per week. This will keep the momentum going, but you also won't feel overwhelmed.
Yes! Following an introductory session, in sessions two and three, you'll begin to learn the brain science and gain tools for calming everyone down during conflict.
In session four you'll gain tools for connecting with your child that takes the intensity out of kids' defiance. In session five and six you'll learn to coach your kids in ways that build wisdom for life. In sessions seven and eight you'll learn to use effective consequences.
By the time you're done you'll be able to think far more clearly, biblically, and constructively in the face of daily challenges. You will experience more peace and confidence in your parenting.
The book Discipline That Connects With Your Child's Heart is very helpful as a resource but not necessary to complete the course. 
To encourage you to have this as a resource we do make a copy (either paperback or audio) available to you at a discounted rate.
The appendix of the book applies the 4 principles you'll be learning to these common parenting challenges: 

Messes

Chores

Po

or Listening

Homework/Grades

Sc

reen Time

Mornings

Meals

Transit

ions/Leaving

Bedtime

Whining

Defiance

Lying

Disrespect

Conflict Resolution

Aggression

Tantru

ms/Meltdowns
We continually hear how parents continue to refer back to the appendix over and over again! 
The course connects with multiple learning styles. There are written, visual, emotional and interactive portions of the course that engage the whole brain. This is the most effective way to assure learning.
It is much easier to share the experience with a spouse. At the end of a long day it's more likely you'll sit back on the couch, watch, and reflect together rather than read a book together. 
It is also different because it is relational in two ways:
You'll feel like Jim & Lynne are right there with you. Their warmth and compassion come through powerfully. We think you'll find this to be as personal as an online course can be.
You'll be interacting with others going through the course at the same time. In each session are several reflection questions that invite participants to share their learning with each other. 
While the principles taught in this course apply to all relationships, the specific examples and stories refer to kids ages 2 – 16. Parents have reported the principles apply well with older kids, grandkids, kids in the classroom, and even kids who have special needs such as ADHD, SPD, ASD, and attachment/trauma. So give it a whirl and if you feel like the course is not helpful to your family, just contact us during the first month for a full refund.  
Yes, this course is different! You'll learn four basic biblical principles and be guided to uniquely apply those principles to you and your kids. As you grow into these principles you'll grow in your unique ability to apply them. 
We open registration again September 2021.
Registration Questions
for the Discipline that Connects Online Course
We are able to provide certification that you registered and participated. You (or your board) would need to decide if it fits within your CEU guidelines.
Yes! Upon request, we are able to offer videos that have transcription. 
Yes! If $119 is out of your reach, we offer options ranging from $89.25 or less based on your need. 
We want all parents, regardless of their ability to pay, to have access to this life-changing information. 
Check out our scholarship options here. 
We sure do! 30% off for active or retired military.  Contact us to request the customized coupon code just for you. And "Thank You!" for your service! 
Register by Monday, January 25 to receive a welcome packet in the mail by Tuesday, February 2nd (if you live in the US and are new to the course).
Welcome packets will be mailed until we run out! 
Everyone, regardless of when you register or where you live, will receive digital downloads of everything in the welcome packet.
Content is released on Tuesday, February 2nd. 
Finish one session a week from February 2nd through the beginning of April 
Participate in three live Q & As sprinkled throughout the course (February 23, March 16, April 6) or watch the replay after.
Since 2002 Connected Families founders Jim & Lynne Jackson have worked almost daily in the trenches with parents. Their discoveries have helped thousands of parents grow in skills and confidence.
The basic idea is this: When parents make a primary goal of getting their children to behave right, parents and kids generally become adversaries. But when parents learn to focus first on helping their children grow into healthy, biblically-based belief about themselves and the world, these parents become allies with their kids and gain great influence in their lives. So we equip parents with a new primary goal for discipline: one that positions them as allies instead of adversaries.
To get the full and best experience, we encourage you to register by January 25th to ensure you have the Welcome Packet in hand by February 2nd
We will close registration on February 8th

If you register after the 2th and before the 8th, you can always catch up! However, we can't ensure that you'll receive a welcome packet in the mail. 
To be good stewards of our resources (and storage space) we print a finite number of welcome packets. Once we run out, we are out.
We'd encourage you to register as soon as you are able to make sure your welcome packet is mailed to your home by February 2nd. After we are out, we'd ask that you download all the elements of the welcome packet. 
If you are an alum, you should have received an email from Executive Director Anna Braasch on January 2nd with the subject line Next Steps for DTC Alumni. If you did not receive this email, contact us and we'll get you all the details. 
We have three options available for course alum:
1.) Once you complete the online course, you'll be invited to participate in an ongoing private Facebook group with other alum. 
2.) We have private parent coaching at a discounted rate. 
3.) We have group coaching packages available to alum.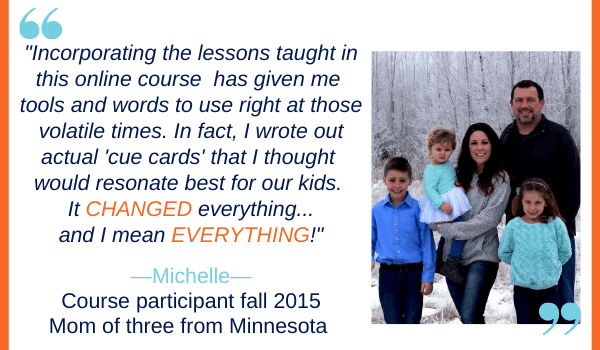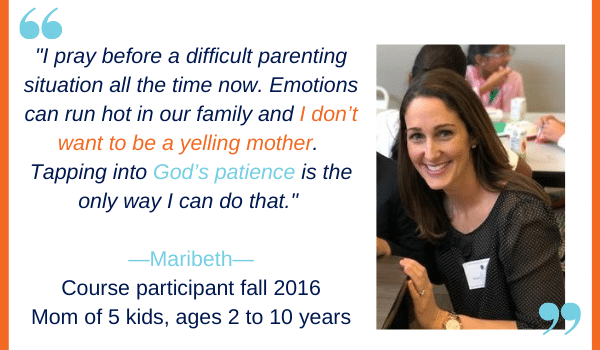 Registration opens again September 2021.