The 2019 year-end fundraising campaign "Where Are They Now?" tells the story of several families who have been transformed through the ministry of Connected Families. Some of these parents began implementing the Connected Families Framework when their kids were young...toddlers even! Others when their kids were a bit older. And now, many years later, their families are flourishing. 
Whether your children are toddlers or teens our resources can provide just the encouragement you need. While we don't promise fairy-tale endings for all kids, we CAN promise that the hearts of parents will be transformed by implementing what they've learned. 
Since 2002 Connected Families has grown and flourished, reaching countless families around the world. We can only do this because of our generous donor team. Thank you! 
Thermometer updated Thursday, January 2nd.
Donate $50 or more to receive a special thank you gift!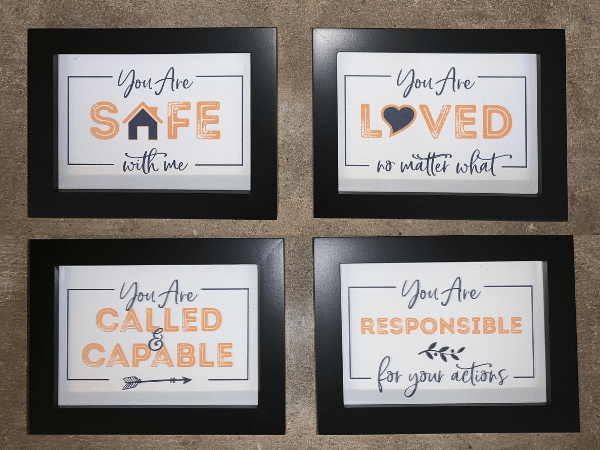 Everyone who gives at least $50 during our year-end campaign will receive a PRINT of the framework art.

These four 5 x 7 prints will be sent in January - UNFRAMED.  You'll have the flexibility to frame the art to fit your decor!

If you live outside the United States, we'll send you a high-resolution

image you can print at a local print shop.
If you donated earlier in the year and would like to receive the art, let us know. We'd be happy to send it to you!
We invite you to help us expand the Connected Families reach for decades to come, just as donors have sustained us in decades past.  During November and December, $200,000 (over and above monthly planned giving) is needed to launch confidently into 2020.
If you've been blessed by Connected Families (or simply believe in the vision to inspire and equip parents with practical grace and truth for parenting) consider giving today so more families can be transformed!
Since our beginning in 2002, Connected Families has maintained the highest level of financial integrity. We stand accountable before you and God to use your resources wisely and efficiently. We are committed to financial disclosure and trustworthy stewardship. As such, here are our guiding financial principles:
We pledge to use money well

with accountability to God as our greatest desire. We will spend overhead money as wisely as we can, fully accountable to our Board of Directors. Our primary guiding principle is to be good stewards of the funds and the quality employees that God has provided.

All our finances are audited annually

by the independent CPA firm Ellingson & Ellingson. Recommendations are followed, and the report and form 990 filing record is available upon request.

If the goal of a given fundraising campaign is met,

we will gratefully apply additional gifts

to other equally important aspects of Connected Families' ongoing ministry.

For many of our services, we invite people to make suggested donations.

We let them know what the service costs, and if they have budget for the service, we invite them to contribute that amount or more. But we do not withhold services when there is no budget. We will serve for whatever people can offer.

Jim & Lynne Jackson take no royalties

from their books, audios, or videos. These proceeds, and all suggested speaking and coaching fees, are paid directly to Connected Families.

Connected Families is a 501(c)3 nonprofit, and all contributions are

tax-deductible

.

You will receive a receipt for your records. 
In every detail, our standard is absolute financial integrity. Our most recent financial report is available upon request. To receive a copy, or to ask us any questions about our financial principles or practices, please fill out this contact form.
Make checks payable to Connected Families and mail to our PO Box
PO Box 390194
Edina, MN 55439
If you already have a Paypal account, it is simple and easy to donate through Paypal. They even cover all the processing fees! Donate here. 
Account Name: Cross Generation dba Connected Families
Tax ID # 01-0711547
TD Ameritrade
Account #: 488683258
DTC#: 0188
I've been following Connected Families from the beginning (even before kids!) since I worked with both Jim and Chad at a youth outreach ministry.  As a family physician, I now refer clients to Connected Families all the time. My husband and I support Connected Families financially because I believe there is no better resources for parents and families than what they offer.

Mandy
Mom of four from Washington State
Since 2014, my wife and I have been receiving emails from Connected Families. They have provided countless gems of wisdom with not only the way we parent, but with the way that Father God leads us as well!  With 4 children, life can be somewhat overwhelming, but with practical approaches to leading our children with love and grace, that burden is significantly lighter!

Ryan
Dad of four from Minnesota