The resources we love and are excited to share with you.
Connected Families has many fantastic parenting books and e-courses. If you've never checked out those resources, take a look. However, from time to time, we also suggest the resources of the other amazing individuals and organizations that are helping parents lead their families with grace.
This page includes some of the parenting resources we like to recommend.* It's a bit of a hodgepodge. We've got children's books to read on growing in empathy, to help deepen their faith, and learning to understand people who are different. We've also got books for you to read yourself, as you learn to accept the grace that you want to give to your kids.
And, just for fun, we've got our team's favorite podcasts. They're pretty random, but we hope you enjoy them! Scroll through and see what resources might support your family's journey or bring a bit of joy into your life.
*Most of the links on this page are affiliate links and we will receive a small commission if you make a purchase after clicking on the link we've provided. Thank you for supporting our work here at Connected Families! 
Books that support the framework
If you are not familiar with Connected Family's parenting framework (and the messages it teaches), you can download this free ebook. These four messages will transform how you discipline.
FOR KIDS: Building up the framework messages with more resources!
FOR KIDS: Empathy-Building Books
Books are a great place to stretch your child's empathy muscles. Invite them into another character's perspective, and let them practice thinking how others might feel. The key to great empathy-building books, however, is to pick books with a variety life experiences, some of which will feel very different to your child. That's good. You want your child to learn to empathize with people different than themselves.
FOR KIDS: Resources for cultivating faith in children
A good storybook Bible draws a child into the story and prepares them for hearing the real texts, as they grow. These are a few of our team's favorites.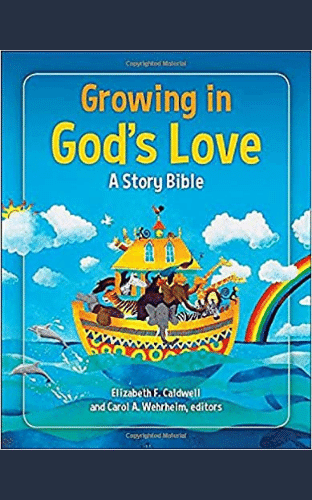 Editors: Elizabeth F. Caldwell & Carol A. Wehrheim (with 25 author contributors)
Ages: 4-10 
Description: As a collaboration between many diverse theological scholars, writers, and artists, Growing in God's Love is a very thoughtful book. With younger children, it works well as a stand-alone read-aloud, but it's formatted for older children to read the original scriptures along with the condensed "story" version in the storybook bible. Each story ends with three reflection questions categorized as "Hear," "See," and "Act"—allowing children and parents to go deeper in their conversations.
Note: This storybook bible has a special emphasis on justice issues. Scriptures that are often ignored in children's materials feature in this particular storybook bible. That said, a few critical stories (like the Fall in the Garden of Eden) are strangely missing. This is not a problem if you have lots of other children's books featuring these stories and are actively teaching your children about your faith. However, it could be a problem if Growing in God's Love is your only storybook bible.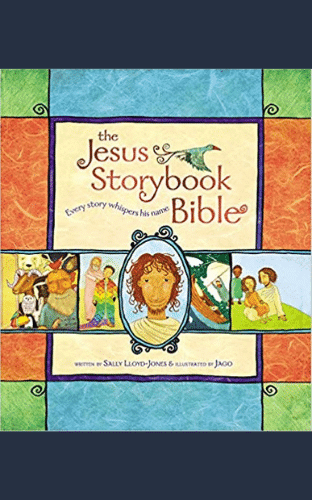 Author: Sally Lloyd-Jones
Ages: 4+ (even adults love this book!)
Description: Every story in this Bible comes back to the overarching story of God's never-ending love for his children and the great rescue plan God put into place at the beginning of time. This book reads like great literature, and it engages all ages very well.
If you've got an adolescent who might feel embarrassed by reading a "picture" bible, you might want to give them The Story of God's Love for You, which is the adolescent and adult non-picture version. But Jago's artwork in the Jesus Storybook Bible are gorgeous!
Regardless, this is a great storybook Bible for family read-alouds and conversations.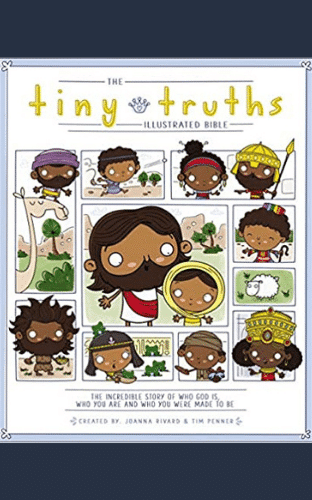 Author: Joanna Rivard & Tim Penner
Ages: 4-8
Description: The Tiny Truths Illustrated Bible gives a simple, yet thorough, look at the big story of the Bible. It ties Old Testament stories to Jesus and unfolds classic children's stories, along with some not usually included, in a way that invites children into the grand story God is writing. The illustrations reflect the ethnicities of the people in the Bible, giving a more accurate picture than many children's Bibles portray. From Genesis to Revelation, this Bible helps children understand who God is, who He created us to be, and what we're made for - sharing the love He's given us with others.
Bible Games Central is all about providing fun and captivating resources to get people excited about the Bible. Christian games for kids' Sunday school, youth groups, adult ministries AND families! This website has games for kids and adults of all ages that make learning the Bible fun.
Want to learn about the heroes of the Bible in a creative and fun way? This app features amazing 3D animation, lots of exciting new features, and the Bible background of each hero. As you answer trivia questions you'll sharpen your knowledge of these real-life Biblical characters.
These delightful books pair beautiful artwork and great storytelling to bring truths deep into your child's hearts.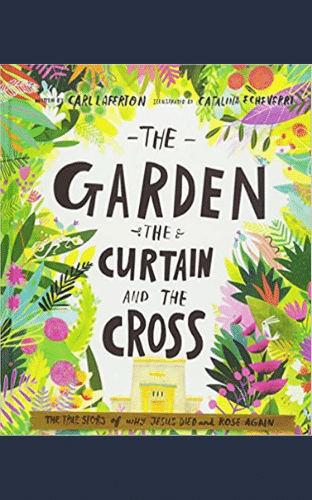 Author: Carl Laferton
Ages: 4-8 years
Description: What does it mean that the veil has been torn? The Garden, the Curtain, and the Cross presents a powerful, but simple, retelling of the Biblical story from Genesis to eternity with God, showing us what Jesus did on the cross and why it all matters. Even very small children's hearts will thrill at theological truth in this beautiful book. 
Note: You maybe interested in other books from the Tales that Tell the Truth Series.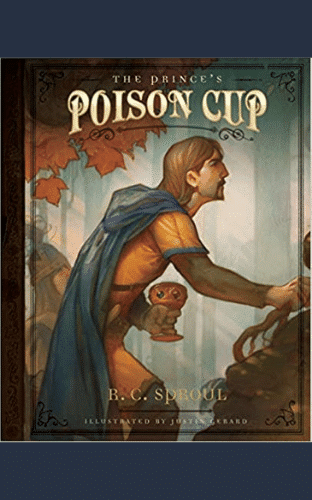 Author: R. C. Sproul
Ages: 3-10
Description: This beautiful book takes a story-within-a-story approach. When Ella gets sick and doesn't get why medicine that tastes so bad could be helpful, her grandfather tells her a story.
The story he tells is an allegory for Jesus' atonement. To save a rebellious people that get sick off a forbidden well, the king's good son must drink a cup of poison to save everyone.
Author and theologian, R.C. Sproul wrote many children's books that tell theological truths (see: The Donkey Who Carried a King, The Lightlings, or The Priest with Dirty Clothes).
Phil Vischer, creator of Veggie Tales, has started a streaming service! We want to bring faith to life for our kids, but it's hard to make sense of faith until you can make sense of the Bible. So Mr. Phil TV starts with a library of videos that take kids through the Bible from Genesis to Revelation. Then we meet famous folks from history whose faith shaped the world in amazing ways, to show kids faith in action. And finally we add a library of Bible study videos that take whole families through key books, together!
Shows for kids ages 2-10. A safe place for your kids to watch new VeggieTales plus 1,000s of hours of faith-filled series where characters are role models and your kids want to watch it again (and again!). No ads, no algorithms, no sassy attitudes. Just good shows your kids will actually want to watch including hand-picked YouTubers reviewed and screened by parents like you.