This year, for our donor Thank You gift, we designed four beautiful visual reminders of the messages that are at the core of what we teach.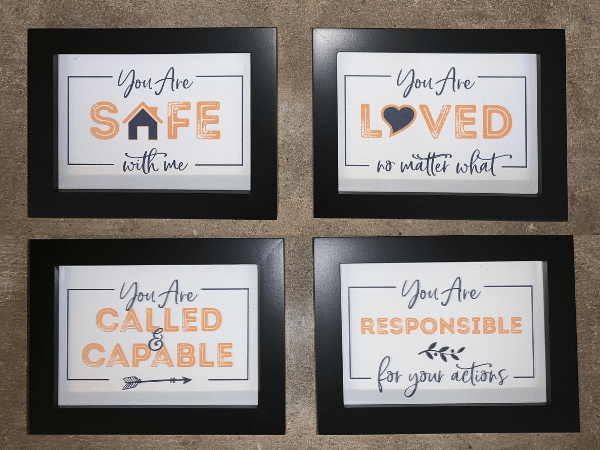 We are excited to gift these to our donor team, as a visual encouragement of the life-changing messages Connected Families shares every day. For a donation of $50 or more, we'll send you these four inspiring images, unframed, so you can frame them to match your decor.
Take a look:
You are SAFE with me
The house represents the safety of a home that is built on the bedrock of God's grace and truth – the foundation for authentic, peaceful relationships. Psalm 139:23
You are LOVED no matter what
The heart represents love – both the love of joy-filled connection, and also the love that reflects Christ's unconditional love: offered when we are the least deserving, but the most needy of it. Romans 5:8
You are CALLED and CAPABLE
The arrow represents direction as children are equipped to be launched into the world to walk in their God-given calling to be a blessing. Ephesians 2:10
You are RESPONSIBLE for your actions
The olive branch represents heart-felt reconciliation and restoration after the messes and hurts of family life, not relying on harsh punishment or insincere apologies to "settle the score." Galatians 6:1
In Deuteronomy 6:5-9 God commanded His people to love God with all their hearts and keep His commandments in front of them. We encourage you to teach your children the scriptures behind these biblical identity messages, that the verses might guide your family toward living out the blessings you have in Christ.


Join our donor team at the $50 (or more!) level. We'll send you this artwork and all donations will be doubled with our $50,000 matching grant!