Is your child refusing to do schoolwork? What can you do? Many parents are feeling the pressure of "crisis schooling," and children are struggling to find motivation for their schoolwork. Though doing school at home may have initially been appealing, the novelty (for most) is wearing off. 
Kids have been cooped up at home. Whatever novelty there was to doing school at home has now worn off.
In this article (also available in video or audio download), learn practical ideas to empathize, encourage, and empower (problem-solve). You can bring more joy to your child's educational experience. 
Check what's going on inside you first
Doing school at home during the pandemic was not a choice for many parents, and this can cause a lot of anxiety.
Before we can effectively help our kids, we have to learn to navigate our own anxiety. It is then we are better able to lead our children calmly. Remind yourself and your children that there is plenty of grace for this, and it doesn't have to be perfect.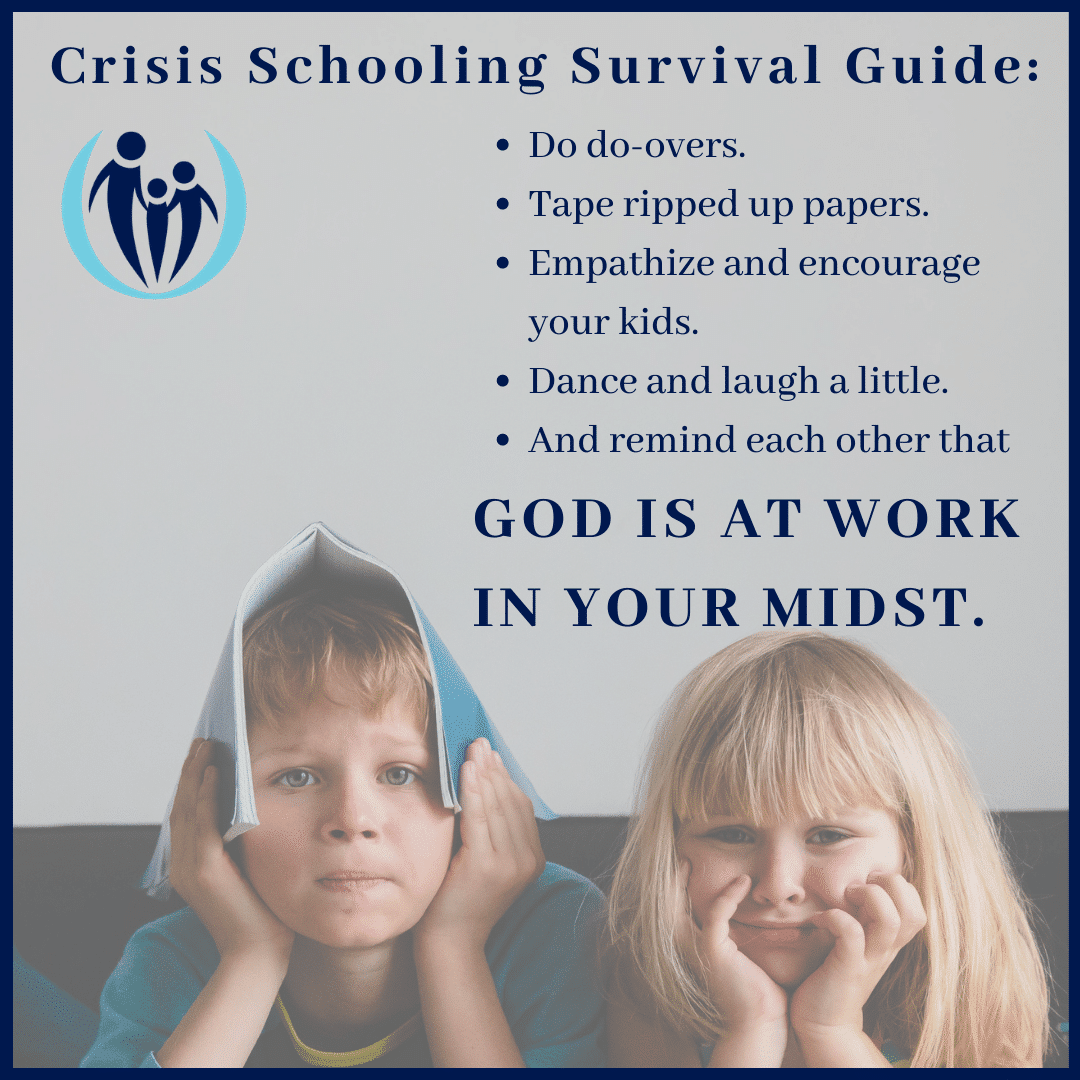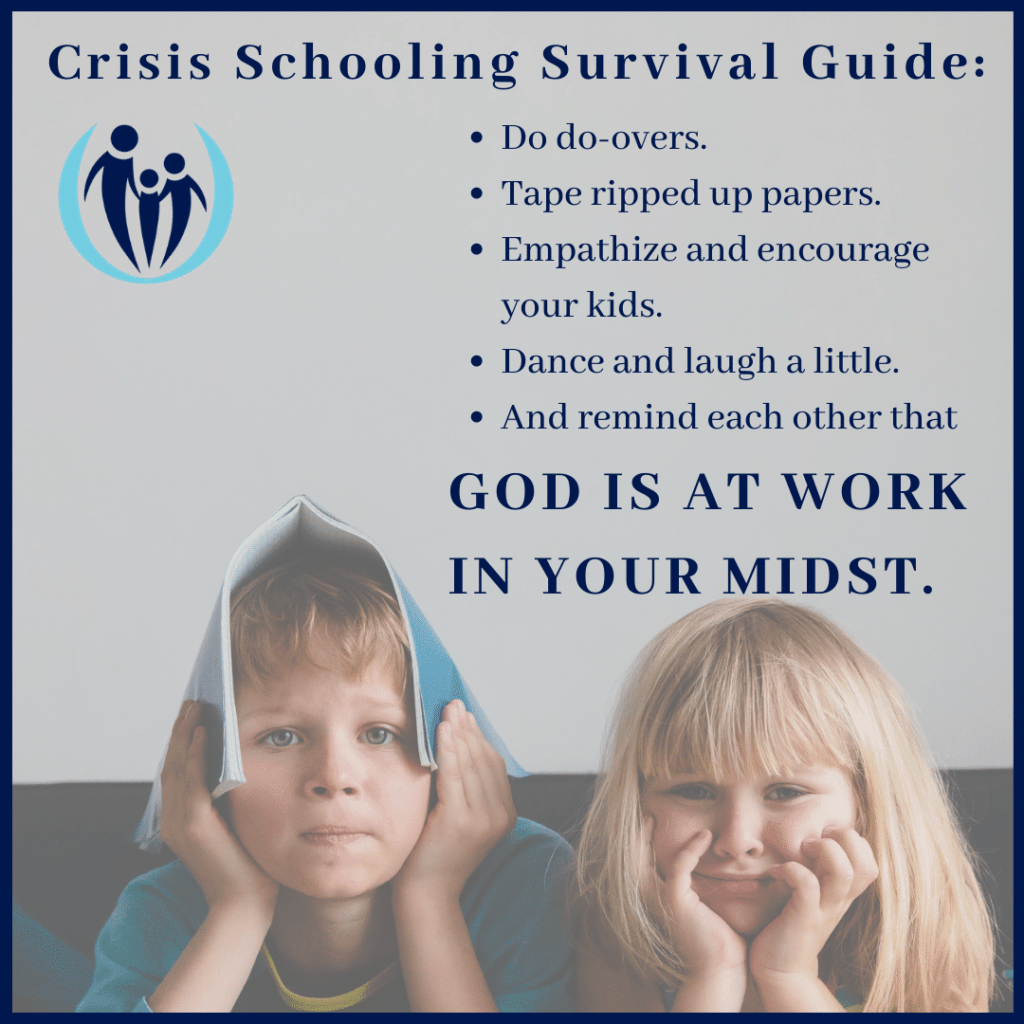 Empathize when your child refuses to do their homework
It is important to empathize with our kids before we try to solve the problem. Ask yourself:
What's it like to be them?
What are they feeling?
What are their basic needs or stressors that are causing them to struggle?
Your child might be experiencing over-stimulation, boredom, low blood sugar, fatigue, or lack of exercise and/or sleep. They could also be experiencing sadness and grief.
Online schooling is not easy for kids
Studies also show that virtual meetings are exhausting for kids and parents! It's harder to read social cues on a screen, and response delays can hinder effective communication. Kids may also feel self-conscious about "performing" on a screen.
Distance learning lacks the variety that an in-person classroom provides. Our brains were created to function on reflected light, and learning in front of a screen means more light-emitting exposure, which can also contribute to fatigue.
Whatever the stressors our kids are experiencing, it's really helpful to express, "I get what it's like to be you!"
Encourage your child
Along with empathy, we can encourage our kids. Let them know, "I see and enjoy good things in you!" The word "encourage" literally means "to fill with courage." So fill your kids with courage about who they are! 
Doing "school at home" was not a choice for many parents, and this can cause a lot of anxiety.
Remind them of previous successes, and dwell on what is good instead of focusing on what isn't good. Fist bumps, high fives, humor, and positive affirmation can remind your child of the success and provide needed encouragement. 
Empower: problem-solving together increases motivation
The schoolwork problem is hard. Crisis schooling is a crisis situation—for kids, too. Once we have empathized and encouraged, our kids will feel safer and calmer with us. Then we can then work to solve the problem.
It's important to watch for what your child naturally gravitates toward: What picks them up? What helps them? Teach them to advocate for themselves by asking for what they need to be successful.
How Ashley learned to problem solve her schoolwork
One mom, Julia, wrote about some helpful solutions she discovered with her 9-year-old daughter during a struggle over schoolwork:
"We had a couple of great victories recently. Last Wednesday Ashley started falling apart because she was struggling with schoolwork. I made a little written list for her of what she might need in the moment to calm down:
Am I hungry?
Am I tired?
Do I need to switch subjects?
Do I need something to drink?
Do I need some ice water?
Do I need a break?
Do I need help?
My natural impulse was to get frustrated and anxious, but instead, I stayed calm and helped her in a compassionate way."
In this list, Julia sent a new and powerful message to Ashley: "I care about why this is hard for you. With a little help, you can figure out what you need in order to be successful." The tide had turned. 
Supporting Ashley, while holding her accountable for schoolwork
Julia's note continued:
"Ashley filled out the list by putting 4 checks by "I am tired". So I suggested some ice water (which I hoped would energize her!) in a fun cup with the crazy straw and then tickled her back while she drank it. She went back to work, turned her attitude around, and did great the rest of the day!
A couple of days later, she started falling apart again while doing homework, but she didn't want to put the work aside and do something different. I took out the list again and reminded her of how great we both did on Wednesday."
Can you feel the difference? Julia's approach became encouraging instead of discouraging. Ashley was still accountable to do her work but in an environment of support instead of criticism.
Making the homework struggle a chance for connection
Julia's note wasn't done.
"I snuggled with her, tried to make her laugh, and reminded her that she is 'my sunshine girl'. I also added some silly humor from a movie that we watched recently.
When we had a little playful momentum going, I said, 'Let's add to the list':
Do I need to tell my mom how awesome she is?
Do I need to serve my smart, beautiful, awesome mom?
Then Ashley wrote in:
Do I need my mom to sing opera and dance like crazy?
With a little dancing and singing, we turned it around again and she got through her school work, with both of us really having fun and enjoying each other.
This mom's realization of what was happening beneath the surface of Julia's behavior helped her to empathize with and encourage her daughter. This paved the way to empower her daughter to ask for what she needed to be successful.
Notice how Julia also incorporated laughter and fun! Carl Marci, MD, an assistant professor of psychiatry at Harvard Medical School said that in tension, laughter releases serotonin and communicates, "Everything's okay, you can come over to my side."
Timmy refuses to do his schoolwork. Now what?
Marilee, a crisis-schooling mom of five, was struggling with her 7-year-old son Timmy. He was very distractible and resistant to morning schoolwork. Every day he would run outside instead of doing his work. Thus began his regular morning power-struggle with mom.
In a coaching session, Marilee realized the commotion of 4 siblings around him felt overwhelming to Timmy. When asked the question, "When does it go better?" Marilee realized that on days he was alone outside all morning, he was both regulated and motivated to get his schoolwork done quickly and then join play with his siblings. His "defiance" about morning schoolwork was actually his attempt to get what his body needed in order to focus well.
Timmy and Marilee problem-solved together and adjusted his schedule. Timmy also told his mom, "I really like rewards!" and chose rock tumbling. Marilee reported since these changes Timmy is doing much better, and he has now lined up the rocks he's earned.
Practical ways to set your child up for schoolwork success
There are many creative and practical ways to empathize, encourage, and empower your child. Here is a list of creative day-brighteners from other parents in the same "crisis-schooling" boat that you may be in:
Start the morning with something that isn't seat work: a joke book, fun poems, sing silly songs together, big movement activity (60 Creative Ways to Get Kids Moving), or a short Bible reading (with young kids, consider acting it out.)
Plan a different afternoon activity each day as something to look forward to after studies are all done: a big coloring poster, puzzle, board games, obstacle courses, a half-hour old-fashioned show (i.e. Brady bunch, Gilligan's Island), or a video chat with a grandparent.
Occasionally hide healthy snacks or stickers in their work for kids to discover.
If things start to get tense, line up and give back rubs for 3 minutes and then switch directions.
Use a timer so kids know how long it is until a fun "recess break" is coming. (60 Creative Ways to Get Kids Moving).
Put stickers on completed work and correct it together.
Kids can do their work in creative places! (Tent, hammock, deck/patio, or even treehouse!)
Kids bugging each other? If possible provide them some private space, in different corners or rooms. Be creative if you are in a tight space: try a big box, play tent or fort with pillows; under a table; behind the couch.
Do math problems or spelling on the sidewalk or driveway in chalk. Younger kids can make letters out of masking tape and then drive toy cars or walk on them.
If your kids are in elementary school, consider themed dress up days: school in a swimsuit, wear a hat to school, wear clothes backward, pajama day.
With older kids, have lots of empathy and try to give them ownership. One mom invited her complaining kids, "Do you need to stop for the day?" Since they were reasonably motivated kids, that freedom was all they needed to decide they wanted to complete the assignment.
Ask kids to make up their own "character report cards" and grade themselves each day for things like creativity, perseverance, focus, or cooperation. Ask questions about any successes to help them understand how they did it.
Remember also the importance of routine. Try to find ways of putting some of these ideas into a predictable flow each day, so that empathy and encouragement are what your kids come to expect.
As you incorporate these ideas, give yourself plenty of grace. Remember that the Spirit of Jesus welcomes your children onto His lap and co-teaches them with you!
When school time still falls apart
Continue to give everyone (including yourself!) do-overs, and remind each other that God is working. Live in the hope of Romans 8:28: "And we know that in all things God works for the good of those who love him, who have been called according to his purpose."
Please reach out if you are feeling stuck! Let us know how we can empathize, encourage, and empower YOU as you parent through these uncertain times. We can help through coaching, email answers, and as always we are praying for you. Email your prayer requests to [email protected].
Prayer during crisis schooling
Lord, I pray You would encourage weary parents like me with Your love. Remind me of Your love for the precious children You've given me. Refresh me on this homestretch of school. Draw the hearts in our family together as we seek to stay aware of your comfort and grace, and problem-solve how to finish this school year well. In Jesus' name, Amen.
---
Related Posts
Podcast: Play in new window | Download | Embed