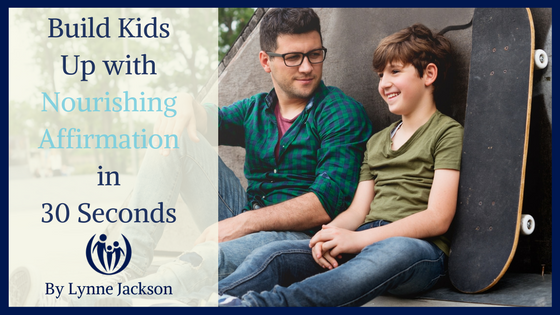 Kids need encouragement. But not all affirmation is created equal!
Some affirmation is empty — like popcorn or cotton candy — but nourishing affirmation builds kids up by helping them see how their actions benefit others or build their character.
So, what does nourishing affirmation look like?
In this 5-minute video, Lynne shares an easy-to-remember 3-step process to give kids practical, nourishing encouragement in less than 30 seconds.
The ABCs of Affirmation
ACTION – What did my child do?
BENEFIT – How does their action benefit them or others?
CHARACTER – What character traits did it take to do that?
We hope using this model will help to transform your relationships with your kids just like Patti and Devon in the video! For more examples, check out another piece we've written on the ABCs of Affirmation.
Sign up below to receive a weekly dose of encouragement straight to your inbox.