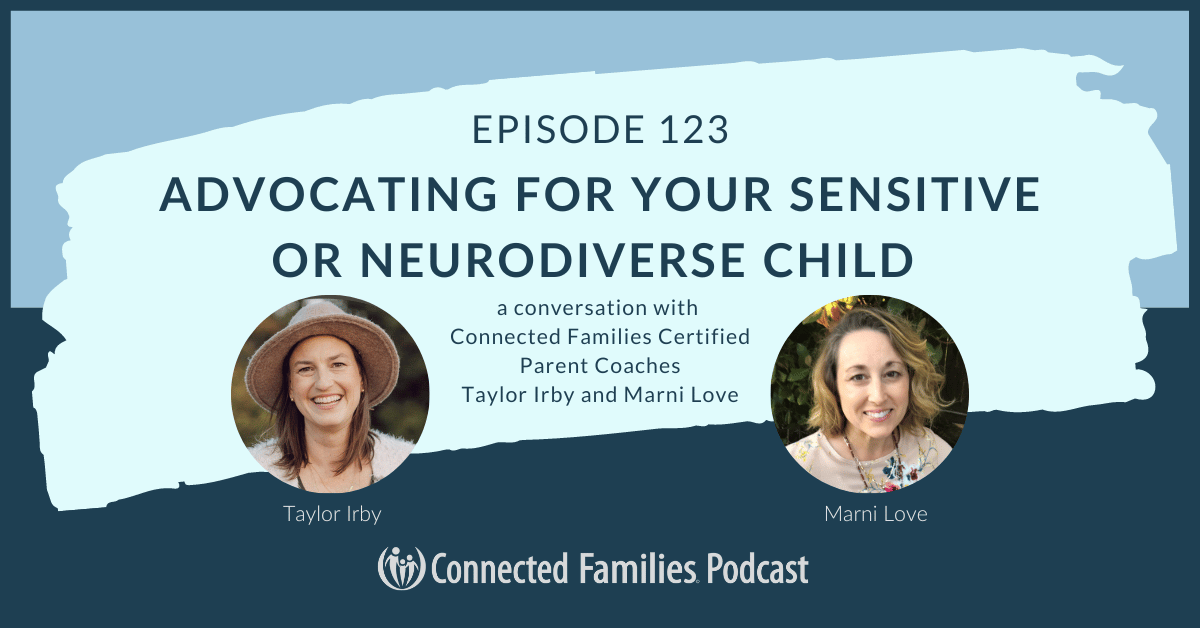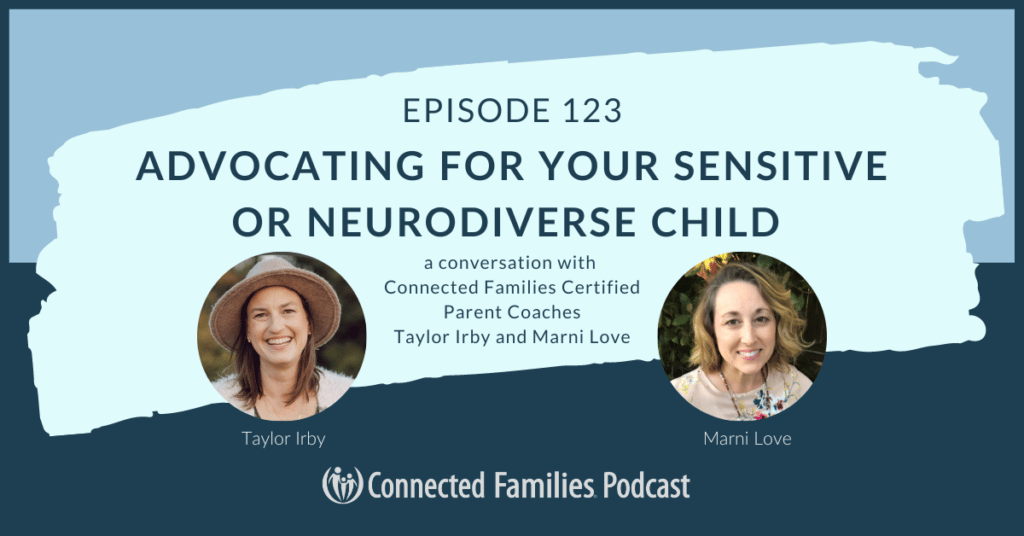 Maybe you've received a message from your child's teacher about his behavior at school, or you want to set your child up for a good experience as she begins a new activity. Communicating with teachers, coaches, and other adults about how to support your sensitive or neurodiverse child may feel difficult to navigate, but thankfully other parents have also walked that journey and have some practical wisdom to share.    
In today's podcast, Marni Love (former public school teacher, home educator, and Connected Families Certified Parent Coach) and Taylor Irby (Connected Families Certified Parent Coach) join Stacy Bellward (podcast host) to share their experiences about advocating for a sensitive child. Taylor and Marni offer practical ideas to empower so your child can receive the support they need in any environment.
In this podcast, you'll discover:
that a diagnosis can unlock the doors to help you understand and advocate for your neurodiverse child
how to flip the script of negative complaints from teachers and other adults to positive feedback
ways to support your child in making and keeping friends
how you can be firm and kind with other adults in order to help your child thrive (and keep your sanity!)
how to create an advocacy sheet about your child for teachers (downloadable link)
where to get a medical diagnosis and how that impacts an IEP/504 plan at school
steps that can help you and your spouse get on the same page
how to gather a professional team and personal support for the journey with your child
We hope that you have been encouraged by today's podcast, and we look forward to getting to know you. Please check out our website, and don't forget to reach out if you need help. It is a joy to be able to walk with you as you parent your kids in God's grace and truth!
Mentioned in this podcast:
Guest Bios:
Marni Love is a former public school teacher and has been a home educator for the past 13 years. She is a Homeschool Mentor and Certified Connected Families Parent Coach. Marni enjoys spending time with her husband, Eric, and their three sons in the beautiful mountains and beaches of Northern California. You can connect with her through her website: marnilove.com
Taylor Irby is a mother to 5 kids, and she understands the struggles parents face. Every day she faces ADHD, autism, anxiety, developmental delays, and adoption trauma. She, too, has sat in the midst of challenges and searched the world for answers. Taylor read book after book and got excited over methods that were short-lived. That is when she hit the wall of desperation and sought parent coaching through Connected Families. Taylor ultimately became a coach through their training program to help others like her. She has seen transformation in her home through working with a framework that not only has changed her children's behavior but their hearts as well. You are not alone on this parenting journey. There is hope, and you can enjoy your children, build that relationship you have wanted and see behavior change. You can learn more about Taylor at taylorirbycoaching.com, and on Facebook https://www.facebook.com/taylor.irby.5 and Instagram @taylorirbycoaching
---
Does your child need help calming down?
Would a free course presenting you 7 sensory strategies to calm your child be useful?
If yes, take our FREE online course 7 Practical Calming Strategies for Kids.
Related Posts
Podcast: Play in new window | Download | Embed