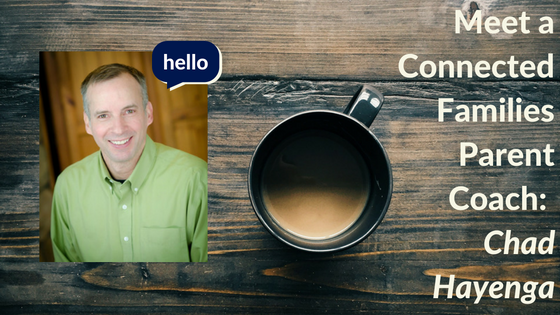 Connected Families provides coaching for parents all over the world. Meet Chad Hayenga, one of the Parent Coaches and our director of Coaching who makes a difference in the lives of the people he serves.
When did you become a Parenting Coach for Connected Families?
I began coaching with Connected Families in 2012. Previously, I had worked as a marriage and family therapist for Connected Families. After a number of years providing therapy, often times to teenagers, I became frustrated that I was mostly teaching coping skills to teens rather than changing the family dynamic. It was at that point, I shifted to working almost exclusively with parents. Parents have such an enormous impact on their kids and when parents change, kids usually change as well.
Can you tell us a little about your background?
I've been married 23 years and have three daughters (22, 19, 15). I have a masters degree in counseling psychology and a certification in life coaching. I spent 10 years working with a ministry to at-risk teens before coming to CF.
What is your role as a coach for Connected Families?
I am the director of the coaching program at Connected Families. I am actively coaching a number of parents at any given time, but I'm also working to train other coaches who believe in our parenting model so they too, can become parent coaches using our life-changing framework.
What is your greatest passion when it comes to coaching families?
I absolutely love the time in a coaching session when a light bulb turns on for the parents. Often times it is the Holy Spirit showing them something about how God sees them as a parent or how God sees their children. When the parents' perspective changes and they begin to focus on things they can control, amazing things happen.
What is the best part about coaching?
The best part about coaching is seeing parents develop a plan for becoming the parents they want to be and hearing how that plan has changed the direction of their family. It's just awesome!
Learn more about Connected Families parent coaching.
[convertkit form=4863592]