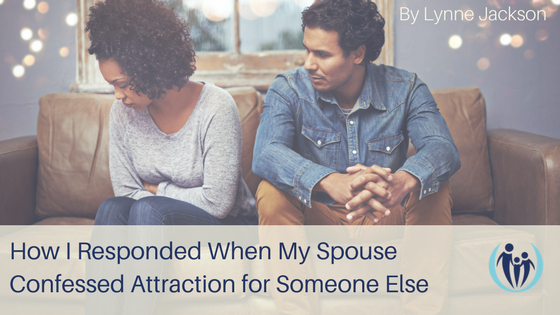 Since our engagement Jim and I established we would not hide things or keep secrets in our marriage. It's easier said, in nice marriage vows, than actually done – but in our young lives we'd already seen the power of secrets to grow like cancer in relationships. With this in mind, from the beginning, we challenged each other when something seemed "off."  A centerpiece question became "What's going on?" and we were committed to answering with details.
This commitment met a grueling test one evening early in our marriage when the truth was deeply painful. Jim was unusually uncomfortable as he began. "I realize I've begun to be attracted to someone at work." He told me who it was — a woman I knew.
He continued, "I knew I needed to tell you about it when I realized I was starting to plan how we might stay and talk after the others had left. I don't know what else to say. I'm really sorry. I don't want this to grow bigger, and I know that if I keep it secret that's what would happen."
I sat in gut-punched silence.
My soul was tossed into a tumultuous rapids of self-condemning comparisons. I knew this woman. She was delightful. I pictured this woman laughing and smiling with him. In those stressful years of parenting our intense young crew, she was everything I felt like I wasn't: young, vivacious, attractive, with a great sense of humor, and always sporting an engaging, sincere smile.
I felt old, negative, un-fun and unappealing. I knew that was my stuff and I had to face it. I managed to not cover it up with anger or blame. A harsh, condemning response from me could be fertile soil to grow his attraction to her. I also knew that the kind of feelings Jim was having can happen to anyone. Choosing to confess those feelings was incredibly honorable, courageous, and an example of his heart to protect our family. He gave me a precious gift that day.
So I responded carefully, "This is really hard. I can't imagine anyone who would trigger more insecurities by comparison than she does. But I'm very glad you told me. It shows how loyal you really are to be so honest when things are hard."
Bringing his feelings out in the open, and receiving a safe, grace-filled response, was all Jim needed for the attraction to begin to dissipate. We continued to communicate about his feelings toward her. We set up clear boundaries for work. We made an effort to bring more fun and connection back into our marriage.
A few years later, I also found myself feeling a growing attraction for someone else. I shared this feeling with Jim, and we had a similar conversation in reverse, with a similar end result.
Our practice of being safe with each other, even about scary-honest things, has helped us to thrive in our marriage. It's even bearing fruit in the next generation as our oldest son has this same practice with his wife. They are intensely dedicated to building stability and safety in their marriage, even when the honesty gets scary.
What will you do to protect the vital union that gives your kids stability and safety?
Here are some practical ideas:
Keep "like" alive

. Dr. John Gottman, marriage and family expert, concludes from his

extensive research

, "Happy marriages are based on a deep friendship… a mutual respect for and enjoyment of each other's company. These couples know each other intimately… They have an abiding regard for each other and express this fondness not just in big ways but in little ways day in and day out." What attracted you to each other? When do you still have fun together? Nurture those things!

Be safe in the small stuff.

When discussing lesser problems (like dishes and toothpaste caps!), instead of lashing out with blame, focus on identifying and changing your

own

issues. I remember on many occasions thinking, "Okay, this conflict is my sin running into his, so I'm responsible to work on

mine

." Then work toward a solution together. Practicing safety with small stuff equips you to be safe with the big stuff like affairs and addictions.

Commit to full honesty in the hard stuff.

Talk with your spouse now and make a commitment to bring your thoughts into the light the first time you realize something is "off," like when you have any small feelings of attraction and eagerness to see another person. 1 John 1:7 – "But if we walk in the light, as he is in the light, we have fellowship with one another [including our spouse!], and the blood of Jesus, his Son, purifies us from all sin." Practice by keeping the small things of your heart in the light, and commit to bring the big things into the light too.
This kind of honesty is scary. Vulnerability exposes the very tender parts of a heart. We learned over the years to embrace the truth that, "What's concealed gains power, but what's revealed can be healed." The more we lived by this mantra, the more graceful our truth telling became. Honesty and grace when it's most difficult may be just what your family needs to help it thrive!
---
Please consider sharing this article on your social network. Right now a friend or an acquaintance could be facing a similar conversation. This encouragement might be just what they need.
Sign up below to receive a weekly dose of encouragement straight to your inbox: