Have you ever considered saying blessings for the New Year over your children individually? Especially in a year with such added stress for parents and kids alike, you may be tempted to be painfully aware of everyone's shortcomings instead of the strengths and potential that has emerged this year.
Speaking a strong blessing over your children is a powerful way to demonstrate that you walk by faith, and notice what God is up to, even in difficult circumstances. Blessing your children is an important principle in scripture.
There's a passage in the Bible commonly referred to as the "Faith Hall of Fame." This passage, found in Hebrews 11, is a roll call of patriarchs and saints lauded for valiant faith and perseverance through extreme trials. In the midst of these heroic tales, two of the five main patriarchs (Abraham, Isaac, Jacob, Joseph and Moses), are praised for one very simple action… blessing their children!
By faith Isaac blessed Jacob and Esau in regard to the future. Hebrews 11:20
By faith Jacob…blessed each of Joseph's sons. Hebrews 11:21
That's it. It's what put these famous patriarchs onto the same list that includes Abraham (willing to sacrifice his son), Joseph (endured years of persecution), and Moses (delivered the Ten Commandments and performed incredible signs and wonders).
Proclaiming a blessing on our children by faith must be extremely important to God, to be on the same level with those other feats! So, to begin this New Year, we encourage you to individually and personally, bless each of your children!
Set aside a special time to bless your children
In the Jackson home, we have made a practice of proclaiming blessings on our children. We did this by making lists for our kids of ways we saw them grow in God's love and plans for their lives. We then set a special time to read the lists.
Each list was about a page long and included simple statements like:
You chose joy through difficult trials.
You handled a hard relationship with grace.
You have strong ideals and work hard to live by them.
You have worked hard at keeping a good balance of school, friends, and spiritual growth.
As our children grew older, they continued to love hearing these blessings of affirmation. One even asked for an email copy so he could print it on nice paper and frame it. Even through the various challenges of young adulthood, the kids still embrace these values.
Because we no longer gather at the New Year, we now use birthday celebrations to clearly speak words of affirmation and encouragement about the character that we've seen since their last birthday. The whole family loves this tradition and joins in. Some friends of ours call this tradition their "honor circle."
We know that this kind of activity can only serve to sharpen children's spiritual growth. So we invite you to do this with your kids as you launch into the New Year.
Make a list of your child's strengths and growth
Consider how your child has grown in the last year, even if the growth is in independence, assertiveness, or other ways that may have made parenting more challenging for you. Then tell your child during a special time together. You could even write it in a keepsake letter and read it to them.
Here are some questions to help you formulate your thoughts.
What have been some difficult challenges my child has had this year? How has she gotten through them?

What biblical character trait(s) developed in my child?

What biblical references are attached to those traits? For example: When has my child demonstrated sincere

faith through trials

,

kindness

,

diligence

,

helpfulness

, etc.?

At what has my child worked hard or shown leadership?

What is my child passionate about? What makes him excited? Even if it's not my favorite activity, what is an element of it that could be used by God to bless others?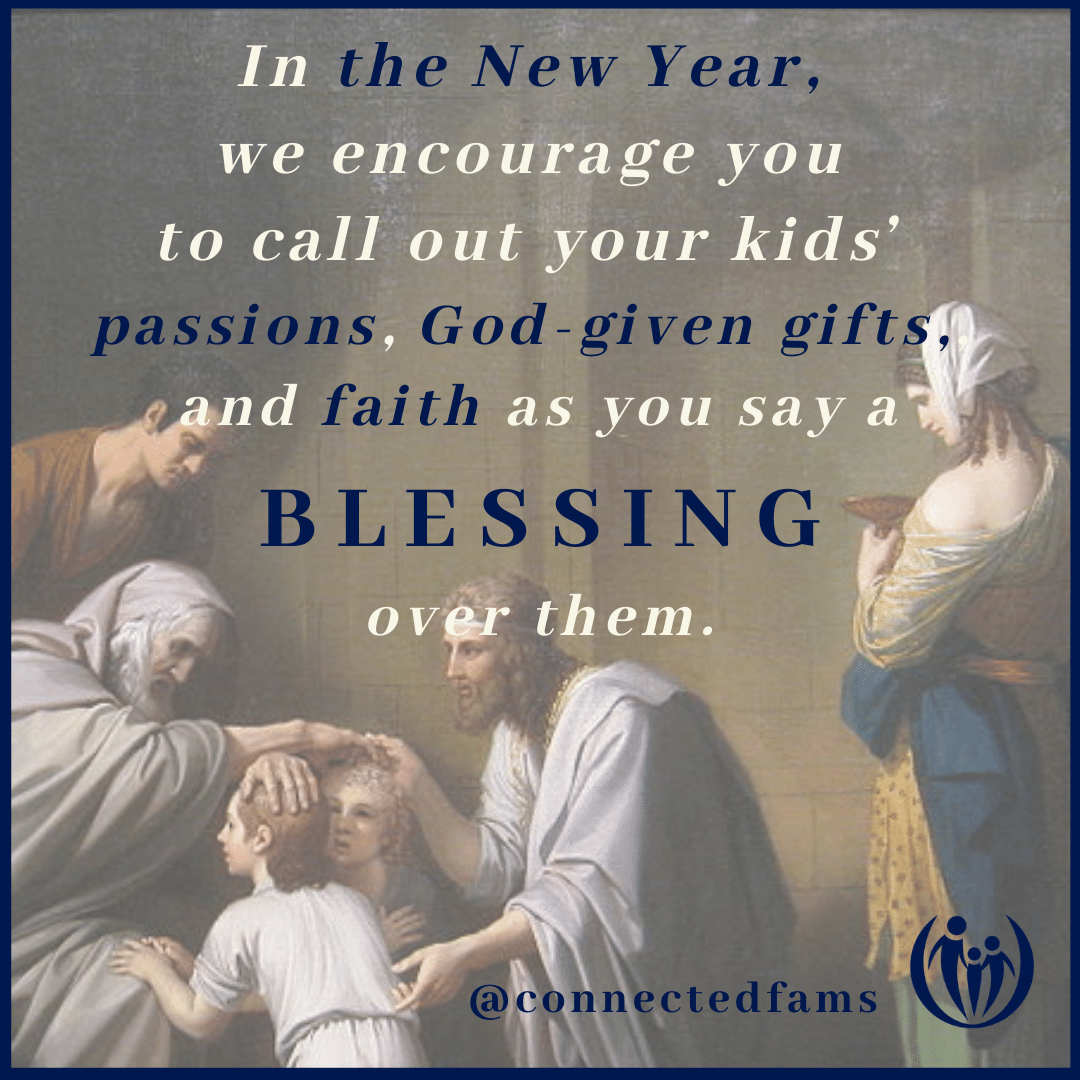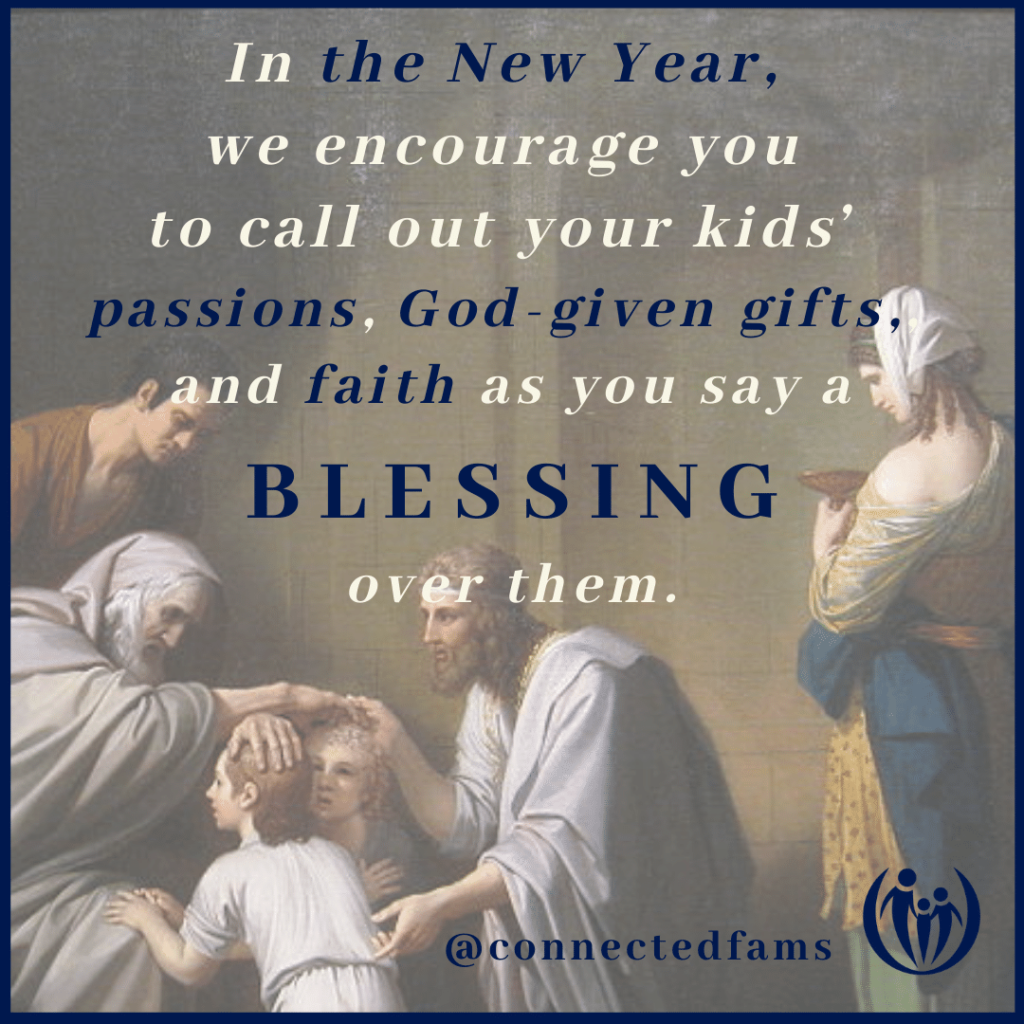 It's a beautiful annual tradition to proclaim blessings for the New Year over your children. You can call out your kids' passions, God-given gifts, and faith. And whether your child is a toddler or a young adult, these blessings can be a treasure to all of you as the years go by.
A daily habit to bless your kids
If it feels like too much of a stretch to write out a blessing for each child, that's okay. Many families report the profound impact of making blessings a part of their daily routine. Two of the simplest times to bless your children include:
when he or she leaves the home each day
as he or she goes to bed each night
Just a short prayer with your hand on their head or shoulder can be just what your child needs to feel secure in your love and God's love. Or a quick observation of how they're growing.
Read how this mom made blessing her kids on their way out the door a vital part of their routine.
What if your parents never blessed you?
Even if you didn't receive blessings from your own parents, you can anchor yourself in the rock-solid truth of scripture. God strongly proclaims blessing over you, and takes great pleasure in doing so. And… God delights and rejoices over you! Even when you've struggled through a difficult year. In Isaiah 62 God proclaims, "you shall be called My Delight" and, "as the bridegroom rejoices over the bride, so shall your God rejoice over you." Letting that sink in (even visualizing Jesus saying it to you) prepares you to bless your children in profound ways.
It has been wonderful to watch many parents experience God's blessing more deeply for themselves – as they have learned to bless their own children! As you bestow encouragement and blessings for the New Year on your children, may you be more encouraged to lead your family with grace.
---
To learn more about the importance and power of blessing your children, we highly recommend reading the book "The Blessing:Giving the Gift of Unconditional Love and Acceptance" by John Trent and Gary Smalley. Check out all of our recommended resources here!
Related Posts