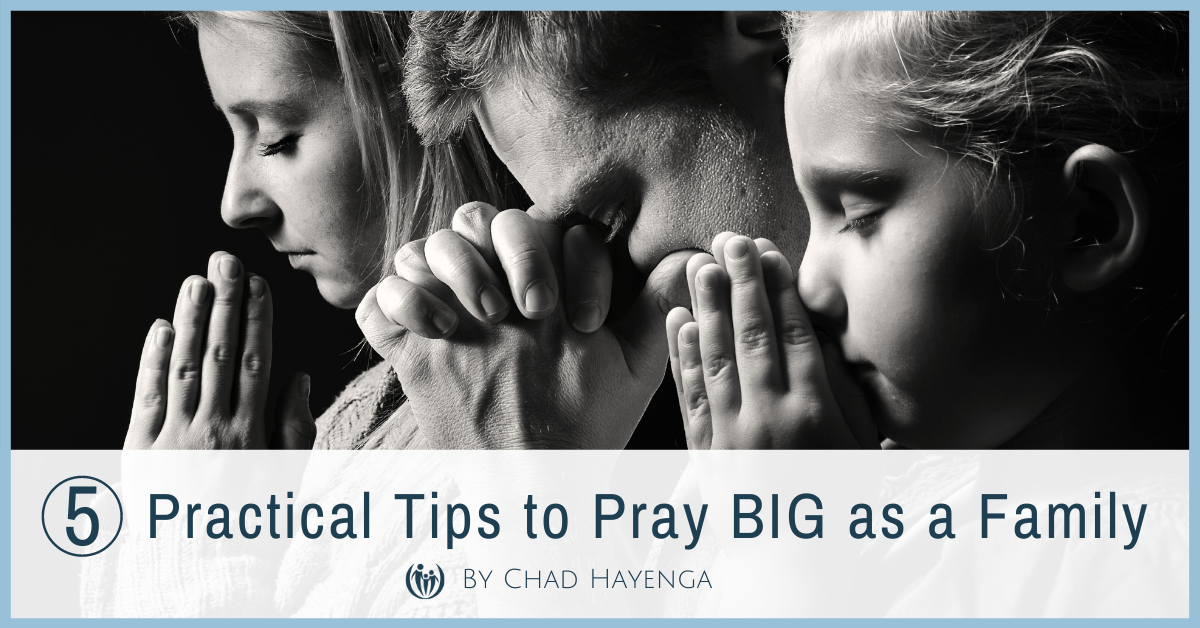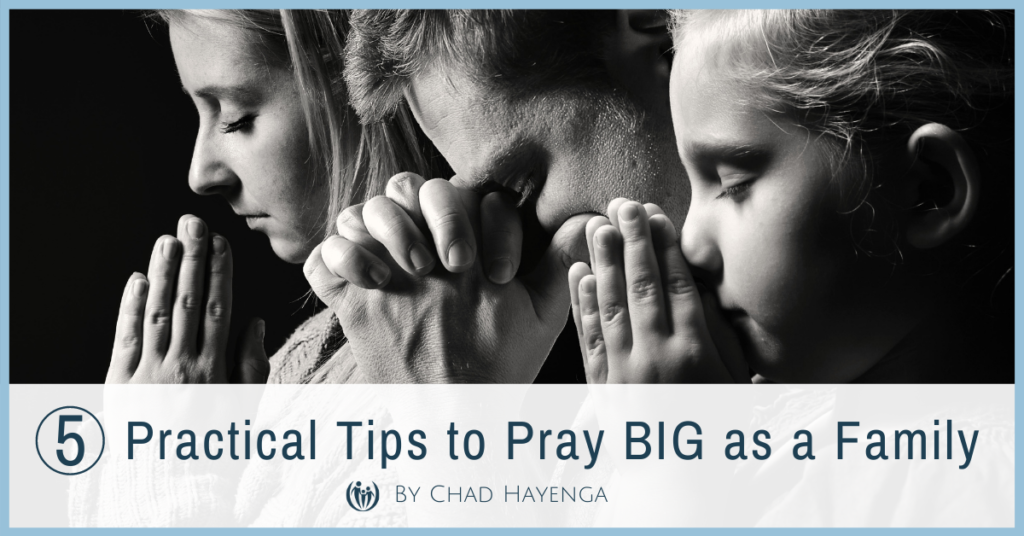 As parents, and as followers of Christ, many of us place great value on prayer. Are we prepared to pray BIG prayers? Or do we feel like we are just "going through the motions"? Figuring out how to pray as a family is difficult; especially if our personal prayer life is consistently a challenge.
God wants us to pray. God calls us to pray. But the reality is this: If we, as the parents, do not value prayer it is unlikely that our children will. Many parents feel like they need to lead their kids in long, complex prayer sessions. Prayers that even follow a formula. Other families may not even try. It doesn't feel worth the effort. But what if creating a culture of prayer in your family is not as hard as you think?
We've gathered five practical tips to make your family's prayer life a team effort, and shift it from self-focused to others-focused:
1. Pray big prayers
Our kids get a sample of the size of God we worship by the size of prayers we pray. Do we believe in the God of the Bible, who the apostle Paul said in Ephesians 3:20 could do "immeasurably more than all we could ask or imagine"? Is there something that seems insurmountable to your family or a loved one? Pray for that! And, as you pray God-sized prayers, look for ways that you can be part of the answer to that prayer. Funny how God works that way, sometimes!
2. Ask kids about their perspective on prayer and why prayer is important
Talking about prayer with our kids can sometimes be intimidating or create a sense of shame in us; especially since we don't have it all figured out. It's important to gain our kids' perspective. Include them in the conversation! Make a bowl of popcorn, grab some ice cream, and ask your kids the following types of questions:
Do you think it is important to pray?
Why would God tell/want us to pray?
How could we incorporate prayer into our family?
What difference do you think it makes if we pray?
Who/what do you think we should be adding to our prayer list?
3. Allow prayer to be an ongoing conversation throughout your day, even allowing your kids to listen or join you
In Deuteronomy 6:5-9 God gives a good outline about how to pass faith along to our kids. He encourages talking about your faith and discussing God's commandments during everyday life.
In much the same way, praying out loud in the car for a friend, or thanking God for a blessing you have received, sends a message that prayer is not a mealtime or bedtime ritual. It shows that prayer is part of our everyday life; just like eating, sleeping and breathing!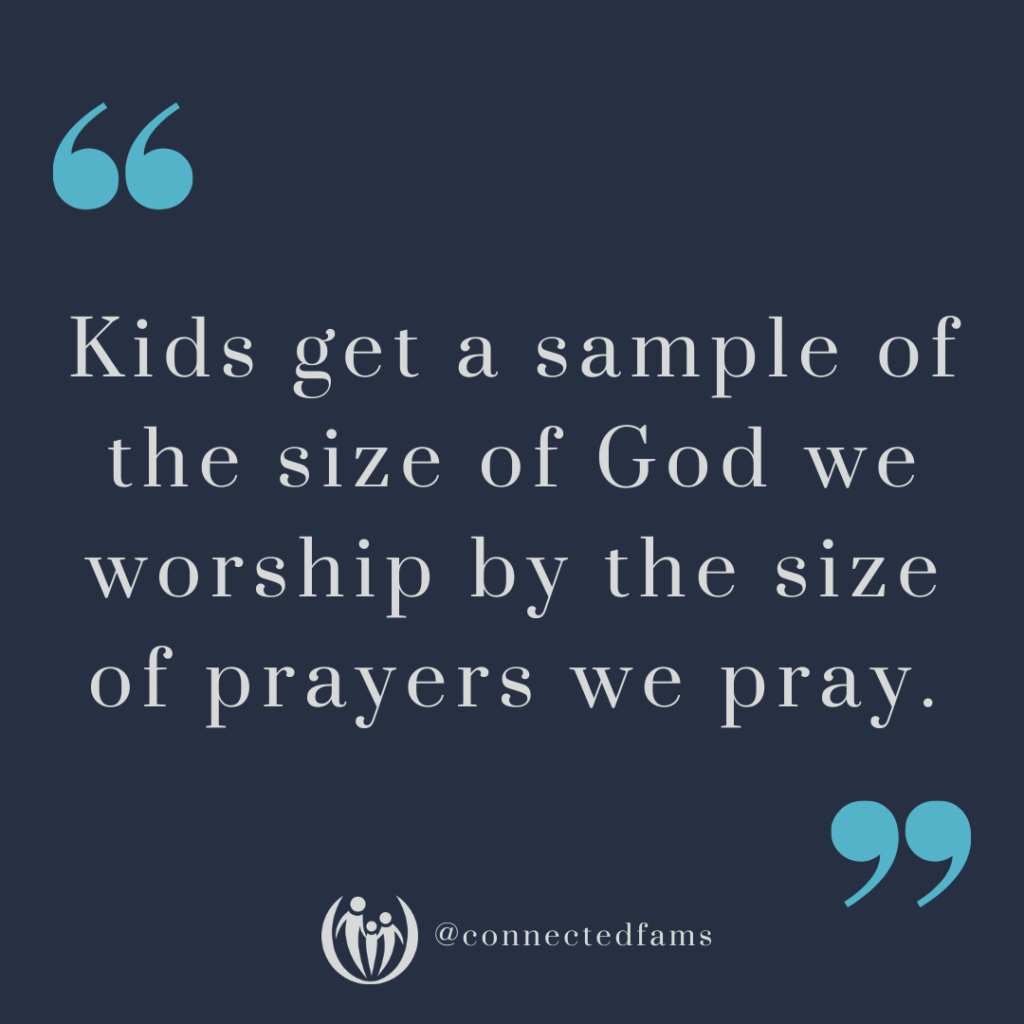 4. Engage kids on their level and with their preferences.
When creating a culture of prayer in your family sometimes a child or two may be less interested than you would hope. Generally, keep prayer times short. It's not the time to pull out a laundry list of family issues while you have a captive audience! If kids don't want to participate, that's okay. No guilting. No shaming. Just continue modeling a healthy prayer life and accept where they are coming from at this point in time.
Kids who are too shy to pray aloud may be the ones to suggest a person for whom to pray. They could even draw a simple picture of that person while a parent prays. Imagine Gramma's and the child's delight when he/she helps you mail Gramma the picture with a note that says, "We prayed for you today!"
5. Keep a record of how God responds to your prayers
If we are going to be honest, sometimes as parents we wonder about why we pray at all. Does God really hear us? Does He really care? Keeping a prayer journal can help remind us of how God has answered in the past. This can spur us on to continue building a culture of prayer in our home.
Some things to think about/do to get your family started:
Ask yourself: what God-sized prayers could you pray as a family?
Put a map on the wall in a prominent place to mark people/places that are in your prayers.
Put photos on your fridge to remind your family to pray for specific people.
For more insight on this topic listen to Chad and his wife Carma talking about prayer in this podcast episode, "Teach Your Kids to Pray".
Prayer can be a great way for your family to connect. It can even feel overwhelming at times! As you read through this article we trust you found one or two things you can begin doing today to start creating a culture of prayer in your home.
---

At Connected Families we believe in the power of prayer and so we're inviting you to both pray for us and to share your personal prayer requests with us. Do you consider yourself to be a person of prayer? We'd love to have you join our Prayer Team where you will receive a monthly email from us with our updated prayer requests and praises.
Related Posts