Anxiety. I have struggled all my life with it. My family knows it. My kids know it. But most others don't know it unless I let them get close. Talking about how to trust God in the middle of social unrest and a pandemic pushes me to a vulnerable place. How can we teach our kids to trust God in all of this?
I've struggled with anxiety without all the stressful events of 2020, and it's been a lifelong journey to trust God in the midst of uncertainty.
I've learned to wear a public face that masks my inner turmoil. But the knot of worry in my stomach rarely goes away. It sometimes grows to aches or even pangs that have no physical diagnosis. 
And sleepless nights, when my eyelids quiver and my body tingles with stress as I fight for rest.
It drives my wife crazy sometimes, though in our older age she has come to peace with it. And I have too in a way. All the little things I've learned to do, including help from doctors and therapists, and perhaps most importantly, pastors, help me cope.
This wise counsel has helped protect others from my pervasive inner struggle.
Our kids have a radar that detects anxiety
When I am anxious, my kids are the first to know. Even when they were little. They recognized, without having words to describe it, the little twitch in my lip, the slight quiver in my voice, and even my quicker pace as I moved about the house. My kids are sometimes more aware of my anxiety than I am. 
There is a radar that exists between parents and children, that senses even the slightest anomaly. When the radar picks up anxiety, the anxiety spreads.
These days coping feels harder. There seems to be more than usual reason to worry. The protests and unrest. The global pandemic. The politics.
The tension when extended family gathers because we all view what's happening in our world through different lenses, with different opinions. Some of these opinions are quite strong. Relationships with some of the most important people in our lives seem at risk.
And kids are always learning. For better or for worse.
When my kids were young – and even now that they're grown – I wanted to help them know what it means to be human, how to wrestle with faith, and how to cope with life's challenges. I also want them to see that even though the forces outside my home that provoke my anxiety are forceful these days, my faith is unwavering.
How do we teach our kids to trust God in the midst of 2020's chaos?
Does it feel like there is something absurd in the news every single day? Like things that would have made the headline of the year any other year is now a daily event? But not in 2020.
This year nothing can shock us. Because it's all shocking.
In the midst of that, you are charged with modeling for your kids how to navigate anxiety and find peace in Christ.
Your kids are navigating school closures, school reopenings, missing grandparents, missing friends, racial unrest, and "unprecedented" times.
And, on top of that, your combination of financial, relational, physical, and societal pressures are completely unique to you. No parent has ever walked through your particular combination of stressors before. Not your parents. Not me. Nobody.
But Jesus knew. And He called you to parent your kids in this current time.
Jesus says, "In this world, you will have trouble. But take heart! I have overcome the world." (John 16:33)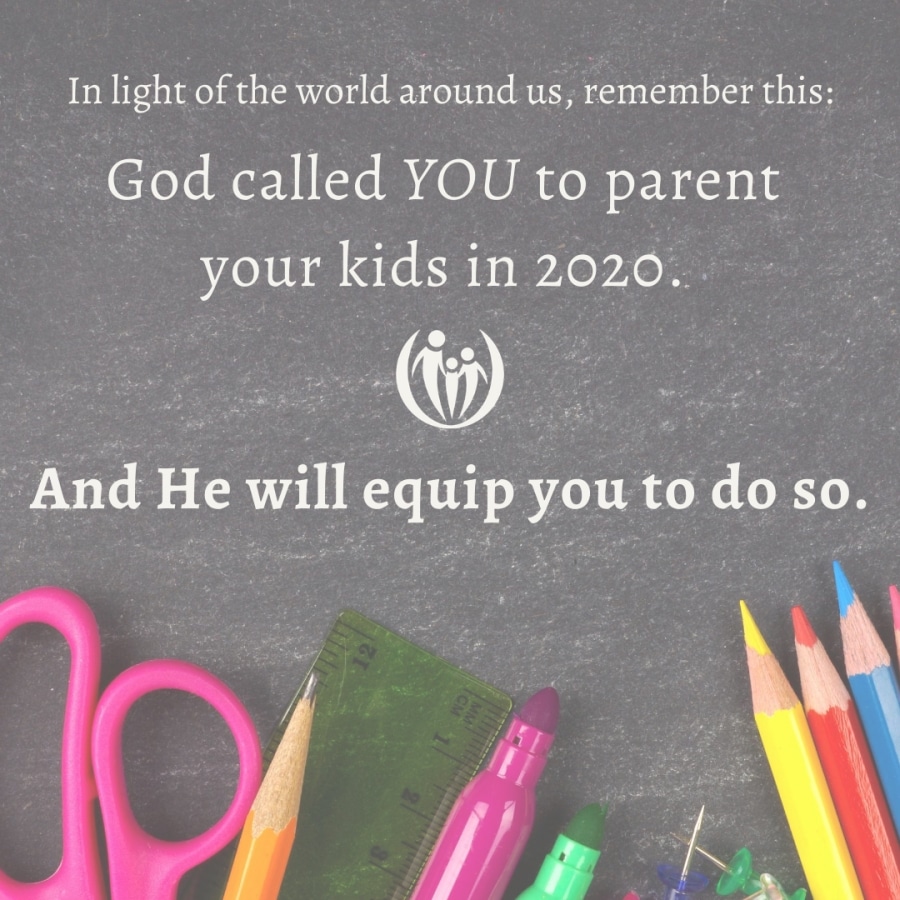 Give your own spiritual walk the nourishment it needs first
As you face your own anxieties, and your children's anxieties…pray and breathe. You may feel tasked with teaching your children to trust God. (Even when you may be struggling to do this yourself.) Remember: God called you, and you are not alone.
A daily habit of connecting with God
Over the years, my wife Lynne has been an example of steadiness. She has cultivated habits that anchor her to God. One of those habits has been a nonnegotiable prayer time, every single day.
You know, I'm more distractible than Lynne and not as disciplined with my habits. I will often forget that she's in the middle of her quiet time. As I ask about the plan for the day or where something is, she'll quip back, "Be quiet! I'm with Someone more important than you."
Even with young kids in the home and a part-time job she got up early enough most days to read her Bible and write thoughts in a journal. This lifelong habit has made her the steadiest example of faith through challenges that I know.  
Serenity to accept what you can't change, and courage to do what you can
Lynne also finds strength and peace in rehearsing the Serenity Prayer. Not just during her morning quiet time either.
She repeats Reinhold Niebuhr's words several times a day.
"God, grant me the serenity to accept the things I cannot change, courage to change the things I can, and wisdom to know the difference."
These days she's been saying it more than ever. Throughout the day, again and again, every time anxious thoughts creep in.
This is the same prayer that guides thousands through their journey with addiction and recovery. Yet it could have been written about Covid-19. Or racism. Or parenting.
Serenity for the school closures and reopenings that I cannot control. For the acts of violence that our kids are witness to. For the lives of the elderly and vulnerable in our population, who may face Covid-19.
Courage to stand against racism of all types. To do our part, whatever that means, as we open our eyes to inequalities. To face the uncertainties of lockdowns with grace. To play our part in lessening the spread of Covid-19.
Wisdom to know what we can and cannot control.
Remember what is true, and think on what is lovely
In the NIV, the word "remember" appears in the Bible 166 times. Most of the time, it's either God "remembering" His beloved people, or it's a call to His people to remember His faithfulness.
None of these things in the world are too big for the God of Abraham, Isaac, and Jacob. Remember.
Our good friend and colleague, Chad, has modeled what it looks like to nip anxious thought patterns in the bud by returning to scripture time and time again. He remembers God and God's faithfulness, as shown in scripture, through challenges and trials.
God is still faithful in 2020
The year 2020 is not an exception to God's faithfulness. Chad remembers. I want to be like that. I want to remember too.
If you listen to the podcast you can hear the peace in Chad's voice as he returns time and time again to remember "what is true."
Make a point of catching your runaway thoughts. As you take every thought captive, check yourself. Chad talks about noticing thoughts that are on fire and catastrophizing.
Catastrophizing. It's seeing catastrophes when maybe there's only a challenge.
Catch yourself. Catch your thoughts.
Remember God is bigger than all this
When those thoughts see problems that seem bigger than God, stop. Get back to scripture. Remember.
There is a "peace of God, which transcends all understanding." And it comes from letting your mind dwell on "whatever is true, whatever is noble, whatever is right, whatever is pure, whatever is lovely, whatever is admirable—if anything is excellent or praiseworthy." (see Philippians 4:6-8)
Translating your own journey through anxiety into practical help for kids
Chad and Lynne have been examples for me in this journey with anxiety. In the podcast, you can listen to them describe how they're moving from anxiety to trust during current events.
But I want to move us now into a very practical realm of how you can help your kids navigate their anxiety and faith. These are big issues for kids. In the middle of so much uncertainty, how can you help your kids cultivate a solid trust in God?
Guiding our children through their anxiety
I put some questions out for people in the Connected Families community. In these unprecedented times, how are other families guiding their children through their anxieties on the heavy issues of our times?
Covid-19 and related issues
School uncertainties
Racial tension and injustice
Politics
One mom set the tone with training kids' (and our) minds,
"Anxieties and worries tend to surface a lot at bedtime. We've talked a lot about Philippians 4:8 and to help train our minds to replace those thoughts that feel so overwhelming with truths. I've had our kids list as many lovely things as they can think of – or ask God to help them think of as many as they can – He created all of them so His list will never run out. We've talked about taking thoughts captive, using hand motions to illustrate snatching that thought in your fist and then asking if that thought is obeying Jesus or if it's maybe a lie to trick us."
With a Phillipians 4:6-8 perspective in mind, I want to share with you some of the insights I received and some of the reflections I've come to.
Trusting God with Covid-19: Be truthful about hard realities
As always, the key to talking well with kids about anxiety is to be willing to talk about our own faith journey. That's when you can share what you sincerely believe and speak of God's truth in compelling ways.
One mom reported that her kids were distraught because their health-challenged grandmother couldn't visit and barraged her with anxious questions: Will gramma be OK? Will we ever see her again? What if she dies?
How one mom was truthful about anxiety with her kids
"I try to be very honest that everybody dies, and so, yes, someday they and Nana and everyone will die, but I don't think it'll be today. And, for us, as Christians, we have a hope that goes beyond death.

For my kids, pointing to the fact that even Jesus suffered death has really helped with the anxiety. Yes, we must all die. But Jesus did, too, and He doesn't call us to endure anything that He didn't endure as well. And after death, there's something so wonderful to look forward to.

No, we don't wish that day to come early, because we have lots to do before then, but when that day comes, we know we will enter into the best party ever. Death isn't the end of the story. It's just one more step."
In a lot of ways, that's the Sunday School answer. But I imagine that this mom knew that for her kids' benefit she had to do more than say these words. She had to believe them for the assurance to land. 
And that is our fight—to believe God's desire is to bless us, even in the challenges.
The Gospel gives us the big-picture perspective that makes facing some of the harder realities of this time easier.
You can't promise your kids that someone they love will never contract Covid-19 or die. It's not in your power to keep that promise.
But you can point your kids to where your hope rests. That's the big-picture perspective that makes navigating these anxieties a little easier.
As this mom said, "While I think she'll be coming as soon as Covid-19 allows it, I can't make that promise. So, again, it's been about reminding them that God has given Nana a wonderful life and has a calling for her that's different from anyone else's. God will know when it's the right time to 'call her home.'"
Try not to minimize the problem
Regardless of what topic is making your kids anxious, it's important to follow this mom's example by not minimizing the problems. You don't want to make unrealistic statements or promises you can't keep like,
"Gramma won't die."
"Everything will be fine."
"School will get easier."
Your job is to help your kids find peace and trust God, even if the truth is hard. 
This helps them understand that God's job is not to make things work out but to be with us and strengthen us when things don't work out. It deepens the kind of assurance that builds eternal perspective and faith, not false hope in life circumstances.
Another mom wrote, "We don't want to lie to our kids." And that's a good principle to stand by. The truth may be hard but walk with your kids through it, not around it.
Trusting God with school and lockdowns: Find the good
If facing your kids' anxieties about a novel virus and global pandemic wasn't enough, there's the reality that school might not be open in the fall. Kids holed up at home again for months.
It's one thing in the summer when hiking and other outdoor activities are possible. But the winter is coming, and a lot of kids will still be home, doing online learning.
Of all realities we've encountered working with families, this issue seems to provoke more anxiety than any issue I've seen.
Where are you putting your energy?
When parents hear this news, the tendency is to give energy to all that is not good about it. Kids see this and learn from it, and the snowball of complaining and anxiety gets rolling.
But I invite you to stop and consider another lockdown on a scale from 1 – 10.
1 means, "There is not one good thing about any of this!"
10 means "This is no big deal. It's going to be fun!"
What is your number? Parents will rarely say, "One!"
This means that between whatever your number is and '1," something is good. Even if your number is low. What is it? Name it. Do a little dance about it. And then, find ways to do more of it. Make plans about it.
One family has meetings to discuss answers to three simple questions:
What's good about this?
What's not so good?
What can we do to make things better?
Family meetings can help ease anxiety
Holding a family meeting and guiding kids through these questions, with Philippians 4:8 as your guide, can help the whole family come to a place of both faith AND action. Plus, what a great tradition to start when you're feeling stuck at home!
This is a process that you can apply to any topic. It's a process that gives our kids the message, "You are capable" of solving, learning, growing, and overcoming.
Note: Somes families seem to thrive during "shelter-at-home" orders
Our surveys indicate that a small minority of families actually found the "shelter at home" days led to unprecedented peace in their homes.
That's the feeling I wish we could all experience, and I wonder at their secret.
These families nearly all said that they found ways to treasure the togetherness as they let go of expectations for having life be "normal." They learned lessons that they will take with them even if life does return to "normal."
Create special new connetion routines during lockdown
Maybe one way of combating the anxiety is to create special, new connection routines that are unique to this season. Find new ways of enjoying the forced change.
I recognize that every family is unique and that what goes on in each home is vastly different. Still I cannot help but reflect on the words of the Apostle Paul in Philippians 4:12, after being beaten with chains and currently in house arrest when he said, "I have learned the secret of being content." A few verses later he proclaims, "I can do all things through Christ who strengthens me." Paul had learned to be content in any situation.
That's trusting God and resting in that trust.
And for the families that seem to thrive during lockdown, it would appear that they are able to find ways of enjoying their circumstance, because of their trust in God.
Trusting God during racial tensions: Do your part
Our ministry is based in Minneapolis, where the recent murder of George Floyd and the ensuing protests and riots have led to anxiety of all kinds. Of course, I realize that the racial tension and reckoning we are experiencing is happening all over the country, and even worldwide.
You have an opportunity to raise children more thoughtful and understanding of racial issues than past generations. You also hold the responsibility to lead them with peace. Unfortunately, charged conversations about current events often pass anxiety to kids.
And, let's face it, your children have anxiety all their own as they are forming ideas and opinions based on interactions with the media and peers. And sometimes those opinions are different from our own. More anxiety.
Leading our kids to trust God in the middle of racial tensions
The tension surrounding racial injustice won't go away by sweeping it under the rug.
How do you lead your kids to trust God in the middle of racial tensions?
First, listen.
Listen. Ask good questions. Listen some more.
Especially the older your kids are. But no matter their age, listen to them. Find out how they're seeing and experiencing the world around them. Don't listen to give an opinion. Listen to understand.
But what about our older kids and social media?
As your kids get older, social media will likely contribute more to their understanding of how they see the world. That includes memes.
I'm not anti-memes. I like to chuckle at memes.
But as Chad pointed out in the podcast, a meme-based philosophy lacks nuance and the in-depth perspective that life gives. A meme-based philosophy feeds anxiety with its simplistic and extreme thinking.
So, even if talking about race is new or uncomfortable for you, step up and ask your child questions. You don't have to have the answers, but opening up the conversation allows you to be part of your child's journey. And that reduces anxiety.
(Because, ultimately, kids and teens feel safest when they know they're not foraging ahead totally alone.)
How a (white) family could make space to talk about race
Here's how I would start this conversation (with kids five and older):
Gather your family, perhaps around a meal, and take just a minute or two to share with them about your own journey with racism. Perhaps a simple statement like, "I've been thinking about racism, and I realized that I haven't done a good job of speaking up about it with the most important people in my life. And I want to do better."
Ask the kids if they know about racism. Give them a chance to talk about their experiences. Listen well and don't try to "correct" them if how they view racism isn't how you want them to (unless they are way off).
Read Micah 6:8 or Isaiah 58 and ask, "When it comes to this command and the ways we are helping reduce racism,

What's good about what we're doing?
What's not so good?
What can we do to make things better?

Write down the answers everyone gives. Then see if you can agree on one or two of the ideas for the family to do together or individually if people prefer. Consider making a habit of this to check in. You could even modify the questions to say:

What went well?
What didn't go so well?
And how could we improve?
Point out what your kids can do about racism
Right now is a potent time for brothers and sisters in Christ to take action to build bridges. Ask yourself and your kids, "What can we do as a family to stand in the gap? How can we take a stronger stance against racism?"
Everybody can do something.
Anxiety rises because we feel out of control. So kids need to be reminded of what they can do.
How one mom encouraged her daughter to do what she could
One mom told this story,
"Madiana, I see you're really upset that people would say that about someone with black skin, and that makes you think of your buddy David. It is sad that some people have thoughts that don't make sense to us, but WE can continue to be kind to everyone. WE can continue loving David. WE can continue to learn more and be better."
We can be kind. We can love. These are empowering phrases.
Kids can also raise money and donate to causes that are fighting racial injustices. Kids can volunteer, and kids can be taught strategies for responding to racist comments and jokes.
Find the actions that your family can take.
Trusting God in politics: Remember what kingdom we belong to
As polarized as the country is right now, it's tricky broaching the subject of politics. In fact, when I asked for feedback from parents on how they're dealing with the big anxiety-inducing topics right now, I got lots of feedback on school, Covid-19, and race. Not one person mentioned politics.
That either means:
Parents aren't talking about it with their kids
They feel politics is not anxiety-inducing to their kids
It's so anxiety-inducing, they don't want to email me about it!
I'd like the reality to be the middle option, but the reality is probably a combination of the first and the third.
Politics can induce anxiety
Politics is anxiety-inducing for a lot of families, especially as this year the political choices have such a significant impact on school, work, and health.
At the end of the day, as your children grow, they will come to some different political conclusions than you have. That's natural. And good. You want your kids to engage their own minds on political discussions. Your goal is to impart the wisdom for them to be thoughtful and engage their faith as they come to their own conclusions.
But they can't do that when politics is soaked in anxiety, so how do we tone down the anxiety? How do we teach our children to trust God in an election year marked by social unrest and a global pandemic?
How do we tone down our anxiety?
First, check yourself again.
How do you talk about politics?
Do you catastrophize? ("If this candidate wins, I'm moving to Timbuktu!" "If that candidate wins, America is going to Hell in a handbasket!")
Or do you respectfully discuss what bothers you and what you like?
Do you demonstrate empathy for people who come to different conclusions than yourself?
Catastrophic thinking and inflammatory language is anxiety-inducing to kids! Moreover, it does nothing toward your goal of teaching your kids to trust God. It teaches them, instead, that whoever is in these political positions of power has the ultimate say on our future.
And we know that's not totally true.
What message do we want to send our kids about politics?
You have to put politics and political leaders back into their place. Help children understand, yes, the real influence these leaders have, but also their limitations. These leaders are not our God. No matter who wins, we live under the authority of Jesus Christ, and that's where our allegiances lie.
If candidate X wins, maybe you'll be happy, because it seems s/he is moving in a direction you like. But if candidate Y wins, God is still sovereign and God has wonderful plans for you and your children.
Children need this message.
Empowering your kids with a sense of responsibility, but not allegiance, to this world
I am not recommending political apathy. If you want to teach your children how to engage in the world of politics, that sounds like a good idea. Again, kids feel most anxious when they feel out of control. Teaching them that they have a role to play in choosing the direction of the country makes sense.
But do so, keeping politics in its place.
Ultimately, the politics inside your home will teach your children how to approach the politics of the world. By politics, I mean the rules and tone inside your home.
In your home, you're the leader(s). The king and queen. The President and Vice-President.
How do you demonstrate what healthy leadership looks like?
Do you give your children opportunities to participate in family decision-making? What do the rules and expectations look like? Do you disparage anybody who disagrees with you?
If the politics in your home isn't thoughtful, then it's hard to engage in a thoughtful way outside the walls of your home.
As you seek to teach your children how to trust God, while engaging responsibly with the leadership in the outside world, hone in on the politics of your home. Are you preparing your children for lifelong leadership and service? Or to keep their heads down and follow the rules?
Demonstrate this world is not our home
Then, demonstrate to your children in words and actions that fully communicate that this world is not our home. No matter the results of any election.
We are invited to participate in a kingdom that is not of this Earth. In the world it's going to be tough, because the world doesn't embrace the values of the Kingdom of God. The governments of this world will always be corrupted.
Disagreements will happen, but how you disagree says much to your kids.
I invite you to consider this idea: the reign and rule of Jesus is as present now as ever. We are invited to be part of a Heavenly Kingdom that calls us to rise above the ways of the world and function with love. And to be steeped in the ways of Jesus. God's goodness and grace, through the death of Jesus Christ, is a powerful way to overcome anxiety and teach trust.
We're invited into that way of life
When your kids aren't willing to have uncomfortable conversations
If your kids aren't willing to engage in uncomfortable conversations, then intentionally have thoughtful discussions in front of your kids. Your kids are listening in!
One mom wrote,
"We have two extremes. One child is willing to engage and talk through a bunch of anxious/big feelings. The other doesn't want to at all. BUT we've found that if we are talking about stuff he'll listen in from the other room and occasionally choose to engage the conversation. We can't force it. But he knows we are talking about hard things and that big/anxious feelings are OK."
How one family is teaching their kids to trust God with the big problems in the world
One family looked around and realized things were feeling pretty crazy in the world. They knew where their source was and went straight to it:
"We called a family meeting and asked if everyone would be willing to meet for prayer every day. (Yes, every day.) Everyone in the family agreed and to come together at 10pm for prayer for 20-25 min. Then those who want to go to bed can and those who want to stay up longer can. We decided on a different theme to pray about for every day of the week. A number of the themes are hitting high anxiety areas for us. Tuesday is Racial Reconciliation. Thursday is our school and future. We have agreed to create our own family creed that we will end our prayer times with by reading it out loud all together. (We are still working on writing it around the theme – Connected to God, each other and our purpose in this world.)"
Lean into your own faith during this time
God always knew we'd struggle with anxiety, and that our kids would too. I believe, "Do not be anxious" was never a condemnation of our anxious struggles. It was Jesus telling us, "I've already covered your problems with all the concern needed."
Lean into that.
God has you here in this time and has made you the parent of your child.
When your anxieties and doubts creep in, demonstrate to your children what it looks to dive deeper into your faith.
I believe. Lord, help me with my unbelief!
---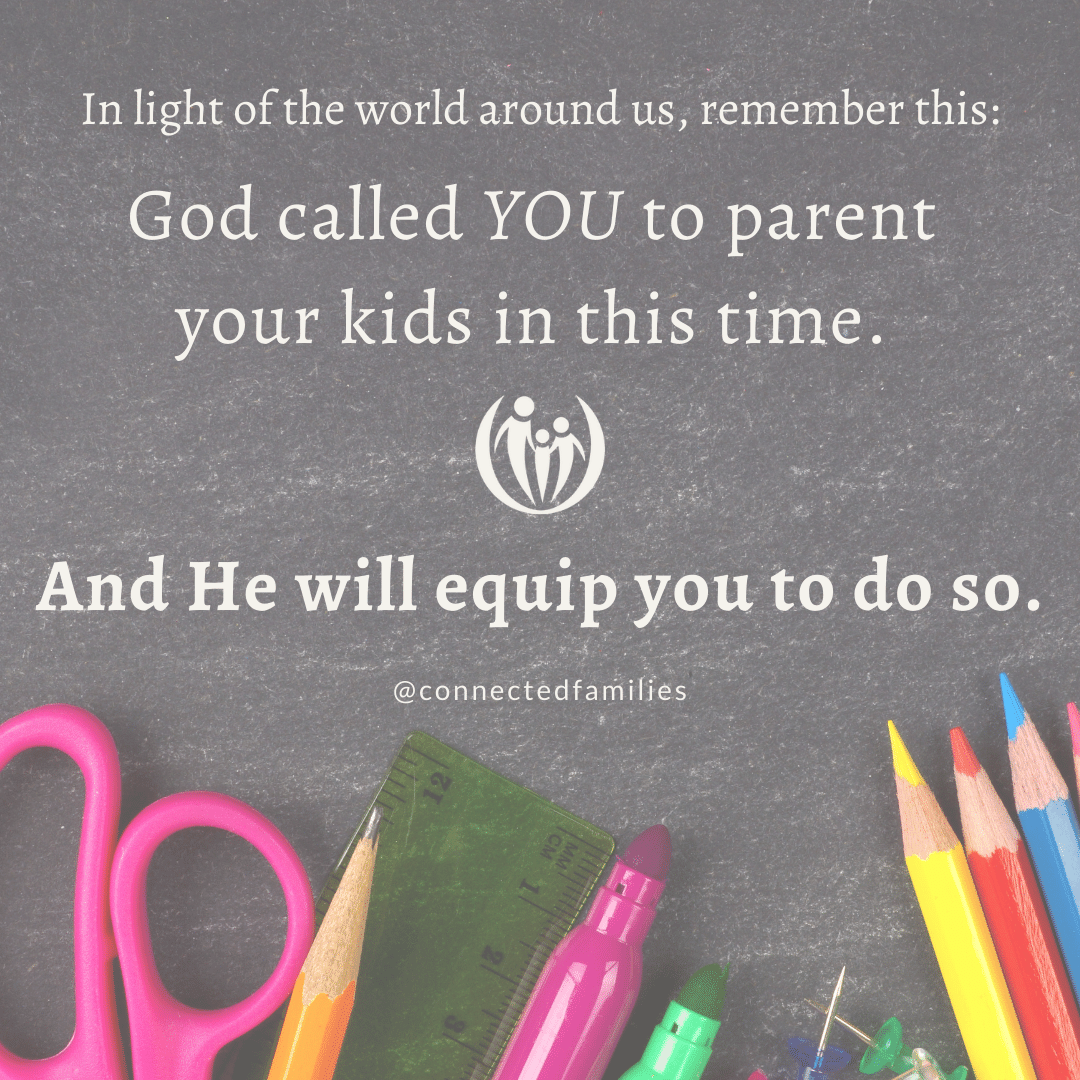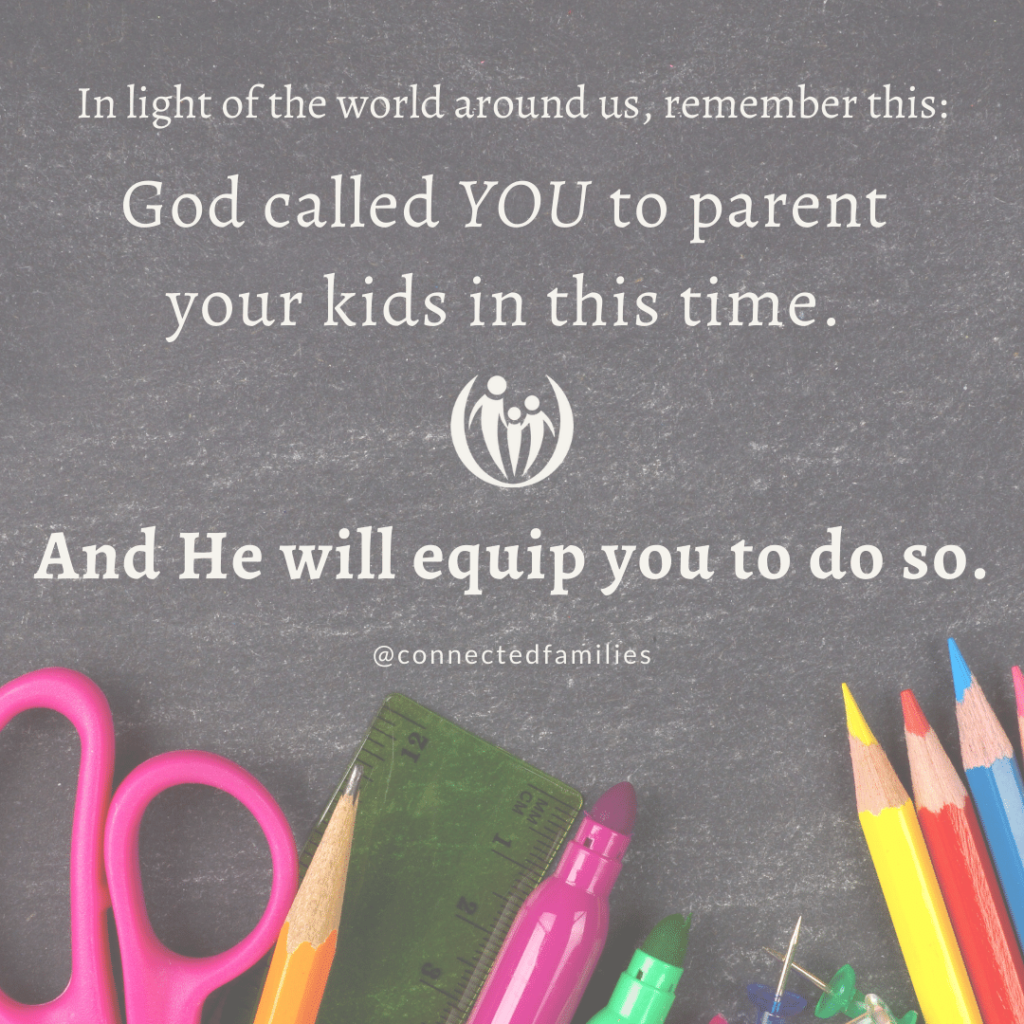 In our newest online course, The Power of Questions: Less Arguing. More Wisdom., you will learn the art of asking questions that build internal wisdom and character in your kids, and create a culture of teamwork in your family.
Read what Lisa had to say after finishing the course:
The Power of Questions online course gives a solid foundation for why and how to ask thoughtful, meaningful questions. I love how the course takes you through practical steps to build relationships with your kids through questions.
Taking the course helped our entire family start to build the life skill of asking quality questions that build understanding and grow wisdom. We even watched parts of the class with our 8 and 10 year old children to ignite problem solving