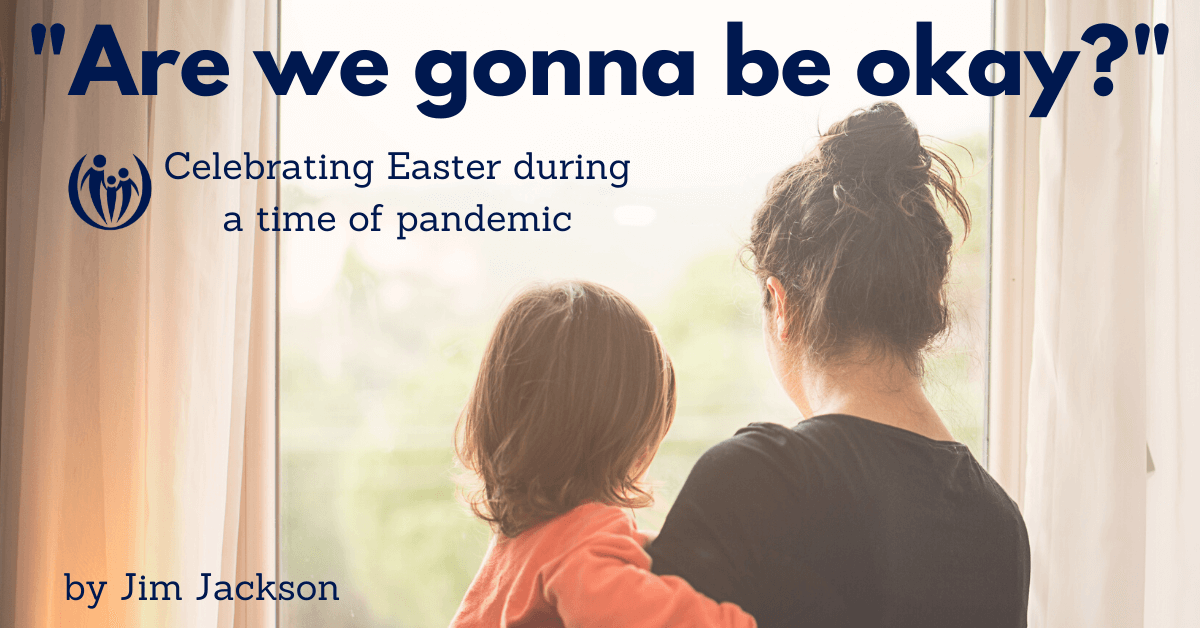 "Are we gonna be OK?" It's a question making the rounds these days. When you think about your kids celebrating Easter during a pandemic, it gets especially real.
I'm guessing this question circulated in a similar fashion amongst the small group of Jesus' loyalists on Good Friday two millennia ago. After all, that Friday was a very dark day. Jesus, the One these followers trusted to set things straight, the One who promised a new and better kingdom, was dead. His followers: scared, confused, hopeless, and wondering what would become of them. They didn't know that Sunday was coming.
Collectively, we are perhaps facing the darkest Good Friday of our lives up to this point. Many are feeling scared, confused, hopeless, and wondering what the future holds. So much uncertainty which, if we let it, inspires so much fear.
Anxiety is real.
Maybe you have these racing thoughts:
What will become of us and our world as we know it? Will we get sick? Will loved ones die? Can I live without steady income? Are the lockdowns really helping? How can I help my kids understand that life may not return to "normal" anytime soon…or ever? Are we gonna be okay? And what about the vulnerable who were already deeply affected by illness, addiction, job loss, homelessness, and brokenness before this happened?
The heavy feelings and an awareness that things may never be the same are never far away.
We're going to be okay because we've been okay all along.
It's Friday, but Sunday's coming.
On the night that Jesus was betrayed to die on the cross, He took the bread and the wine and offered them as a remembrance. He did this so that we would look back one day with an understanding that Jesus' promise to us was to forgive our sins and be with us always. He did it so that we would always remember that Sunday has come!
At the time His disciples had no idea what was about to transpire. He made no toast to prosperity or any promises that things would always work out. Jesus' resurrection brought the miracle of God's kingdom to life on earth.
This year, more than any other, let's remember together: Sunday has come! Jesus is alive!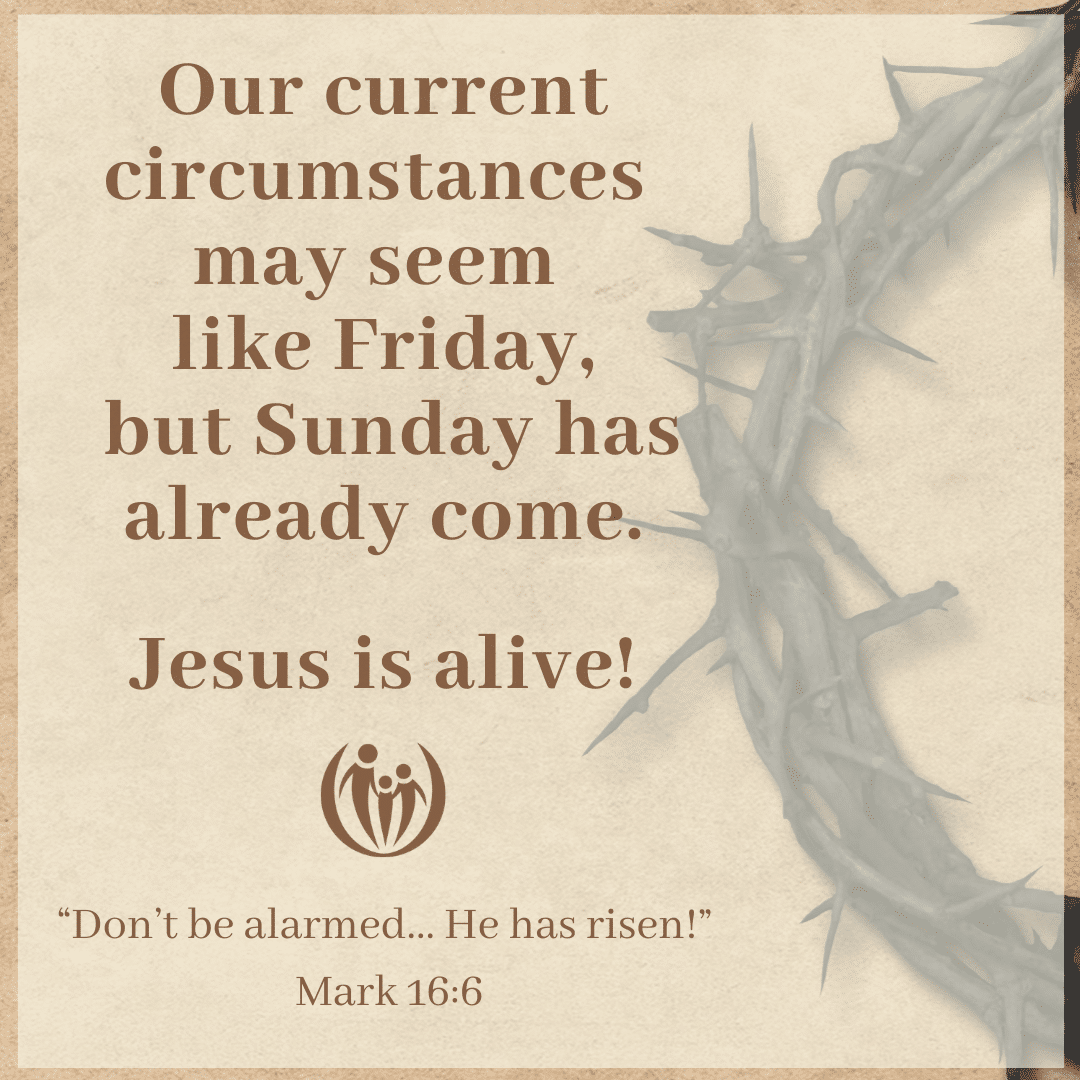 We're gonna be okay.
Are we gonna be okay? The short answer is YES. We're going to be okay because we've been okay all along. The life of Jesus in us is not about having everything work out. It's that Jesus is alive in us no matter what our circumstances. Grasping this truth is what makes it possible, even when life around us seems to be crumbling, to be okay. We have hope. We can say with confidence, "It is well with my soul." Living this out in faith is the most important work we can do.
Your kids may remember Easter 2020 as something different than they ever experienced before. (They may even ask you, "Are we gonna be okay?") No waving palm branches. No dressing up for church. No big meal at Grandma's house! But what they do remember might be incredibly significant. Consider engaging in the activity and guided conversation provided below to demonstrate to your kids that Easter is so much more than traditions.
Activity: Let's remember Sunday!
Set aside some time with your family to read or watch a portion of the famous "It's Friday, but Sunday's Coming!" sermon by S.M. Lockridge.(It's less than 4 minutes!) Repeat out loud together whenever the line "But Sunday's Comin" is said. (*See instructions below for younger kids.)
Question #1:
How is our life right now a little bit like that Friday when Jesus died? What are we worried or sad about?

Possible answers:

People are scared. People are sick. A parent lost a job. We can't see our friends anymore. No school. Your kids may have answers you'd never think of. There are no wrong answers.

Affirm them all.
Question #2:
What does it mean that "Sunday's comin'!"?

Possible Answers:

Jesus will come back to life. Everything will be OK. Again – many possible answers, listen for a little bit. Tease out whatever answers the kids might give.

Then Say: T

he Bible tells us that on Sunday, when the disciples went to visit the tomb, the stone was rolled away and Jesus was not there! He rose from the dead! (Read Luke 24:1-3)
Question #3:
What are the things about our life that help us know that God is alive? Talk about where you see God's kindness in the small details of life right now.
Main point to talk about with your kids.
The penalty for sinning (doing wrong things) is to be punished by separation from God. Jesus was the only person that ever lived who did not sin. The reason Jesus died was to be punished for all the sins of everyone else. His resurrection (the big word that means he came back to life!) means that he overcame that punishment and made it possible for anyone who believes in Him to not be punished for their sins. (Read John 3:16) So what Sunday means is that because Jesus is alive forever, all who love Him and believe in Him will be alive forever too! This is the Good News of the Gospel!
A prayer for kids celebrating Easter during a pandemic:
Dear Jesus, thank you for dying for our sins. Because of you we know that we are gonna be okay. Thank you for rising from the dead so that sin is defeated and we can live forever with you. Show us that no matter how bad our circumstances on earth are, you are with us, loving us and giving us your life so that we can love others. Help us to always remember that Sunday already happened and even when we are in a place of darkness You are always with us. Amen!
*Suggestions for younger kids:
Choose the readable version. Depending on the age of your kids, for complex sections like, "Pilate's struggling, The council is conspiring,The crowd is vilifying," you could forgo the poetry, and substitute some kid-friendly words like "The leaders and the people argued. They yelled! They wanted to kill Jesus!" 

Put plenty of drama into the reading, so even if they don't understand every word, they'll catch the ideas and the excitement – "It's Friday" should be said with great foreboding, and the first time "Sunday's coming" is read, do so with joy and exuberance!  

Then – make up some kind of a sign/signal to the kids, for

them

to yell the line "Sunday's comin'" every time it comes up. 
Related Posts
---
Sign up below to receive a weekly dose of encouragement straight to your inbox: