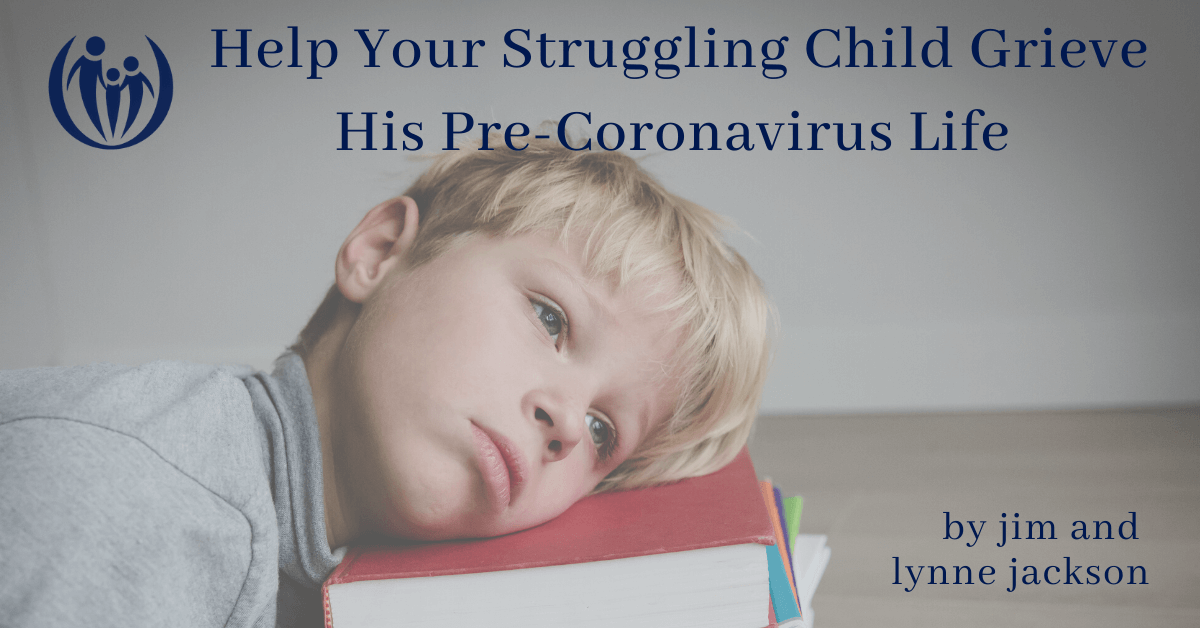 Like many of us, your child might be grieving his pre-coronavirus life. This challenging time can bring strong emotions to the surface in our kids (and in us as parents). These emotions can be signs of a child's underlying grief. And difficulty in expressing that grief.
Read on to learn why it's important to allow your children to grieve, and healthy ways to help them process their grief. This article is also available as a video or audio download.
Why is it important for our children to grieve?
We're hearing from a lot of parents whose kids still aren't adjusting well to the new challenges of "Stay-at-Home" orders and social distancing guidelines.
Resistance to homework. Power struggles. Tantrums. Withdrawn children.
These are just some of the challenges parents are facing. Add to this list the responsibility of managing school work while trying to work from home and you've got a recipe for stress and discouragement.
Parents tell us they're trying to help their kids adjust but making little progress. It's a tough load!
Grief is real! Our kids, right along with the rest of us, are dealing with grief right now. It feels unnatural and even overwhelming to lose our normal life rhythms.
Our kids are likely grieving the loss of school friends and other activities. Their lives have been turned upside-down and they are probably limited in their ability to process those feelings.
Many of us can probably relate to this struggling mom:
"Dear Connected Families, I need help figuring out how to help my four year old manage his grief over the loss of his wonderful life at preschool. His teachers at his preschool are so loving and he has wonderful friends there. He misses his teachers and friends and wants to hug them and play with them. I'm doing what I can, I bought new puzzles and books. I'm trying to fill his love tank but he has such intense needs and I have a two year old as well. Please help."
Are we distracting our children from their grief?
As your child struggles, your first inclination may be to distract him with "happy things." But you don't want to teach your child to sweep their feelings aside and pretend they don't exist. Instead, view this as an opportunity to teach a valuable lesson in dealing with disappointment.
You probably don't blatantly order your child to toughen up. However, that might be the message your child hears. If you put more energy into trying to relieve your child's disappointment than you do into validating it, you may drive the mourning inward.
Kids need permission to feel sad. Sometimes kids have big feelings of grief. But when invalidated, those feelings get locked up inside and come out in twisted ways. They can only intensify an already difficult situation.
Kids need to feel safe and be given permission to express their grief.
How to help your child process grief
Hard as it is, don't try to help your kids "get over it." The best gift you can give them is to be present and to sit with them in their emotions and discontent.
Jesus told us, "Blessed are those who mourn, for they will be comforted."
There is a direct link between mourning and comfort.
The term here for mourning comes from the Greek word, pentheus. It means to express externally what's being experienced internally.
When the grief is deep, it may take some time for even the most mature among us to express the deep things that are pent up inside.
God is patient with us when we grieve. Likewise, our patience and presence with our kids during their grief will help them learn to understand and navigate their feelings. Our patient presence with our kids communicates in a tangible way that God is present with them too.
God gives us safety and permission to mourn. As we mourn, we are then able to receive God's comfort.
Grieving in a healthy way
Notice how this mom, who is a coaching client, helped her 9-year-old daughter (who does not like questions about her feelings!) to grieve in a healthy way:
"They announced today that our schools will now be closed for the rest of the year. Blaire was SUPER upset and angry. She was slamming things on the table, giving me the evil eye and stating all the things she wouldn't do. I was able to stay calm and remember that she needs me to not take it personally and stay safe.
She ran to a private spot. A little while later I joined her and gave her a piece of gum. I didn't ask her questions, but just said 'I know this stinks and isn't what you want. I'm not excited about it either. But we will get through it together.'
Later at dinner I pulled out our feelings chart and we each went around and pointed at all of the feelings we felt today and why. AND Blaire actually did it! It was such a great and logical way for us to talk about feelings in a non-threatening way."
Like this mom, we can give permission to our kids to say their hard feelings. We can safely communicate to them, "That must be really hard! Is there anything I can do to be with you in it?" This begins to unlock their feelings and opens the door to start talking. We can then begin problem solving ways to manage these difficult emotions.
Practical ideas for helping your child express grief:
Paper plate activity

(adapt for teenagers) – draw different emotions on paper plates. This will help kids understand that anger often covers up deeper feelings of anxiety, loss, hurt, sadness, and insecurity.

Hands-on activities

– encourage younger children to draw their feelings, or even use play-doh.

Snuggle

with them when they are feeling sad.

Use imaginative play

to express their disappointment.

Talk

about what is good, and what's not good about the situation, and the child's feelings related to each thing.

Then,

discuss what you and your child can do about the parts that are not good.

Parent coaching

may give you insight into how to best support your child/ren during this difficult time. It might be the best investment you make for your family!
Kids need to feel safe and be given permission to express their grief.
It is natural for your kids to be grieving their pre-coronavirus lives. Your child's need to grieve and mourn are opportunities for you to be present with him just as God is present with us. You might be his best helper as you give him permission to mourn. As a result, we can all receive the comfort of God's presence, and His purposes for us, as we navigate this challenging season.
Prayer for parents of grieving children:
Lord, I want to see my children the way You see them. Would you help open my eyes to see what is behind their struggling? Give me grace and kindness as I parent today. Help me to meet each of my children where they are and sit with them in their discouragement.
Please let us know how we can pray for you and continue to come alongside you during this time. We are here for you, and we are praying for you! Email your prayer requests to [email protected].
Related Posts
---
What are your parenting strengths?
You've got them. Knowing your strengths will help you become the best parent you can be. Knowing your parenting challenges is useful information too. Take our FREE ASSESSMENT.
Podcast: Play in new window | Download | Embed