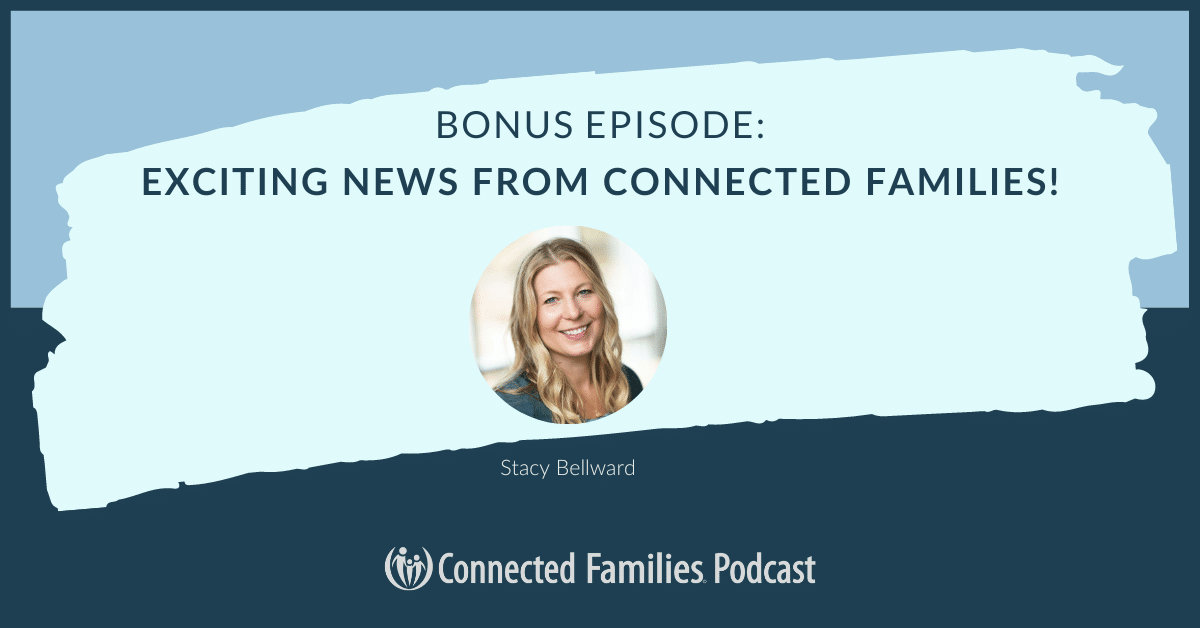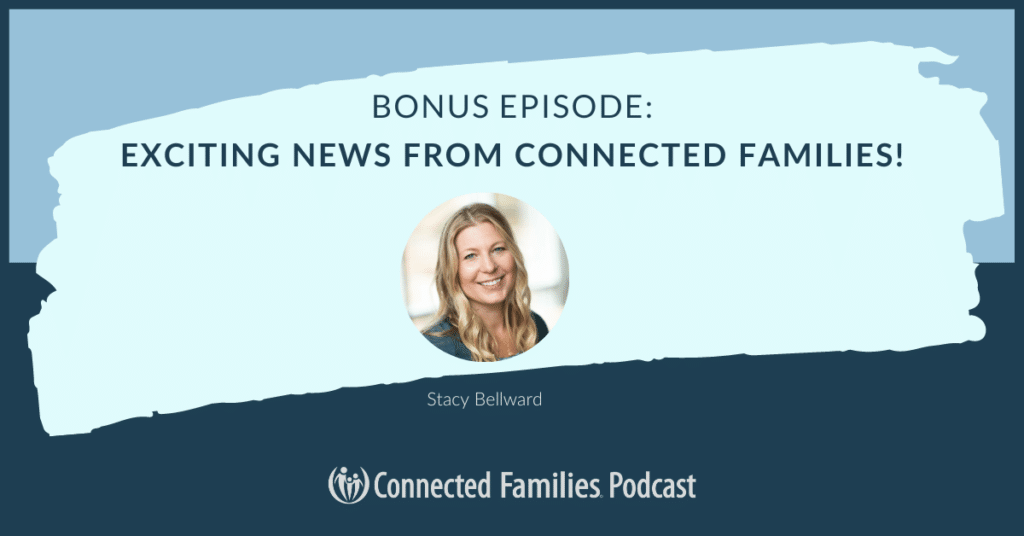 Parenting in the complexity of today's world is stressful! The level of children's anxiety and behavior challenges has skyrocketed. It can feel overwhelming and discouraging. But despite those struggles, you are still actively seeking God's grace and truth for yourself so you can pass it on to your children. Some days you probably do that a lot better than other days. But every day, it helps to know that you are not alone.
All of our efforts here at Connected Families are geared toward equipping you and supporting the work that God is doing in your family. As Philippians 1:6 says, "And I am sure of this, that He who began a good work in you (or your kids, your family) will bring it to completion… " God is working on your behalf, and the Connected Families community is here to support you!
Being part of the community means that you may have:
listened to this podcast (we just crossed our 1.5 million listens mark!)
gotten our Thursday Parenting Tips emails
been resourced by one of our many free ebooks
taken at least one of our online courses
DTC registration is launching TODAY!
Whether you are just hearing about the course for the first time or have been thinking about taking it for a while – now is the time!
The Connected Families Framework communicates the messages: You are SAFE, LOVED, CALLED and CAPABLE, and RESPONSIBLE for your actions. This course is the foundational curriculum that teaches that framework. There is also a book that Jim and Lynne Jackson wrote with the same name.
Have you already taken the Discipline That Connects online course? If the answer is "Not yet," then we want to encourage you to go and sign up right now.
Discipline That Connects is for you if you are feeling stuck, old parenting patterns are not changing, or you have thought – yikes, what will the future look like?
Discipline That Connects is for you if you have been listening to the podcast for a while, and the tools we teach, like "Do-overs," "Slow, Low and Listen," and "Gifts-Gone-Awry," are really resonating. If this sounds like you, it's time to dig into the full version.
Hundreds of alumni come back every year to take the course again because the content is so valuable. They want a refresher and to be part of all the extra resources we add.
What extras does DTC include this year?
Year-round, anyone can get access to the core video content only (basically a stripped-down version of the course) or even lead a small group through the course. But opening the FULL course, like we are right now in September, means that people worldwide are all going through the content at their own pace but are able to interact through comments and questions online. During these couple of months, there are weekly emails, a parent coach to moderate, Question & Answer opportunities, and so much more.
4 things that are new this year:
1. If you register early, you get to pick a free gift! Pick between:
the Parent Bundle, which includes our new stickers! ($18 value!)
DTC Welcome Packet ($15 value!)
the Healthy Rhythms for Daily Life online course which gives specific guidance on sleep issues, picky eating, etc… ($28 value!)
2. We are excited to offer an audio-only option while this cohort runs. You will be able to listen to the content on a walk or in the car just like you are listening to this little bonus podcast. This will be a game-changer!
3. Guided Check-Ins: These 30-minute live check-in groups will boost the application of your learning into your everyday parenting and do it in a supportive environment. (Only 120 spots available.)
4. Soul Care Sessions: (Less than 10 minutes each) Christian faith and biblical foundation are integrated into the whole course. During soul care videos, you will hear from parents about how the content of the course intersects with their faith and what that looks like in the hard times of parenting, tantrums, sleeplessness, and feeling overwhelmed. Soul care sessions will feed your soul and be an encouragement.
When you register, you get access to the entire course right away. Please share it with your friends. We hope you join us for this year's FULL version of Discipline That Connects With Your Child's Heart.
A Blessing for Parents
This blessing is taken from Susie Larson's book, May His Face Shine Upon You:
May you grow to love and accept the you God is making you to be.
May you walk in a new level of grace and gratitude that gives you peace and leaves others encouraged.
May you be more apt to look forward with hope than you are to look back with regret.
May your heart spill over with joy at the very thought of the story God is writing in your life.
Thanks for listening to today's podcast. Check out our website for more resources to support your parenting, and don't forget to reach out if you have questions. We are a listener-supported podcast, so your donation fuels our work! It is our joy to walk the parenting journey with you as you parent your kids in God's grace and truth.
Mentioned in this podcast:
---
Podcast: Play in new window | Download | Embed