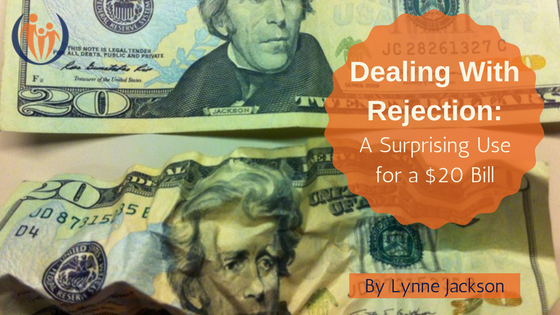 Kids are rejected from every side. Sometimes the rejection or criticism comes from a teacher that just doesn't "get" your kid. Sometimes it comes from an angry family member. Sometimes it's rejection from peers, gossiping, or getting picked last in gym class. These daily rejections can erode our children's sense of being loved and valuable. Being thoughtful about how to counter rejection will help your kids learn to weather the storm.
The following is an activity you can do with your kids to help them understand.
Take a crisp, clean $20 bill. Ask your child what it's worth. Of course, they'll say $20. As the kids watch, crumple the bill, step on it, and even rub a little dirt into it. Call it a few bad names like "Worthless bill!, Dirty money!, You couldn't buy a thing!"
Once the bill is pretty beat up, ask the kids, "What's it worth now?"
They'll still say $20. Then ask, "Why is it still valuable, considering how it looks and how it was treated?" They may have some answers. Listen well and repeat what they say. Then show them the spot where the seal of the United States treasury is stamped over the word stating its value. "This bill's value is sealed by the government of the United States, no matter what happens to it." Then say, "Just like that, our value is sealed by God, no matter what happens to us."
Share this Bible verse: You have been bought and paid for by Christ, so you belong to him—be free now from all these earthly prides and fears. 1 Corinthians 7:23 (TLB).  Pronounce to the kids that they have high value because of Christ! You may even want to put the bill in a picture frame with the verse, as a tangible reminder of the high value that God places on us.
This simple illustration will help our kids remember where their true value comes from, and it may even help us to remember that our kids are God's workmanship, created to do great things in His kingdom! When we better remember this truth, we more often treat our children accordingly.
Here are some additional Bible verses you could reference:
---
Want to learn more about these concepts? Download our one hour recording of a Discipline That Connects workshop.