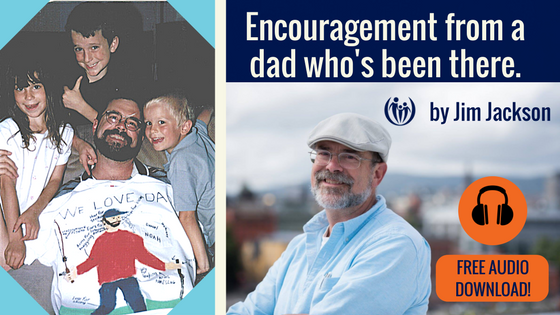 Hey, dads! 
I've been thinking a lot about you lately. You see, Lynne and I have this amazing opportunity to speak to groups of parents all over the country. Most of these workshops, however, are filled with a majority of moms. We love connecting and encouraging moms!
To be honest, though, I'm often nervous about the conversation that happens after these events. I can just imagine the dad on the receiving end feeling like he is being dumped on with new-found parenting wisdom. I also know that sometimes things get lost in translation. I find myself wishing that I could be talking to the dad too.
With that in mind, I sat down to record an overview of our parenting framework, thinking specifically of dads. These are ideas that Lynne and I developed over decades of working with families, and ideas I wish I knew better when I was a young dad.
This is a quick and easy listen – just 38 minutes! Absorb it as you drive to work, clean the garage, or walk the dog, and know that I'm cheering you on as you do the important work of loving and guiding  the family God has entrusted to you.
Simply add your name and email address and you'll have instant access to the audio.
Peace,
Jim Jackson
Co-founder, Connected Families
Related Posts