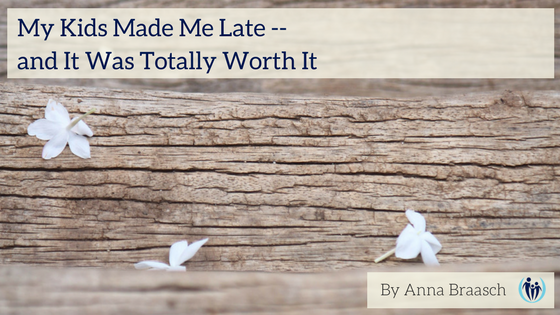 It was 8:30, and I was dashing out the door to get to a 9 o'clock meeting on time.
My kids (8 and 10) get on the bus at 8:40, so those ten minutes from 8:30 to 8:40 can be kind of crazy. I knew if I stayed around for the last 10-minute rush I would likely be late for my 9 am meeting, and everyone would leave the house frazzled. They know how to turn off the lights (mostly), close the garage door, and get to the bus on time so I called a quick "bye, love you" on my way out the door and headed for the car.
At 8:30 sharp I was in the driveway, parked, and queueing up a program on my phone to listen to on my drive. Victory! I was right on schedule.
Until my son came running out of the house yelling, "Mom, wait! Almaz needs you!"
Great. My deep sigh revealed my thoughts. My agenda disrupted again. I unbuckled my seatbelt and walked back to the house. This better be good, I thought, as I stepped into the front entryway to hear my daughter say, "Mom, you forgot to give us our blessings!"
Some things are worth being a few minutes late for.
What started two years ago as my awkward attempts to bless my children as they leave for school each day has turned into a beautiful (yet still sometimes awkward) morning tradition. Originally I would individually grab their two hands, look into their eyes and say the well-known yet powerful verse from Numbers 6:24-26,
The Lord bless you
and keep you;
the Lord make his face shine on you
and be gracious to you;
the Lord turn his face toward you
and give you peace.
I loved the idea of giving a morning blessing and rather than be paralyzed by indecision on what to say, I just went with what was familiar. When I started it was far less about the words than it was about the feeling I wanted my kids to have when they left the house each day.
Since then, I've branched out to writing my own blessings, including one for each of them based on the meanings of their names – both first and middle. The blessings are beautiful on paper, but when I recite them I almost always stumble over the words since I don't have them committed to memory. The kids don't seem to mind. Sometimes I'll see a blessing, print it out, and read it to them. Sometimes, I'll have the three of us hold hands and say a blessing to the person on our right, or our left. This is always somewhere between awkward, hilarious, and incredibly sweet. A few times I've had the kids bless me. And then I have to go check my make up.
Norman Rockwell, right? Oh, so very wrong. There are days my coffee breath compels the kids to dramatically hide their faces. There are often eye rolls. And an occasional, "This is stupid." And sometimes, when we've had a really rough morning a, "There is NO WAY you are blessing me!" But I do. And they survive. And then when I'm rushed and I forget or choose to skip a day, they remind me.
My goal? To build into them a sense of who they are in Christ and where they get their true identity. So then when they are bombarded all day long by messages of materialism, or inferiority, or whatever else the world is saying, there is a message of truth planted daily in each of their hearts.
Apply it now:
Read The Blessing by Gary Smalley and John Trent to understand the value of this ritual even more.
Put your awkwardness aside, and just try it! Make it short and sweet. Use the words from Numbers (see above) if you want. The feeling your kids get is far more valuable than the words you choose.
Follow us on Facebook as we've recently begun posting a blessing each week you can pray over your children. A sample: "Child, may you fully know and experience God's great love for you today. My love for you is deep and high and wide, but it is not perfect. Only God's love is perfect. I pray that you learn to rest in God's perfect love for you."

OR…Sign up below to receive a

weekly dose of encouragement

straight to your inbox: