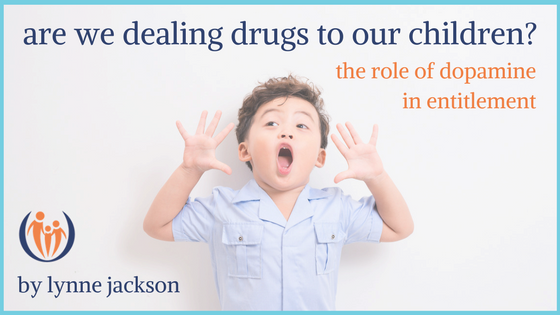 Did you know you may inadvertently be dealing "drugs" to your children?
Dopamine has been called the brain's "pleasure chemical." It is released when pleasure is experienced. It creates healthy motivation to pursue various life-giving pleasures such as accomplishing a goal, taking on a new challenge, or connecting with others in meaningful ways.
According to Amy Banks MD, in an ideal world dopamine bursts would happen primarily through pursuit of healthy, life-giving activities – particularly through nurturing human connection. Unfortunately, we live in a world that has many of us seeking dopamine in all the wrong places, like overeating and obesity, drug and alcohol abuse, and consumerism.
Related to dynamics with our kids, it starts out innocently enough. When you smile and give your child that thing they are SO excited about and you get a big hug – Shazam! a dopamine feast for both of you! It felt so good. Let's do it again. And you do it again. And they do it again.
And pretty soon contentment becomes dependent on dopamine bursts.