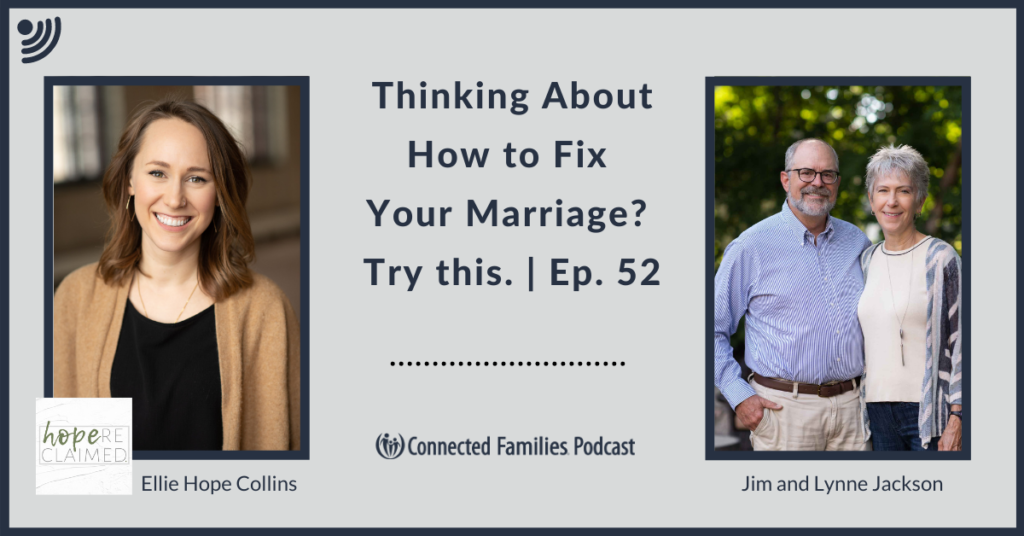 Do you ever feel like you want to try and fix your marriage? Or change something about your spouse? The solution to this challenge might surprise you!
In this podcast, Jim and Lynne Jackson (co-founders of Connected Families) are hosted by their good friend, Ellie Hope Collins, on her podcast Hope Reclaimed. We are passionate about building strong marriages as a vital piece of the parenting puzzle! In honor of Valentine's Day, we have a special episode for you on emotionally safe marriages.
"Our marriage is all built on this strange, quirky, messy foundation of grace, of safety, of identity in Christ." -Jim Jackson
Listen in as Jim, Lynne, and Ellie have a candid, thought-provoking conversation about building a strong foundation of honesty and communication in marriage. Jim and Lynne share how they have successfully applied parts of the Connected Families Framework to their own marriage. This podcast is full of marriage and communication tips you can use today! We trust you will finish feeling encouraged and equipped.
In today's episode, learn more about:
how to embrace your spouse's quirks without letting them drive you crazy!
building a solid foundation of safety by asking, "What's going on in me?"
getting back to connection after conflict.
avoiding the "shame-blame" cycle.
the sacred role of God's grace and mercy while working through marriage struggles.
Mentioned in this podcast:
Want to learn more?
Fighting for Love–Even When it's Hard
What Could Have Ruined Our Marriage
How to Parent Together When You're Total Opposites
Host bio:
Giving support to men and women healing from divorce, trauma and betrayal, Ellie Hope Collins is the founder of the ministry Hope Reclaimed. Through podcasts, live and virtual events, and the Healing From Divorce Online Course, she has helped thousands of men and women recognize that healing is available. Ellie hails from St. Paul, Minnesota where she lives with her husband, Austin.
*This podcast originally aired in July of 2019
---
What are your parenting strengths?
You've got them. Knowing your strengths will help you become the best parent you can be. Knowing your parenting challenges is useful information too. Take our FREE ASSESSMENT.
Related Posts
Podcast: Play in new window | Download | Embed