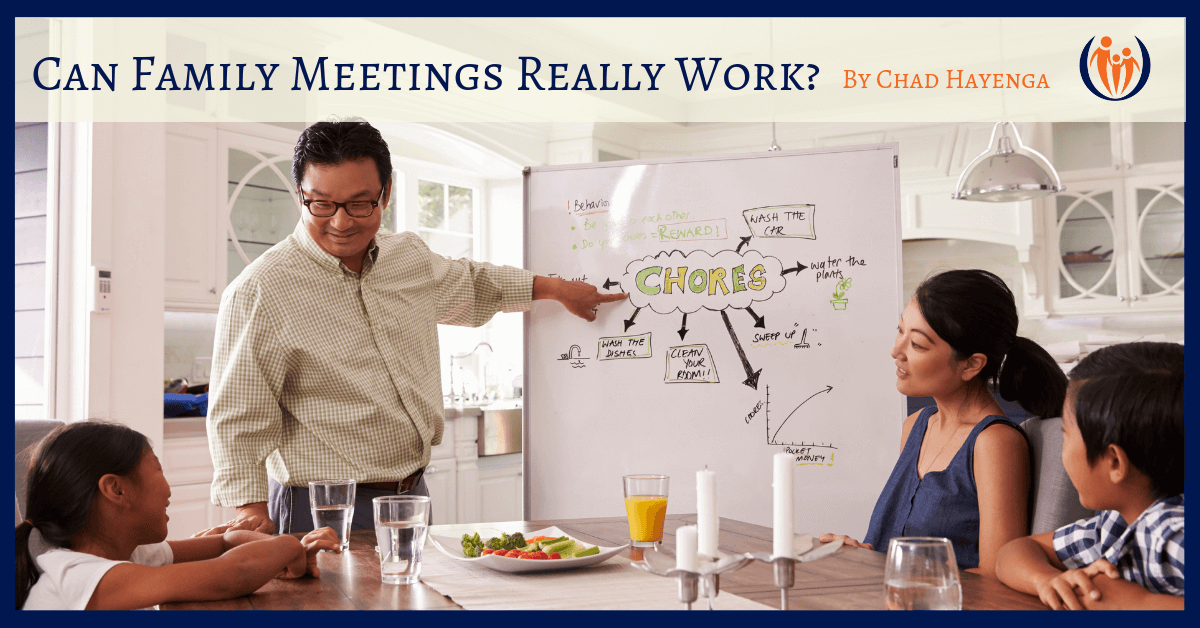 Family Meetings: just the words send some parents into a state of anxiety while kids yawn and get immediately distracted. But with a few simple guidelines family meetings can be fun, build cooperation, unity, and even leadership skills!
Our first family meeting started when we had two kids, ages 6 and 3. I had been encouraged to start these meetings as a way of building a sense of ownership in the kids. Knowing fun must be a component if the kids were to willingly participate, my wife and I decided that Friday would be Fabulous Family Fun Night (or FFFN for short.) Much excitement filled the house! On the first FFFN, we popped popcorn, had some hot cocoa and watched a Veggie Tales video. After the video we had a very short discussion about what kind of family we wanted to be. I asked, "If we could be the best family that we could be, what kinds of things would we be doing and saying?" Of course our very verbal 6-year-old, Shelbi, had a lot of great ideas while our not-so-verbal 3-year-old bounced around the room from chair to chair.
Here's some of what Shelbi said:
Have more play-dates
Help more people
Eat more candy
Be thankful
At first we weren't sure if this was going to work. We considered that perhaps our kids were too young, but we could see that Shelbi's ideas were mostly on the right track. So we pressed on, and family meetings became a weekly event our kids looked forward to. Here were our primary goals:
Start with fun to set a positive tone. For older kids you can ask a question like "What's gone well in our family this week?"
Keep discussion time short (i.e. 15 minutes) unless everyone agrees to extend the time.
Everyone gets to be heard. A timer or talking stick can be helpful. Kids learn listening and to stay on topic.
Decisions are unanimous. This promotes unity as children figure out how to compromise. It also keeps kids from voting in "Candy for every meal!…"
Attendance is optional, but all decisions apply to all family members, present or not.
Take turns leading the meetings, each child receiving the minimum help needed to be successful. (Our kids began to practice leading meetings at about age 7.)
At first, use the meetings to address only one problem area. For example, "How do we want to do the laundry?" Or, "How do we want to work together at meals?"
It's the parents' job to make it clear what is or isn't negotiable.*
One week, we chose laundry as the problem area to address. When they entered elementary school, we expected our kids* to have their dirty laundry collected and ready to wash by 10 a.m. each Saturday. Everyone understood the expectations, but there seemed to be a problem with "forgetfulness." So at the Family Meeting, we asked, "What does everyone need to meet this deadline?" The kids predictably suggested that we all "try real hard" the next week! As parents we knew more was needed, so we gently suggested a secondary plan, "just in case" that plan fell through. The kids requested a "10 minute warning" for everyone, and agreed that if the clothes weren't where they were supposed to be at 10 a.m. on Saturday, those who were tardy would be responsible to fold clothes for the rest of the family. We all agreed to the plan and at the next family meeting discussed how it went for everyone (it went quite well!).
As parents, we set the expectation about the laundry. The family meeting gave the kids ownership about how to meet the expectation. This discussion led to all kids eventually taking more ownership for their laundry.
Our humble beginnings twelve years ago on the Family Meeting journey may not seem like much, but as college-bound Shelbi recently reflected, "Family Meetings gave everyone in our family an opportunity to participate and have a voice, while allowing our family to stay connected!" So if you don't yet meet as a family, get started!  Keep it simple and fun. Don't try to do too much at first. And let us know how it goes for you, or if you have questions.
---
Take 10 to 15 minutes to find out your strengths and challenges with our free parenting assessment
.
---
* It's the parent's job to clearly establish expectations – for example: Laundry ready by 10 am on Saturdays. Or, toys picked up before bed at 8. Of course, it's OK for kids to challenge the expectations, and even influence changes. But the primary goal of the problem-solving discussion is to help kids feel empowered about how to meet the expectations.
Comments