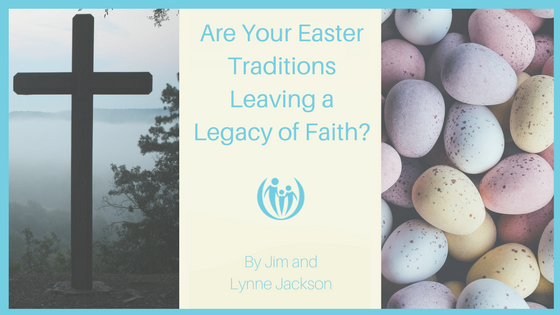 We live in a time and place in history that makes living a routine lifestyle extremely difficult. Yet research reveals that one of the most important ways parents can build faith and values into their children is through traditions and rituals. When night-time prayers, shared meals, and service to others are sincerely offered and become routines, the values behind these activities sink in more deeply.
So, carving out the time to weave these rituals and traditions into the fabric of their lives "impresses" children with the values taught by the rituals. This makes it far more likely they will embrace those values.
The Easter season provides a great opportunity to create meaningful family traditions.
We know many parents who establish Easter rituals by which their children can grow to understand and embrace the meaning and value of Christ's life, death, and resurrection. These parents make plans with their children to serve others, attend special church services, or set aside special times to read the Easter story or Easter devotionals. It can be easy to let Holy Week slide by in a blur, but we challenge you to be intentional about the messages and values behind the traditions you embrace with your family.
In an Easter egg hunt, "always hide AT LEAST one empty egg for each child to find, i.e. no candy and toys, however THE MOST valuable egg… 'cause it represents Christ rising from his grave!!!"
Last week we asked our Facebook fans what Easter traditions they use to highlight Christ's work at the Cross with their families. Here are a couple of their ideas:
"Good Friday service. Little people to bed. 'Passion of the Christ' with the middle school and older set. And, donuts on Easter Saturday."
"My husband's family tradition includes using crayons to color each egg to depict any story from the Bible before the egg is dyed. Everyone tries to guess what the story is on Easter morning."
The possibilities to establish such traditions are endless. It takes initiative and commitment to make it happen.
Sign up below to receive a weekly dose of encouragement straight to your inbox: