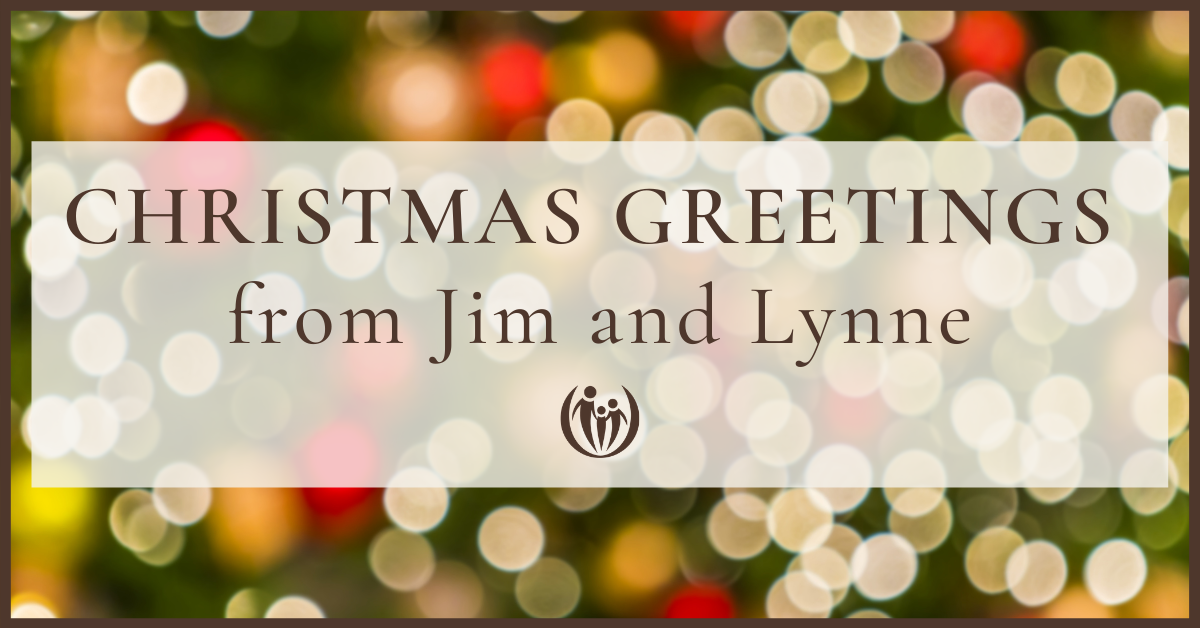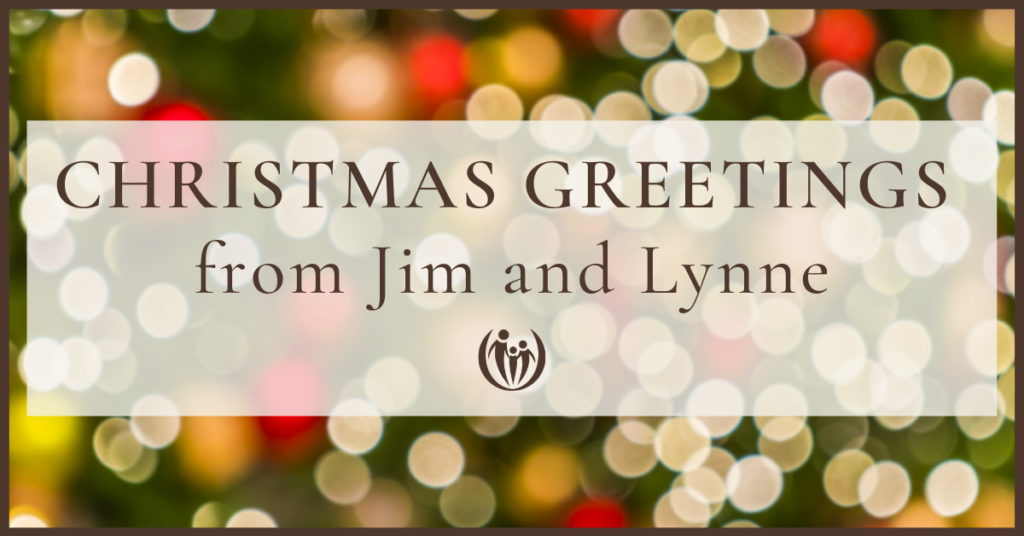 It's always symbolic to us to end the darkest days of each year celebrating Jesus: the Life that came to LIGHT our lives with hope, joy, and salvation. Immanuel forsook glory so that we would not be forsaken in this life that has its share of difficulties.
The true light that gives light to everyone, was coming into the world. John 1:9
The verse below, from the Old Testament prophet Isaiah, has great significance this year when talking about how our loving heavenly Father takes care of us:
"I will lead the blind by ways they have not known, along unfamiliar paths I will guide them; I will turn the darkness into light before them and make the rough places smooth. These are the things I will do; I will not forsake them." Isaiah 42:16
Let that sink in: On unfamiliar paths we are not forsaken. This year has been particularly dark for many. Lynne and I have gone through our own season of grief and hardship in the past year, including the grief of living life without two of our beloved parents. We have also experienced the introduction of severe brain health challenges with one of our adult children following several years of trauma. We know we're not alone – we've heard many stories of grief and loss of all kinds from the CF community during this Covid era.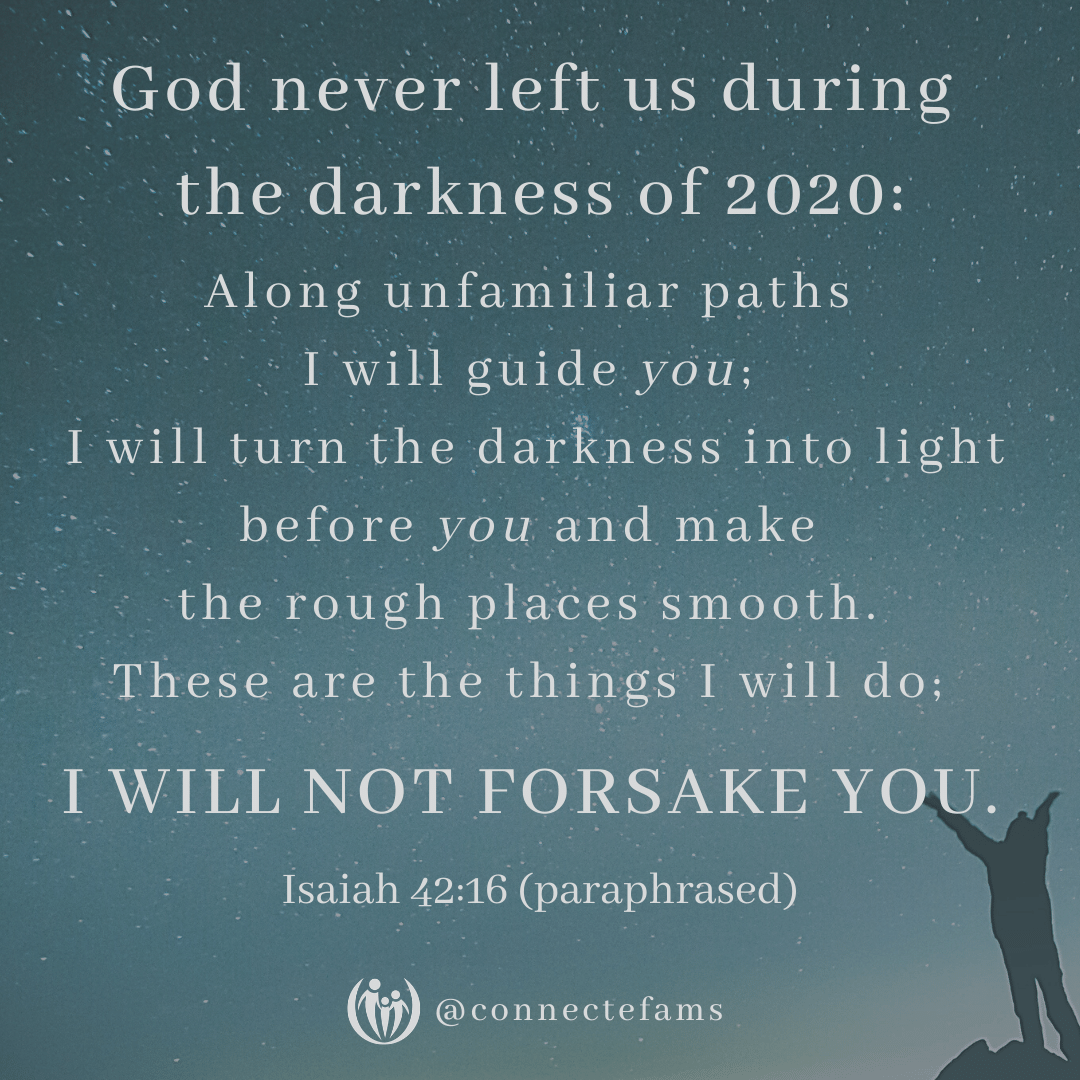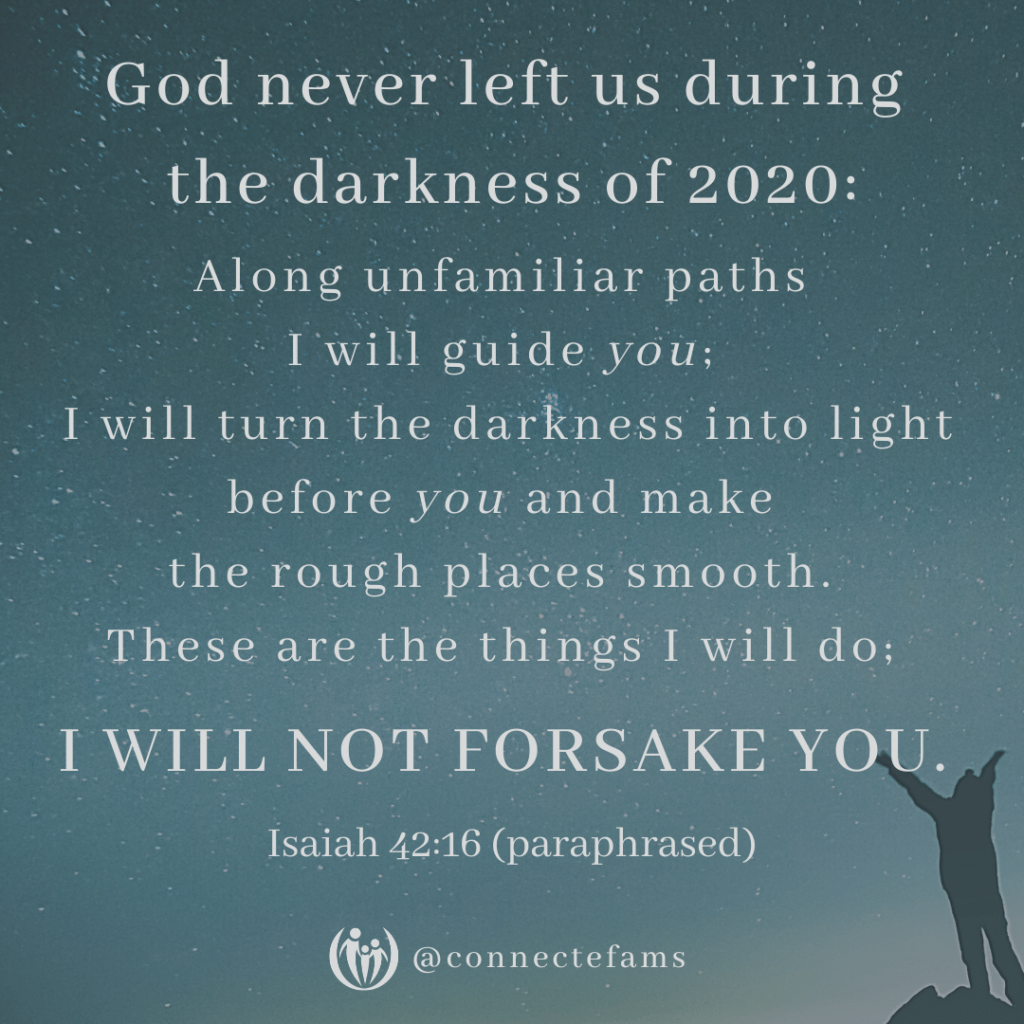 And yet:
The hope of Christmas is real. Jesus didn't come to make life circumstances comfortable but to bring new and everyday mercies and love to the trouble of the world. Our effort to support parents to live by this truth has been more of a challenge than usual this year. That said, our passion is unchanged…to be part of God's work to care for, encourage, and equip you to receive for yourself and then pass on God's grace and truth to your kids.
As we close out 2020, we wait in hopeful expectation that there will be a lifting of the weight on all of our shoulders in 2021. But regardless of what the next year brings, we want to "fight the fight of faith" with you, so you can shepherd your children through whatever lies ahead. Just like your Savior does for you. 
A prayer for you this Christmas
Lord, we pray for all the parents who have struggled through grief and hardship on dark, unfamiliar paths this year. May they sense your faithful, loving presence, and guidance of them and their children. Continue to grow them in overcoming strength, as you light their way into the coming year. We approach your throne of grace with confidence as we trust you for these things, in Jesus Messiah's wonderful name.
Related Posts