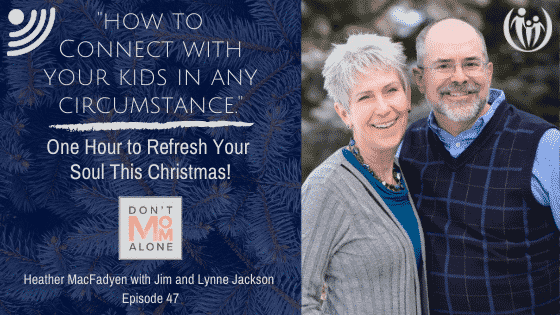 As you're heading into some potentially stressful situations over the next few weeks (changing schedules, relatives who might judge your parenting, or not feeling connected to your kiddos) take some time and listen to this encouraging podcast we pulled out of the archives. (This podcast originally aired in 2015.)
Jim and Lynne Jackson, co-founders of Connected Families, were interviewed by Heather MacFadyen of the Don't Mom Alone podcast (formally God Centered Mom). While some of the scenarios may not be relevant to today (car rides to see relatives, eating in restaurants), they give some really practical tips and scripts that can always be used, whatever the circumstance.
With an overview of the Connected Families Framework for parenting, you will feel equipped to keep your cool (and even connect!) with your kids during this time. The strategies and stories discussed will give you a vision for hope-filled holidays.
Highlights of their conversation:
Why kids can behave better at school/other places and fall apart at home.
Helping your kids get through challenging scenarios, like traveling and restaurants.
How to connect with your kids when you don't even like them.
Do you feel like relatives might judge your parenting? Learn to recognize your need to get your parents' approval (the grandparents) when kids misbehave.
What to do when you are trying to connect with your child and they are not responding.
So, maybe while running errands, wrapping gifts, or folding laundry listen to this interview. You'll be refreshed, encouraged and challenged. You might even come out on the other side of Christmas with an extra measure of joy!
Blessings as you lead your family with grace this holiday season!
Mentioned in this podcast:
Discipline That Connects with Your Child's Heart online course
Sibling Conflict online course
What are your parenting strengths?
You've got them. Knowing your strengths will help you become the best parent you can be. Knowing your parenting challenges is useful information too. Take our FREE ASSESSMENT.
---
Related Posts
Podcast: Play in new window | Download | Embed