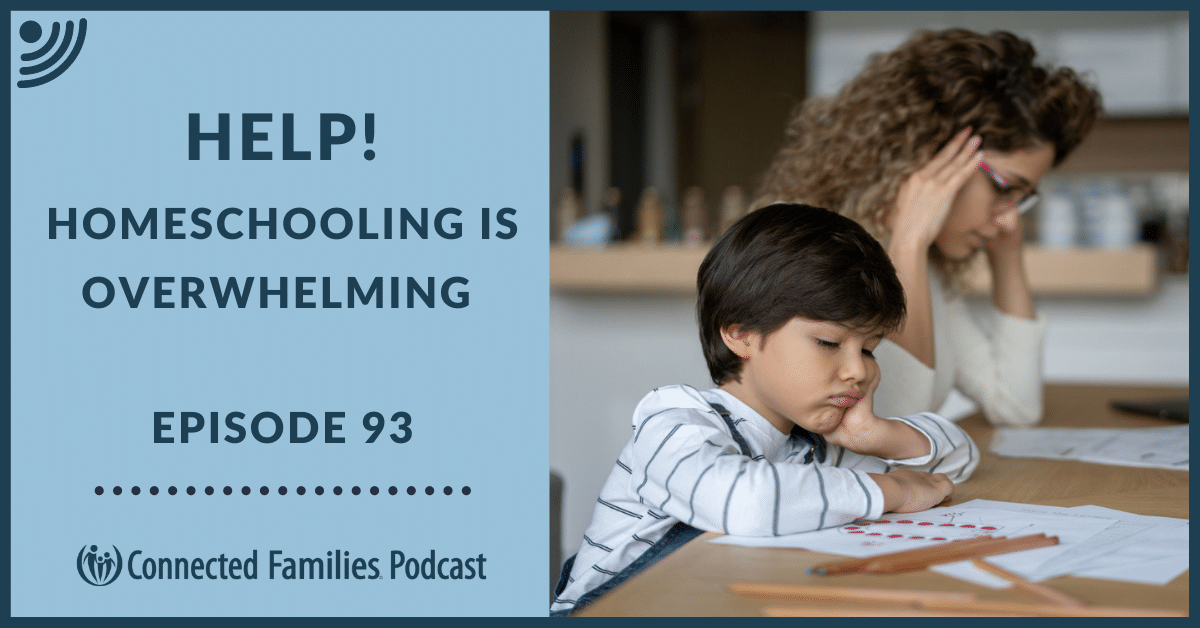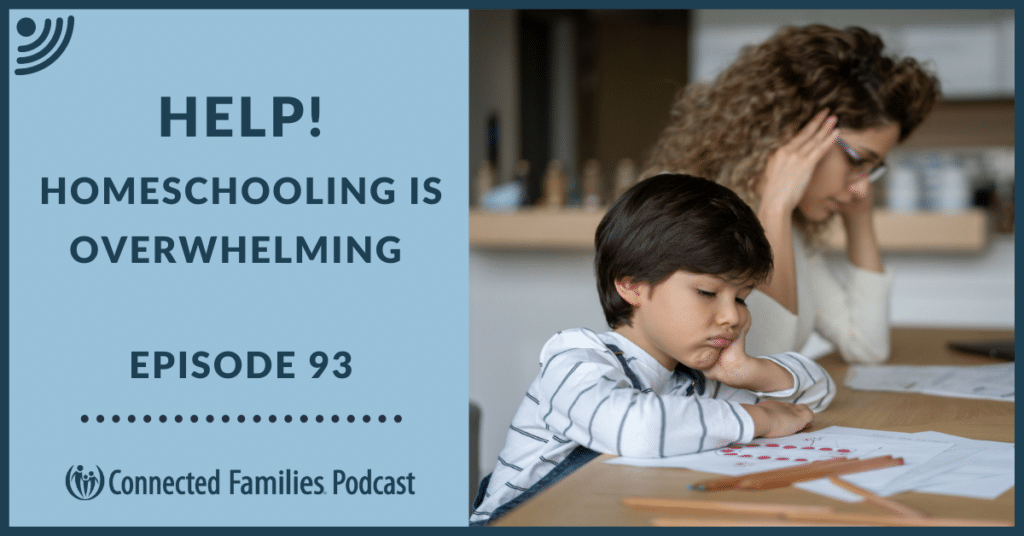 Do you feel overwhelmed as a homeschool parent? Many parents in the Connected Families community homeschool. That number has grown even more since 2020. Homeschooling can bring some unique parenting challenges! From sibling conflict to curriculum choices to intense learning needs, how do you stay connected to your kids, accomplish schoolwork, and maintain sanity?
(Even if you are not currently homeschooling, you'll find helpful parenting guidance in this episode!)
Whether or not you are a homeschool parent, you want to:
provide a safe and encouraging learning environment
understand each child's learning needs
help your kids grow in their learning interests
teach your kids to get along with each other
That can all feel really heavy! Maybe you also have sensitive and intense kids, or you just feel inadequate as a homeschool parent. If so, you'll want to listen in, because the moms in this conversation can relate!
On today's podcast, Stacy Bellward (podcast host) is joined by three homeschooling moms with a wide range of perspectives and experiences. They each share a different story and various challenges they have encountered in their homeschooling journey. They also share the common thread of approaching life through the powerful lens of the Connected Families Framework.
You can face the overwhelm of homeschool challenges (and even help your kids resolve conflict!) when you do the foundational work as a parent of exploring, "What's going on in me?" You can show up for your kids and your school day as the best parent you can be, with loads of God's grace for yourself and your kids!
In this podcast, you'll learn about:
what homeschool overwhelm can look like in different situations, and helpful ways you can approach it
how to help kids learn to resolve sibling conflict, especially when they are with each other all day
healthy ways to step back and ask, "What's going on in me? In my child?" and move forward with your child as a team
the joy of embracing your child's individual gifts and learning interests, and how you can help them grow in these areas
Mentioned in this podcast:
Want to learn more?
Guest Bios:
Lydia Rex is a registered nurse, wife, and mother of two and has worked with families in many capacities throughout her career and personal life. She's been a student of Connected Families since 2014 and continues to find it incredibly life-giving for her own family. Areas of her experience/special interest include foster care and adoption, attachment difficulties, developmental and learning disabilities including FASD. She brings a trauma-informed perspective to the Connected Families framework, and the desire to see families find peace and healing – not just on the other side, but in the midst of challenges! Use our "Contact Us" form to connect with Lydia.
Marni Love is a wife, homeschool mom to three growing boys, tutor, and parenting coach. After teaching in public school for many years she felt called to home educate. She started in preschool and has continued through the high school years. She has a heart for helping families enjoy their journey and parent with grace while also preparing their children for the future God has for them. She has experience with adoption, ADHD, sensory processing, primitive reflex integration, and highly sensitive children. It would be her great pleasure to support you in bringing peace and connection to your home. https://www.marnilove.com/
Nichole Summers is a mom to six children, 4 girls, and 2 boys, adopted and biological. She has contributed to one article ("I Aimed for Perfection as a Mom and It Just Slayed Me.") and one podcast (Communicating Love in the Midst of Misbehavior) for us here at Connected Families. She is a mom who is learning to take God at His word concerning her children and can often be found resting in Romans 8:28.
Have you used the Connected Families Framework in your homeschooling journey? We would love to hear about it! Looking for more parenting help? Check out these great resources on our website. And as always, feel free to contact us, we love hearing from you!
---
Download our FREE in-depth ebook Helping Kids With Anger. It will provide thoughtful insights and creative ideas to help your struggling child.
---
Related Posts
Podcast: Play in new window | Download | Embed