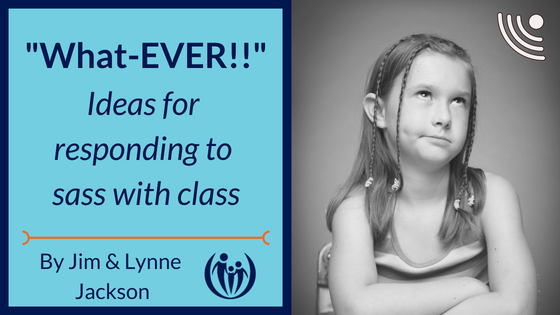 You've seen it a hundred, maybe even a thousand times. Your child doesn't like what you've said and responds with a head tilt, and eye roll, and the grand pronouncement, "What-EVER!!!!"
What do you do when this happens? The tendency is to shut it down, NOW! But your angry response communicates to your child that she is in control of your emotions. This gives her the "powerjolt" she needs to pull this behavior out again the next time she's frustrated with you.
In this Q & A, Jim and Lynne take 7 minutes to respond to this question from a mom who is tired of her 8-year-old daughter's sass. You'll hear some quick pointers for how to respond with grace while keeping a child accountable for better behavior.
As you respond, you'll learn to communicate:
You're SAFE with me:

Stay calm

as you take a deep breath. Your kids are not your report card.

You are LOVED even if you sass:

Express empathy

. "This is really hard, isn't it? If it's hard for me, I'm sure it's hard for you."

You are CAPABLE:

Ask a question

. "You don't like how this is going. What would be a better way?"
We hope as you listen to this audio you are encouraged in your parenting! As you learn to follow these three steps to decrease the "sass-level" in your house, take joy in the small victories. We are here to help you in any way we can as you seek to grow your connected family.
---
Learn more about the Framework
Related Posts
Podcast: Play in new window | Download | Embed