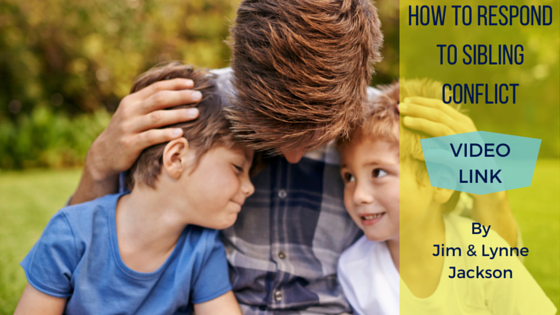 Kids fight. Sibling conflict is a reality in just about every family. It is hard to know how to parent with wisdom and confidence in the middle of a battle over who has the most space in the backseat or who got the bigger piece of cake. These kinds of fights seem to happen every day and wear parents out the most because they seem to ramp up so quickly. Suddenly, the fight is no longer about the seat space or the cake but about bigger issues–like selfishness or your child's character. Things can get out of hand pretty quickly and it is hard to know how to respond to conflict in a way that promotes growth and peace instead of hurt and anger. Many parents feel stuck in defeating patterns when their kids are fighting. Perhaps it is time to think about new ways to help with sibling conflict.  
Connected Families developed this 4-level framework to help parents rethink about sibling conflict from a place of wisdom and confidence.
Take a look at this 5-minute video which teaches about a helpful approach to look at the ways that conflict can be an opportunity to build wisdom.
Some highlights from the video:
Attempts at solving sibling conflict by implementing a formula of "Apologize, go to your room, and don't come out until you are ready to be nice," often are counterproductive.
We learned to change our perspective about misbehavior and began to think of things like conflict as an opportunity to build long-term skills and wisdom in our kids.
We began to realize that our homes and our families needed to have connection in order to thrive.
In order successfully create peace and connection at home we needed to spend some time thinking about how we could build skills and wisdom in our own lives as the parents.
---
In our online course Sibling Conflict: From Bickering to Bonding we teach parents how to teach kids The Peace Process. This process equips kids to work through their own arguments without your constant supervision and refereeing. Join us today so your kids can begin building the relationships you always imagined.