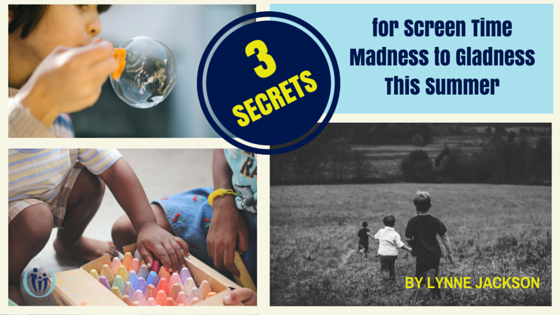 Are you feeling a little fear and trepidation about your kids' free time this summer and the issues it brings?Summertime means long stretches of downtime. It also means that computer, television, and smartphone screens are an appealing way to fill that time for most children. Maybe you are a little worried about the seemingly inevitable clashes over technology and screen use. It can be hard to know how to pull little (and big) eyes away from the draw of the flickering screen and how to create some memories that will last and be more meaningful than anything an online experience can offer.  Managing screen time is a challenge for many families.
Brenda is a mom of three who follows our teaching closely. She shared this great story about how she dealt with technology obsession with the kids in her home.
Two summers ago we had such conflicts over screen time in our home it drove me crazy. My kids were determined to get their hands on some manner of glowing device – no matter what. I was equally determined they not rot their young brains with it, and the battle was on. So last summer I tried something bold. I told the kids there were no specific technology time limits for the summer. (Could that really work?!) You may even have a knot in your stomach reading about such a reckless plan. But it did indeed work incredibly well, and it's our plan again this summer!
What were the secrets that made for such an amazing turn-around in this family's screen time power-struggles using such a counter-intuitive approach? They are listed here in order of increasing importance: