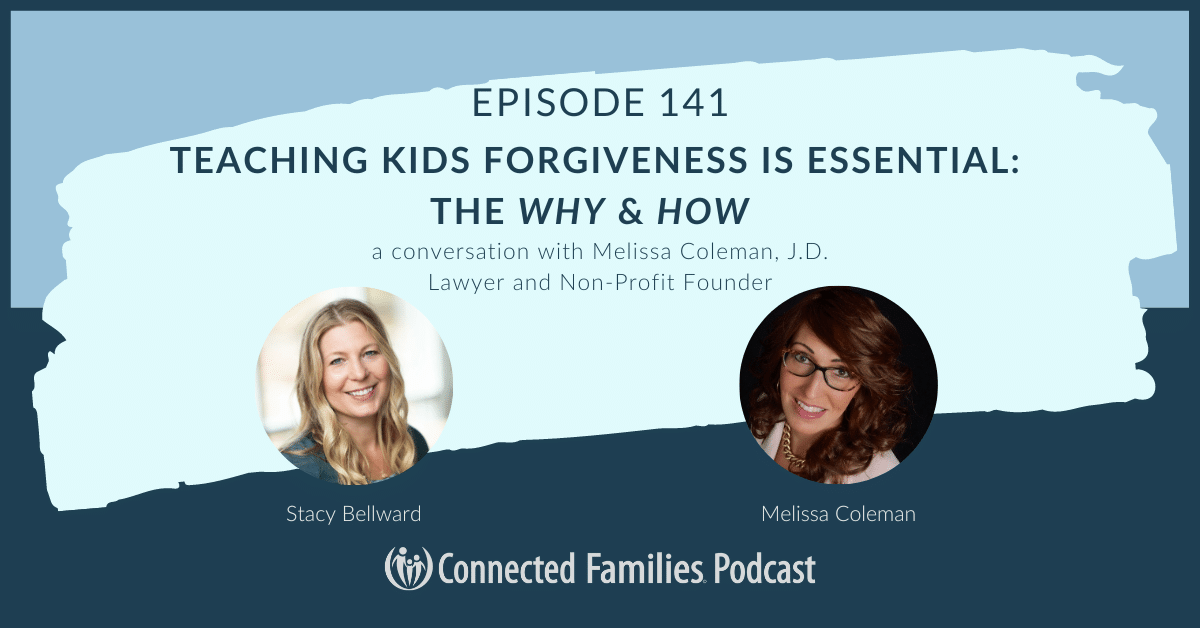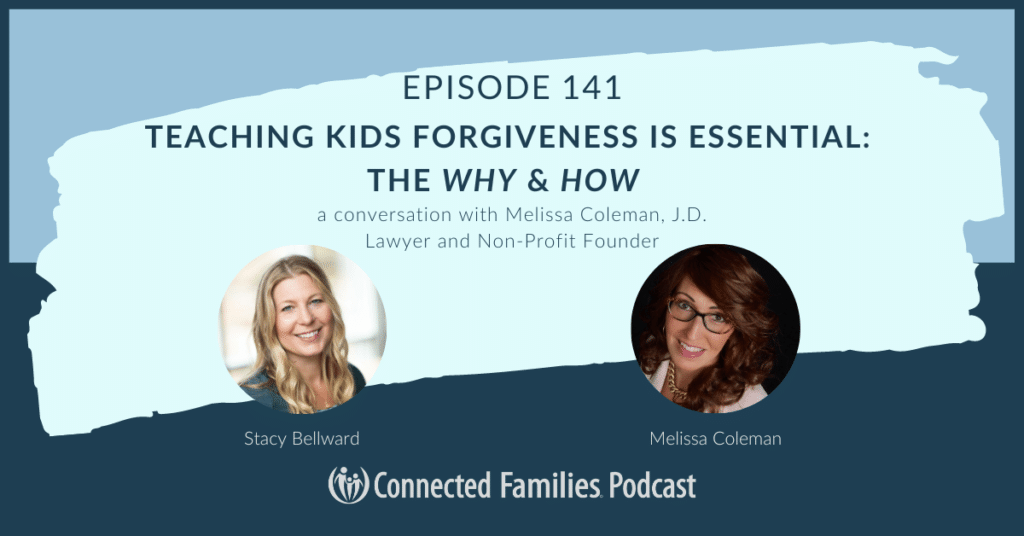 How do you teach forgiveness to your kids? You probably want to guide them toward the true forgiveness that Christ's work accomplished. That takes time and intention. Forced apologies can make a conflict blow over quickly, but resentment often lingers. Before we can guide our kids toward true forgiveness, we need to check our own understanding of God's mercy and forgiveness for us.
In this two-part episode, Melissa Coleman (Senior Principal Counsel and CEO of Coleman Law and Consulting) joins Stacy Bellward (podcast host) for a conversation about how to teach forgiveness through a "mercy trial." Melissa brings her expertise as a lawyer to share her unique perspective while bringing scripture and practical steps to guide you and your kids toward mercy and forgiveness.
In this two-part podcast you'll discover:
what a "mercy trial" is, and how to conduct one
ways a mercy trial can help you to overcome offenses committed against you
the power of writing out offenses (charges) and then relinquishing them to Christ
prayers for applying Christ's mercy to those who've hurt you
ways applying mercy can help you live free of baggage from the past
how to teach forgiveness and mercy to your children
the importance of developing and protecting a "posture of mercy"
how to apply mercy when your children hurt you
that you can forgive people who hurt your kids
Thanks for listening to today's podcast. Check out our website for more resources to support your parenting, and don't forget to reach out if you have questions. We are a listener-supported podcast, so your donation fuels our work! It is our joy to walk the parenting journey with you as you parent your kids in God's grace and truth.
Listen to the conclusion of this podcast
This podcast is in two parts, and we highly encourage you to listen to the full podcast to receive the full benefit. The conclusion of this podcast can be heard by clicking the link below.
Mentioned in this podcast:
Teach Forgiveness thru Mercy Prayers from Melissa
Releasing mercy over the perpetrators in my life:
Loving Father and Righteous Judge, I summon [name] to the heavenly courts. [Name] I charge you with [offenses-list them individually]. You are guilty of these charges and deserving of punishment. However, because Jesus chose to extend mercy to me for a debt I could never repay, I choose to extend this same mercy to you for your offenses against me. Jesus, I ask that you not count [name]'s sins against him/her. I hereby break the power of condemnation off of you, [name], and I declare you acquitted, forgiven, and free. I also hereby break every tie I have had with the accuser against [name]. Enemy, you no longer have power over me and no legal right to torment me. I will not be lured back in by you or commit double jeopardy. I break off my relationship with you now against [name] for good. ©Melissa Coleman
Releasing mercy over myself when there's been prolonged unforgiveness:
Loving Father and Righteous Judge, I put myself in the defendant's seat in your heavenly court, and I charge myself with the offense of unforgiveness against [name] for [amount] years. Although I am guilty of this sin of unforgiveness and deserving of punishment, I plea the blood of Jesus, and I release Jesus' mercy over myself, so my sin will not be counted against me. I hereby break off the power of the enemy to accuse and condemn me for this sin. I declare myself acquitted, forgiven, and set free in Jesus' name. ©Melissa Coleman
Guest Bio:
Melissa Coleman has been practicing law for 25 years and currently serves as the Senior Principal and CEO of Coleman Law & Consulting, a Twin Cities-based firm specializing in serving churches, faith-based organizations, and small to mid-sized businesses. Coleman is recognized for her extensive work in advancing human rights in both domestic and international arenas, as well as for advocating for the rights of citizens to freely exercise their religious beliefs in their public and professional lives. Coleman and a small team of lawyers launched a nonprofit network of faith-based attorneys in her state, and she has served and continues to serve on numerous boards and advocacy teams. Coleman and her husband of 26 years have five fantastic kids (three adults and two teens) and a village of young people in their lives. What Melissa loves most in life is helping people get free and stay free!
---
Podcast: Play in new window | Download | Embed