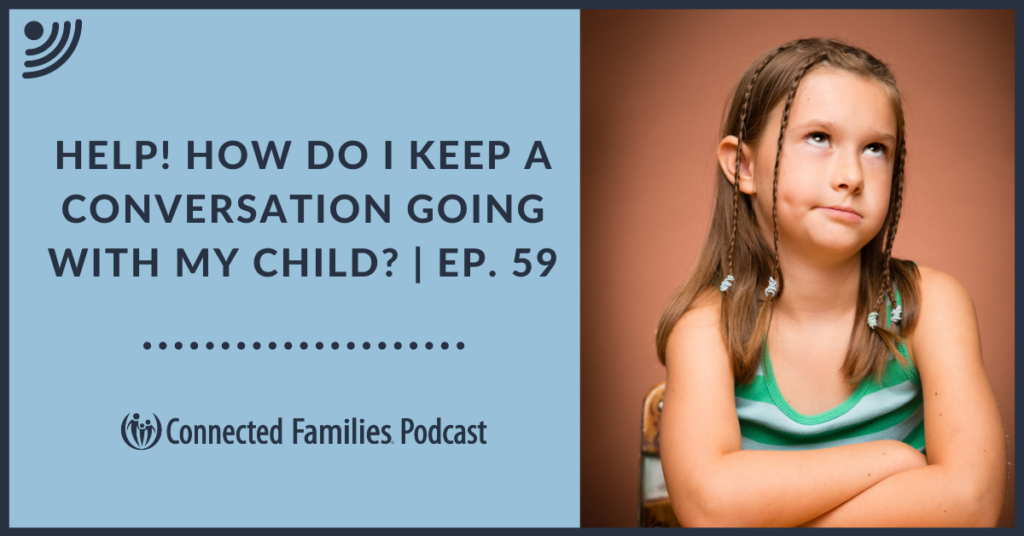 Frequently parents focus on conversation skills when there is conflict. But what about in the normal day-to-day interactions? Do you feel like it is more difficult than it needs to be to have a "normal" conversation with your child? Do you feel like you spend a lot of time telling your child what to do instead of asking the right questions? It's hard when you feel like, "My child won't talk to me!"

Sadly, sometimes our reactions as parents is what shuts the conversation down. Can you relate? If so, this podcast discussion will bring you the honest and hope-giving guidance you are looking for as you desire to have open and honest conversations with your kids.

In today's podcast, Stacy Bellward (podcast host) is joined by Chad Hayenga (therapist and Connected Families parent coach) to talk about how you can engage in meaningful, on-going conversations that bring connection with your child. You can keep the important conversations going with your kids by asking gentle, light-hearted, curious questions that help your child feel safe to open up to you.
In this podcast, we'll discuss:
The power of kind and curious questions to unlock a child's heart
Keeping shame out of the conversation with your child
How to respond when kids have doubts about their faith and God
Practical ways to calmly respond when your child says something that triggers you!
The importance of your strong, solid foundation in Christ to create stability for your struggling child
Connecting to and valuing what is going on in your child's heart can keep the conversation going for years to come!
Parenting resources mentioned in this podcast:
The Power of Questions: Less Arguing. More Wisdom. (online course)
Want to learn more for when, "My child won't talk to me!"
Stay Curious During Tough Conversations: Why Lectures Never Win
Related Posts
Podcast: Play in new window | Download | Embed