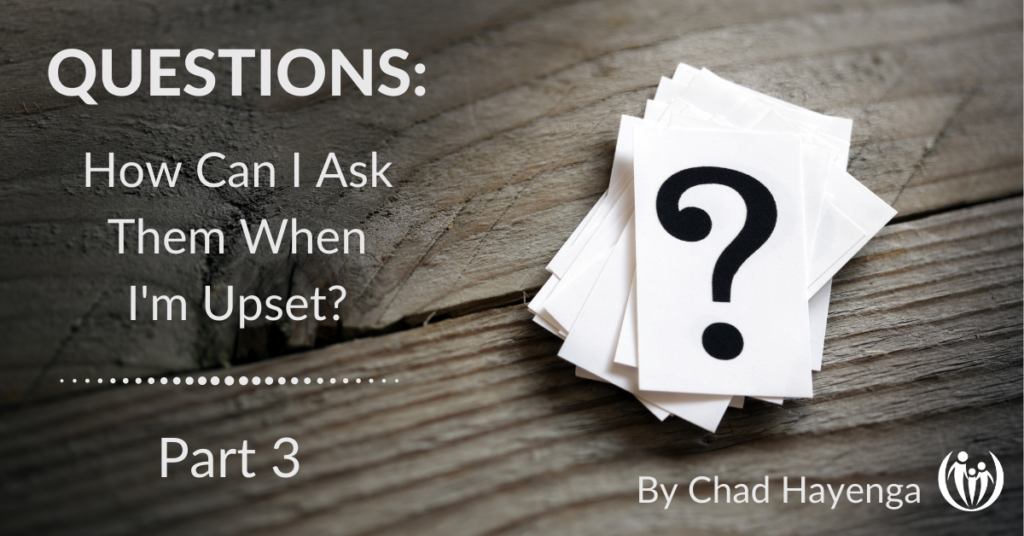 Teaching the art of asking good questions is a favorite goal in our daily work with parents. Why? Because we've learned that lectures and answers often shut kids down and build walls between parents and their kids, while good questions build wisdom, strengthen connection, and lead to kids taking more responsibility for their lives.
To illustrate this in real life, we've invited Joel and Amy to write about their journey to learn to ask good questions and build wisdom with their two teenage sons.
---
I remember the feeling of cluelessness one day when my husband and I were sitting in a session with our parent coach, Chad.
We'd been learning from Connected Families' resources about how to communicate to our two teenage sons that they were safe and loved. While we were growing and our hearts were changing, we still had many unsolved problems and felt stuck. After we described an issue with one of our sons during a coaching session, Chad asked, "How does your son feel about it?"
Dead silence. We were totally clueless. We said that we thought he felt a certain way, but really we had no idea. Then Chad asked, "Well, have you ever asked him?"
And so began our journey with Chad in learning how to ask good questions.
We'd been down the road of asking questions before. But it was a different route, one where we asked questions to get our kids to answer the way we wanted them to, without actually connecting with our sons. Those questions were filled with a hidden demand and spoken in a tone of voice that matched our need to control the answer. "When are you going to do xyz?", "Why are you doing that?", "So how did that go for you?"
Asking our sons these condescending questions just led to eyerolls, huffs up the stairs, and door slams. Our battles for control over homework, chores, and other behavior left us stuck believing that our sons were not capable of figuring things out on their own, and we would tell them what or how to do most anything. We loved them, but, for us, the many parenting books and theories we sought about what to do left us all more frustrated.
So there we sat, feeling a little clueless and role playing a problem situation in our session. Chad wanted us to see what asking good questions looked like, so I played our son and Chad played the parent. As we started, I was ready to rumble. Bring it on, Chad! I was ready to argue to win. But Chad (as parent) wasn't. And I felt it.
He was calm, compassionate, loving, and kind. He genuinely wanted to know what I was thinking and how to help me solve my problem. I was disarmed. And then, my tears began to roll. I realized how my responses have contributed to our fights with our sons.
And then Chad asked us the remarkable: he gave my husband and me only ONE homework assignment: Ask our sons questions to seek understanding instead of telling them what to do. Yikes.
We gave it a try, and were surprised with what we found — I had never realized how many times I actually told my sons what to do! Even when they came to me with their problems for help, I would just automatically state my opinions — but now I started to catch those missed opportunities to ask questions.
My first attempts to ask good questions did not bode well! When my older son came to me with a problem, I stumbled out with, "Uh, well, do you want to know what I think?" Oh boy, as my two teenagers would say, my initial attempts were an "epic fail". As I learned of my own deeper motives and desire to control their outcomes or responses, I found myself realizing, I needed to let go. My questions then changed as I realized that I didn't own their problem OR their outcomes. Letting go helped me become genuinely curious about what they felt, and why. I wanted to connect with them, to understand them. One of my favorite series of questions now is, "Can you help me understand what you are thinking?" and then, "Do you think that way will work better for you?"
We are still learning. But now, when I start to ask a question with a hint of "let me tell you what I want you to do," one of our sons will even point it out, by saying, "Mom, don't go there." I will catch myself and start over with a different attitude. My sons are coming up with great ideas, and I have the joy of watching them learn and grow through their success AND their failures. There are a lot less eye rolls, huffs, and door slams. We are learning and growing in a better way of being for each other rather than against each other and growing in becoming a connected family.
---
As you can see, Joel and Amy were able to turn the boat around in their relationship with their sons by learning to ask questions instead of just telling all the time. It wasn't easy — Amy didn't have insightful questions magically pop into her head the first time — but she asked a question! Through their hard work and commitment, Joel and Amy are learning to ask more and better questions and help their sons grow in wisdom.
So… Where do I start?
What is one particular place you find yourself telling rather than asking? How could that interaction be different if you asked questions?
Think of a question or two you could ask that might help your child consider the options for himself. How might that change your interactions if you became an "asker" instead of a "teller"?
Pray that God would give you insight to become a parent that builds wisdom by asking questions.
(Did you miss Part 1 and Part 2 of this series? Check them out for more insight into this idea!)
---
In our online course The Power of Questions: Less Arguing. More Wisdom. you will learn the art of asking questions that build internal wisdom and character in your kids, and create a culture of teamwork in your family. Join us today!