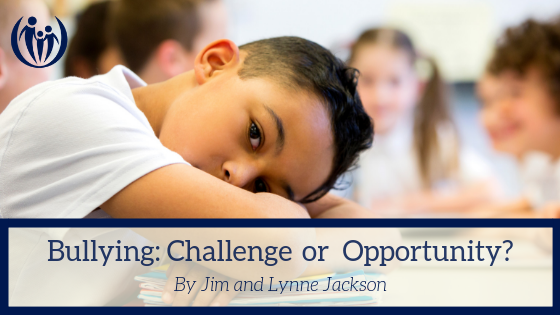 Those are nice sentiments, but what does it actually look like if your child is being bullied? Or, maybe worse, if your child is the one acting in unkind or intimidating ways at school? Feeling helpless about what to do? We've gathered a few of our articles to give you some ideas:
The Diamond in the Rough of Bullying
It can be easy to blow your top when you hear your child is being bullied. But could there ever be anything good about bullying? Come along with us as we walk through a graceful response to this difficult experience.
Are We Teaching Our Kids to Bully?
When we see kids be unkind to others, we often ask, "Where on earth did they learn that?" The problem — and the solution — is that often they learn it from us! Take a moment to ponder how your actions may be teaching your kids to bully and what you can do about it.
Words That Hurt (short 3:52 audio from Jim and Lynne)
School is not the only place where bullying happens.  Many parents see bullying among the children in their own home.  How do you parent both the name-caller and the name-called?
More resources on bullying
For more bullying prevention tips and guidance please click the button below.
---
Download our FREE in-depth ebook Helping Kids With Anger. It will provide thoughtful insights and creative ideas to help your struggling child.