For most of us, this will be a different sort of holiday season than usual. It has certainly been a challenging year for the whole world. Just search, "If 2020 was a…." and you'll find some comic relief from all the intensely difficult things that have happened this year. How can we truly find gratitude for our most important blessings?
Gratitude may be harder to come by as we're separated from loved ones, or feeling sad about the loss of normalcy. It's common at Thanksgiving to focus our gratitude on the gathering, great food, our material comforts, our possessions, enjoyable relationships, and other wonderful blessings. These are blessings for sure!
But what if this year we worked to go beneath the surface of circumstantial blessings and focused more on the rich blessings that have nothing to do with circumstances.
Toward that end, consider this thoughtful progression of God's blessings, so you can lead your family into deeper gratitude this Thanksgiving, unrelated to your circumstances. The tougher the circumstances, the more your children will notice and learn from your grateful and joyful attitude.
1. Blessings we receive unconditionally
If you are a follower of Christ, start by reflecting on and steeping in the blessings that matter most:
Christ's work on the cross.
God's amazing forgiveness bought with a great price.
God's constant presence with us through the person and power of the Holy Spirit.
The endurance granted to those who go through trials with faith.
The wonderful new identity given unconditionally to us as a result.
Focusing our gratitude on these unconditional blessings gives us perspective about the things we so often look to for our sense of security. As we learn to believe that the love of Jesus is truly enough, it helps us to model God's grace. This can be even more true when circumstances are not what we, or those around us, would hope for.
2. The blessing which comes from giving and serving
One blessing that is often missed in the line-up of "Thank you, Lord, for ____" is the blessing of serving and generosity. Everyone, regardless of circumstances, has the ability to serve others and give sacrificially. This ability to serve and give is an incredible privilege that is so often overlooked.
Command them to do good, to be rich in good deeds, and to be generous and willing to share. In this way they will lay up treasure for themselves as a firm foundation for the coming age, so that they may take hold of the life that is truly life. (1 Timothy 6: 18-19)
It's true that God gives us material blessings for our enjoyment! We've also been blessed with time, talents, resources, and gifts to serve God by serving others. This is what makes us truly rich, regardless of our bank statement.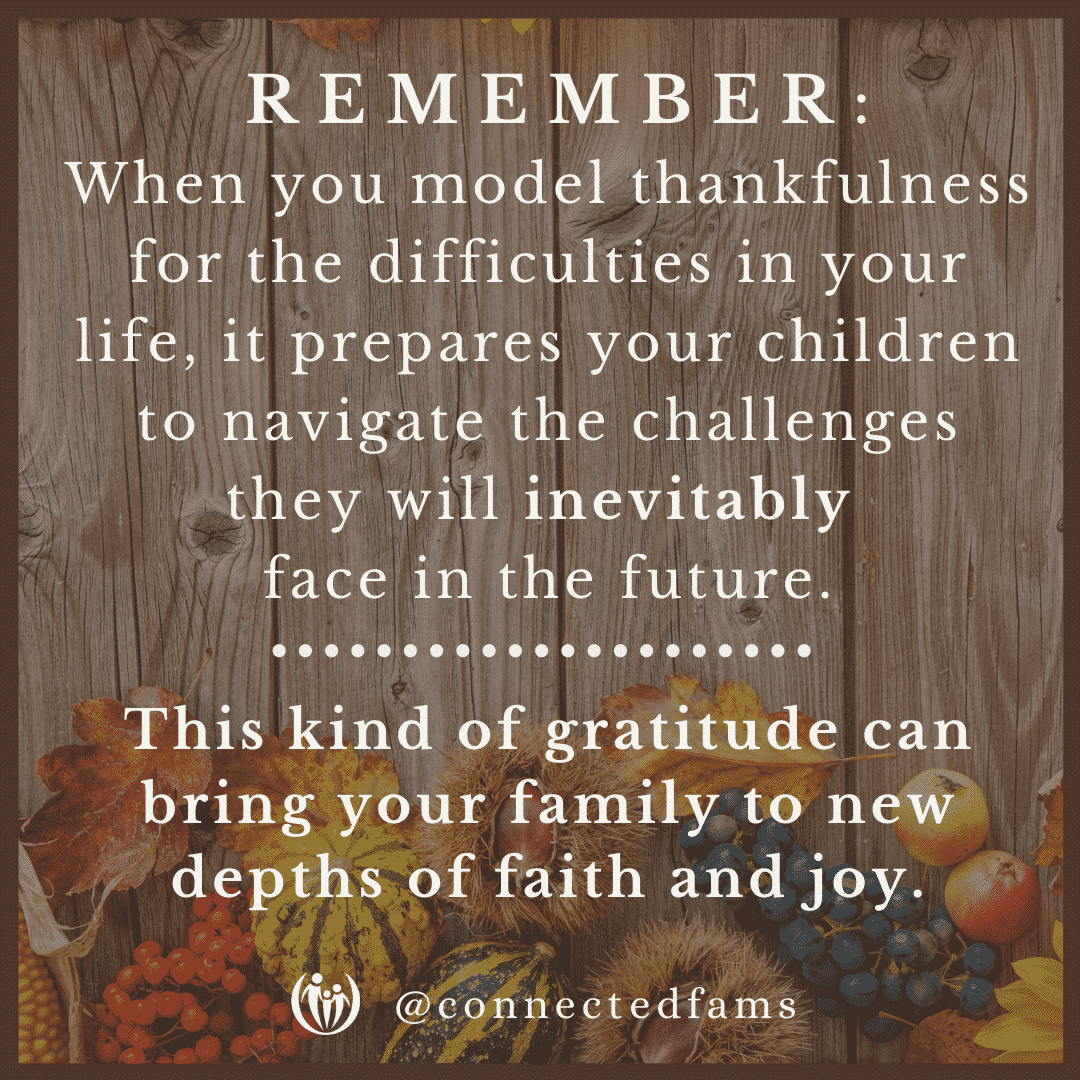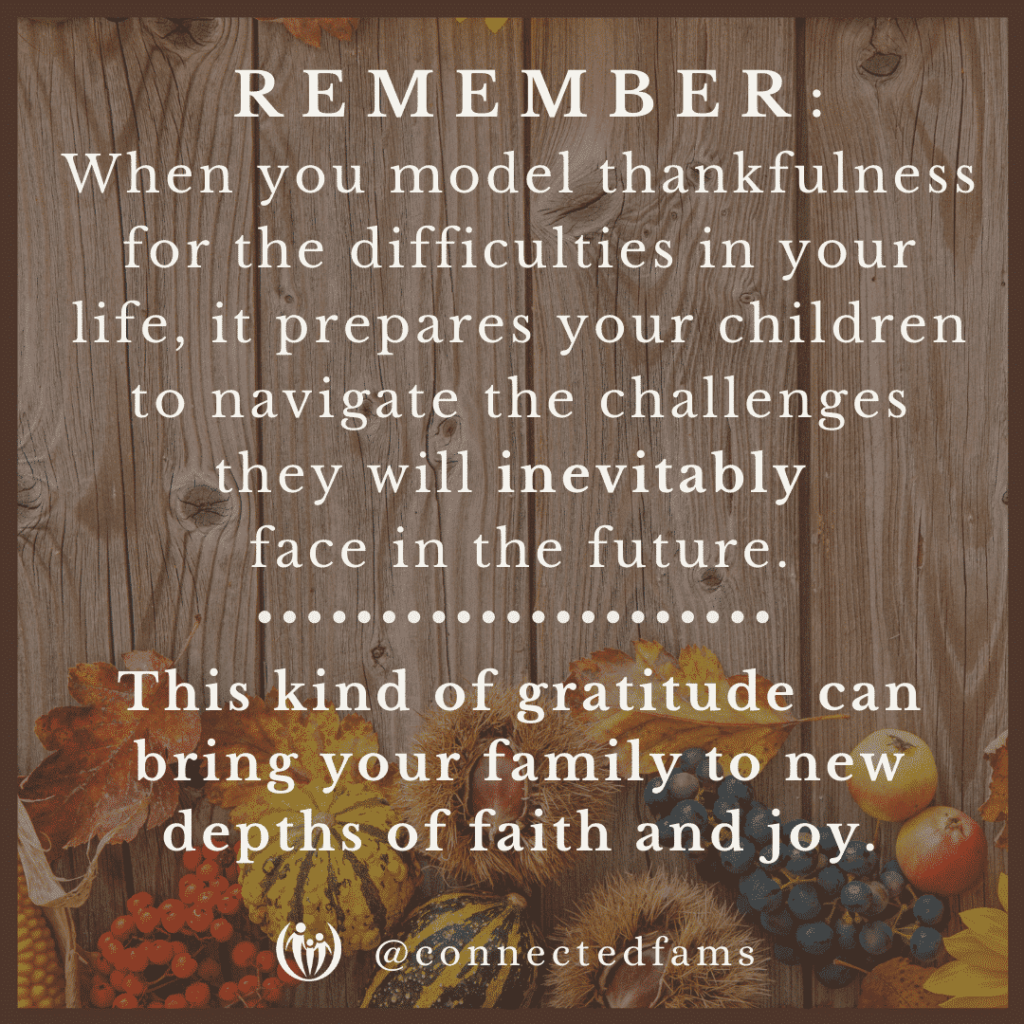 3. Blessings that comes from trials
Sometimes it can be challenging to give thanks when there are underlying circumstances that are HARD! Can we still give thanks when we have a "prodigal" child? Or if dad lost his job? Or mom is in the midst of a health crisis? Or when there are family members who no longer speak to each other?
Consider it pure joy, my brothers and sisters, whenever you face trials of many kinds, because you know that the testing of your faith produces perseverance. Let perseverance finish its work so that you may be mature and complete, not lacking anything. (James 1:2-4)
This Thanksgiving, what challenges are you and your family facing? Can you go beyond the gratitude you feel for tangible blessings? And continue to experience thankfulness in spite of (and even for!) your current circumstances?
"Consider it pure joy…." because trials bring valuable character strength and a deep dependence on God. Remember: when you model thankfulness for the difficulties in your life, it prepares your children to navigate the challenges they will inevitably face in life. This kind of thankfulness can bring your family to new depths of faith and joy.
How can I help my family find gratitude?
Here are some thoughtful questions to discuss at Thanksgiving, starting with the easiest and most concrete for young children:
What is a part of God's creation that you are thankful for and why?
Who is someone who blesses you and how did they do that?
When have you had the joy of blessing someone else?
When did you enjoy giving money to a good cause?
Even though distance learning has been hard, how did you grow from that trial? What was good about it?
When have you been thankful for God's wonderful grace?
For elementary or older kids, you can print out this six-sided question cube or use these connection questions to dig deeper as a family. When Thanksgiving preparations begin, the kids can enjoy cutting out, folding and preparing these activities. These conversation starters can be used to strengthen your relationships during Thanksgiving weekend or in the coming weeks ahead.
May you encounter God's presence in blessings of all kinds as you guide your children toward a more profound level of gratitude!
---
What are your parenting strengths?
You've got them. Knowing your strengths will help you become the best parent you can be. Knowing your parenting challenges is useful information too. Take our FREE ASSESSMENT.
Related Posts