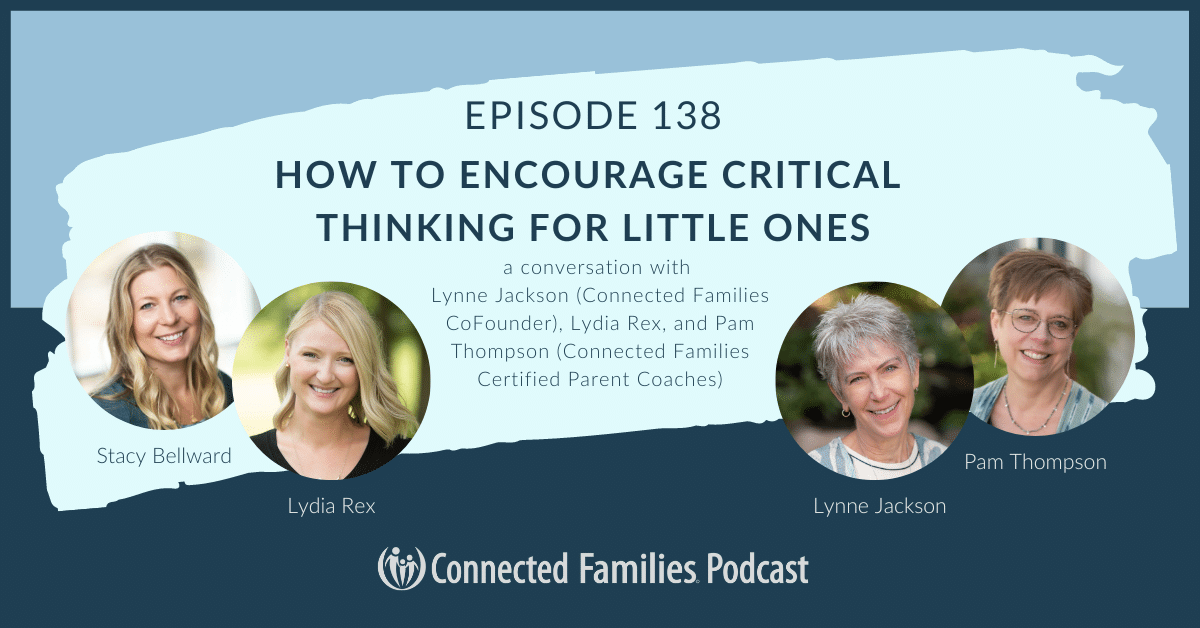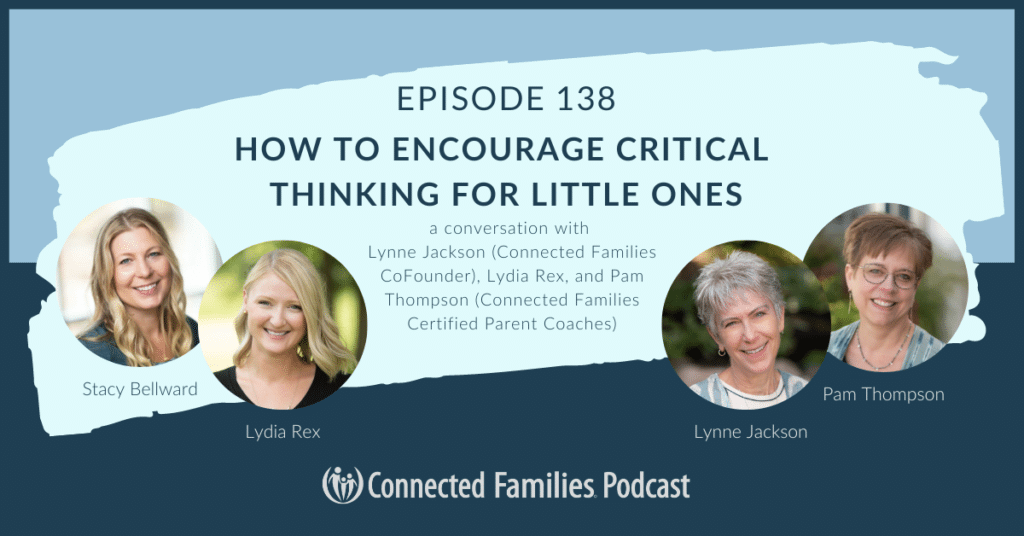 Do you ever feel like you have to tell your young child over and over again to do something? Parents often feel the need to tell, yet telling can lead to defensiveness and power struggles. Asking questions, on the other hand, engages your child's whole brain and can lead to more positive interactions. You can encourage critical thinking, grow responsibility and emotional awareness, as well as build wisdom in your child when you ask instead of tell.
In today's podcast, Lynne Jackson (Connected Families Co-Founder), and Lydia Rex and Pam Thompson (Connected Families Certified Parent Coaches) join Stacy Bellward (podcast host) for a conversation about how to encourage critical thinking in kids. These experts share plenty of real-life scenarios and practical questions you can start using today to grow cooperation, connection, and wisdom with your young child.
In this podcast you'll discover:
how Jesus guided His disciples with questions
the importance of keeping a light-hearted attitude when asking questions
situations where you could feel stuck and what might be going on with your child
practical ideas to use with young children who struggle to answer questions
ways you can use "I wonder" statements to engage your child
the purpose and power of "3 Yeahs"
Thanks for listening to today's podcast. Check out our website for more resources to support your parenting, and don't forget to reach out if you have questions. We are a listener-supported podcast, so your donation fuels our work! It is our joy to walk the parenting journey with you as you parent your kids in God's grace and truth.
Mentioned in this podcast:
Guest Bio:
Lydia Rex is a registered nurse turned Trust-Based Relational Intervention (TBRI) practitioner and parent coach to families with young kids, especially those who have sensory needs or developmental trauma. No stranger to challenges in the parenting journey, Lydia offers empathy, encouragement, and a deep commitment to walking alongside parents with the Connected Families Framework. It's her joy to see God's grace healing the hearts of parents and children. Lydia, her husband Kyle, and their two kids live in Iowa, where they enjoy homeschooling, outdoor activities, and reading lots of books.
Pam Thompson is a Licensed Family and Early Childhood Educator as well as a Connected Families Certified Parent Coach. She is a mom of two young adult children and "like a mom" to two young adults who have experienced extensive trauma. Because of her education and experiences, she especially enjoys encouraging and supporting parents of young children, parents of young adult children, parents of kids from hard places, and teachers.
---
Related Posts
Podcast: Play in new window | Download | Embed