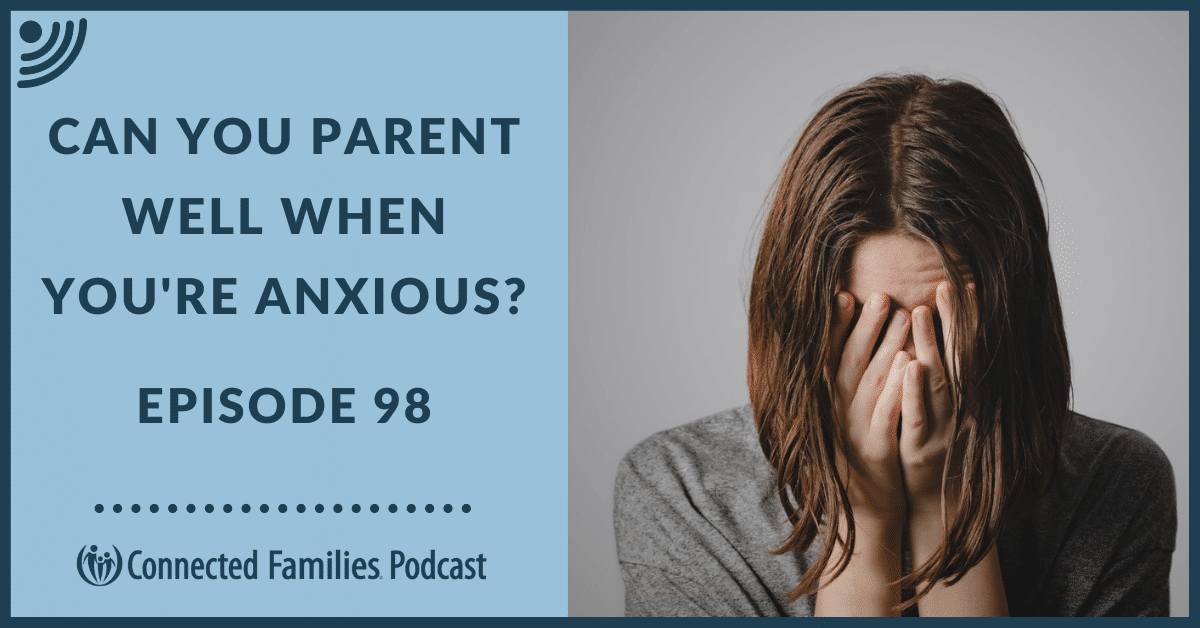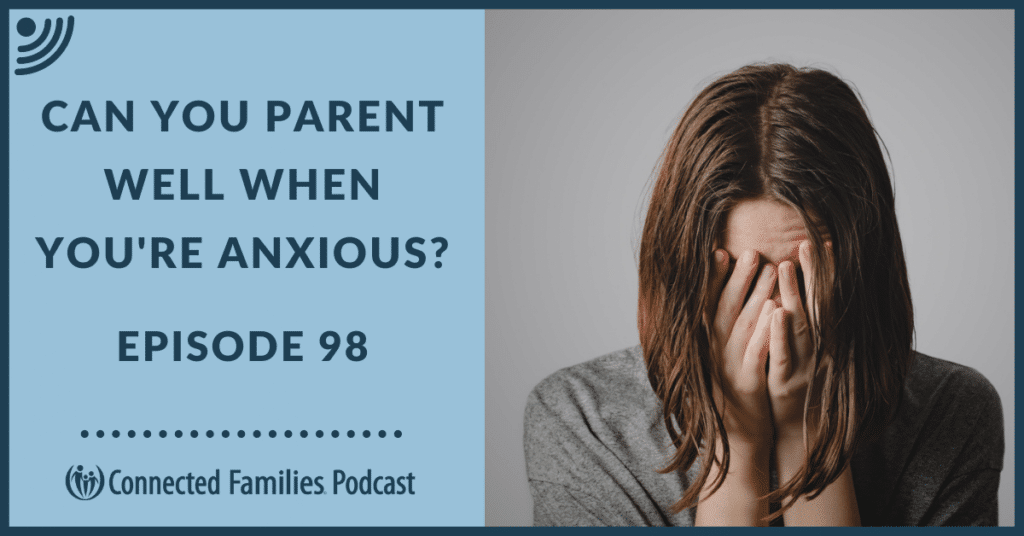 You can feel the rising tension in your shoulders and the knots in your stomach again. So much going on around you, and inside you. There is no shortage of things to feel anxious about in our world right now! Current data reveals a huge spike in anxiety in recent years, for both parents and kids. We all face anxiety at some point and it can cause a range of emotions, from mild frustration to feeling really helpless. But can you parent well when you're anxious?
Anxiety can show up in big ways in our lives and in our family, but it can also show up in subtle ways that are masked by other emotions and behaviors. This is why it is SO important to routinely pay attention to the most foundational question, "What is going on in ME?"
Today's podcast episode is absolutely packed with thoughtful and real-life guidance for how we can understand and navigate parental anxiety. Stacy Bellward (podcast host) invites three Connected Families Parent Coaches to an honest and insightful conversation of how they have encountered and managed anxiety in many different forms and situations in their own lives and in their kids' lives as well:
Marni Love is a homeschool mom of three boys and a regular guest in our Clubhouse Community. Marni has experience with adoption, ADHD, sensory processing, primitive reflex integration, and highly sensitive children
Taylor Irby, a speaker, marriage and parenting coach, and mom of five children. Taylor is familiar with the challenges of ADHD, autism, anxiety, developmental delays and adoption trauma
Katie Wetsell, a mom of four kids and a pediatric nurse who has personally navigated issues related to adoption, mental illness, and learning disabilities. Katie is also certified in SPACE Treatment, a parent-based approach for helping children with anxiety, anxiety disorders, and OCD
Join these fellow moms and learn how anxiety can actually be an opportunity to grow in our faith, to better understand ourselves and our kids, and to love each other well as a family. We can be proactive in taking care of ourselves and staying grounded in God's grace and truth so that we can flourish as God' dearly beloved children.
What you'll discover in today's podcast:
how anxiety might show up in your home masked as different emotions, behavior, and actions
a clinical definition of anxiety, and how it functions to alert us in both healthy and unhealthy ways
the difference between anxiety and fear, and how we can discern and respond
practical strategies and important truths to help you work through anxious feelings
Do you or your kids struggle with anxiety? Is there something in today's podcast you found helpful? We would really love to hear from you and to help you navigate these challenges. We invite you to check out the valuable resources on our website, and share them with a friend who needs them too!
Mentioned in this podcast:
Guest Bios:
Katie Wetsell has always had a calling on her heart to care for children. She has worked as a pediatric oncology nurse and pediatric nurse practitioner. After experiencing the benefits of parent coaching through Connected Families herself, Katie later resigned from nursing and became a Certified Parent Coach as well. She and her husband have four children (three boys and a girl) through birth and adoption. Katie is also trained in SPACE treatment to help parents learn how to support their children struggling with anxiety and obsessive-compulsive disorders. You can learn more about Katie at parentwithhope.org, and on Facebook @parentwithhopecoach and Instagram @parentwithhopecoach
Marni Love is a wife, homeschool mom to three growing boys, tutor, and parenting coach. After teaching in public school for many years she felt called to home educate. She started in preschool and has continued through the high school years. She has a heart for helping families enjoy their journey and parent with grace while also preparing their children for the future God has for them. She has experience with adoption, ADHD, sensory processing, primitive reflex integration and highly sensitive children. It would be her great pleasure to support you in bringing peace and connection to your home. You can connect with Marni at www.marnilove.com and on Instagram @journeywithlovehomeschool
Taylor Irby is a mother to 5 kids, and she understands the struggles parents face. Every day she faces ADHD, autism, anxiety, developmental delays and adoption trauma. She too has sat in the trenches and searched the world for answers. Taylor read book after book and got excited over methods that were short lived. That is where she hit the wall of desperation and sought parent coaching through Connected Families. Taylor ultimately became a coach through their training program to help others like her. She has seen transformation in her home through working with a framework that not only has changed her children's behavior, but their hearts as well. You are not alone on this parenting journey. There is hope and you can enjoy your children, building that relationship you have wanted and see behavior change. And I'm here to help. You can learn more about Taylor at taylorirbycoaching.com, and on Facebook https://www.facebook.com/taylor.irby.5 and Instagram @taylorirbycoaching
What are your parenting strengths?
You've got them. Knowing your strengths will help you become the best parent you can be. Knowing your parenting challenges is useful information too. Take our FREE ASSESSMENT.
---
Related Posts
Podcast: Play in new window | Download | Embed