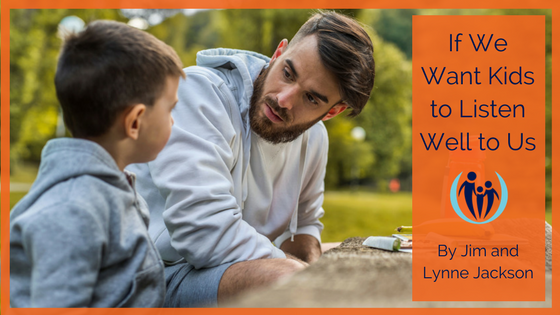 If we want kids to listen well to us, we must first learn to listen well to them. One mom reported, "My kids tell me they know I'm not listening when they tell me about something and I just say 'Oh that's nice.' I know that to listen well requires that I stop my agenda for a minute and really focus on hearing what they're saying, and responding to the details."
This is the essence of listening well. You can't expect your kids to listen to you if you're not modeling it for them. So before you work too hard on getting your kids to listen to you, take some time to reflect on your listening habits.
Then, once you start start the habit of listening well to your children, there are a few ways you can address them that improve the chances you'll be heard.
Calm down. Kids don't listen well when they feel insecure or attacked. Your calmness will help keep them open to you.
Slow down. When you're saying something you really want them to hear, get your child's attention by stopping what you're doing, looking them lovingly in the eye, and say what you want to say.
If you're giving an instruction, ask your child to repeat you. Ask them if they understand what you're requesting of them. Stay calm.
Then – when you get the sense they have heard you, ask if there's anything they want to say. They may not, but if they do, be sure you model good listening. Repeat the details of what they say.
Building listening routines like this around simple, everyday situations helps pave the way for a relationship characterized by good listening. Then, when you have something really important to say, you have a routine you can use to say it, and a child's heart more prepared by that routine to receive it.
Want to learn more about these concepts? Download our one-hour recording of a Discipline That Connects workshop.